Steel demand stokes optimism
Share - WeChat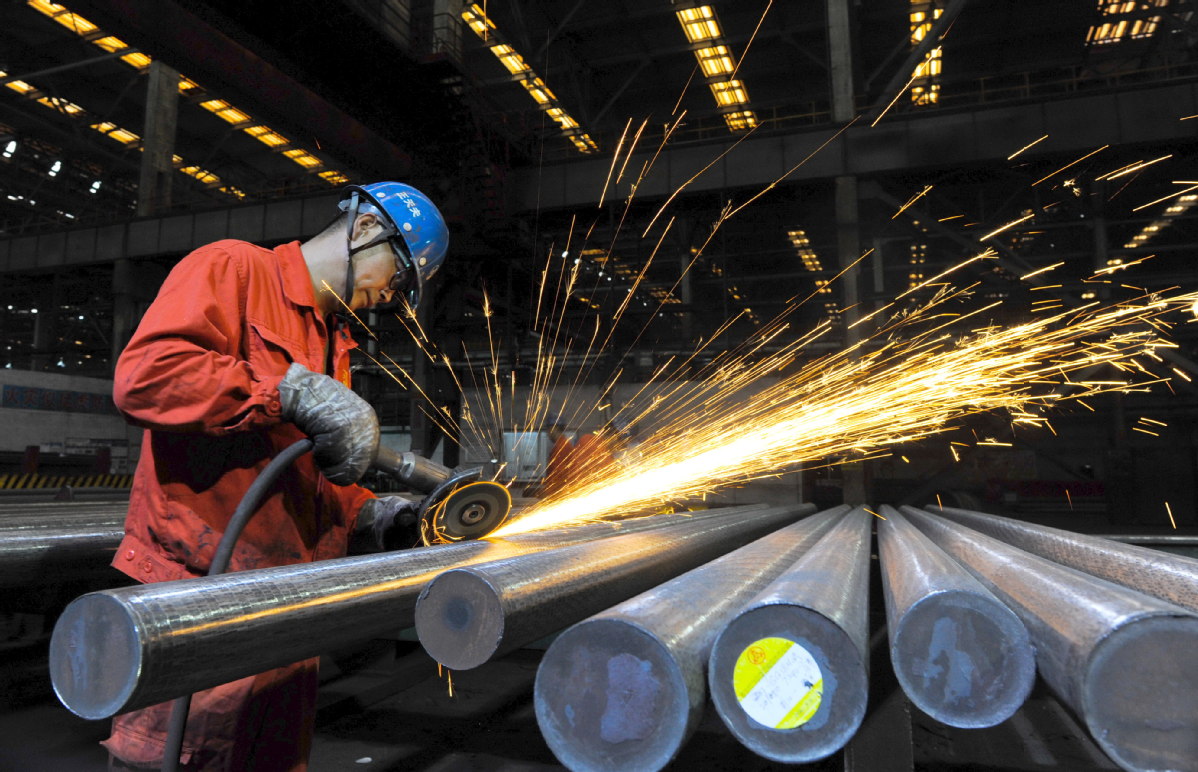 Experts expect construction related to key projects to buoy industry's prospects
Demand in China's steel market is likely to continue to rise in the coming months, which is expected to bolster sales of steel companies.
That in turn will help sustain related market entities' operations that resumed since the epidemic was under better control, besides ensuring job security and stable industrial and supply chains, industry experts said.
"September and October are traditionally among peak seasons for steel demand in China. This year, steel demand in these two months will be quite strong," said Chen Kexin, chief analyst of the Lange Steel Research Center in Beijing.
Chen made the prediction based on more optimistic forecasts for China's economic growth, expansion in the global manufacturing industry, and abundant liquidity worldwide.
China's economic growth is expected to accelerate in the second half of this year, on the back of the country's successful efforts to offset the impact of COVID-19 on its economy, he said.
"Thanks to new policy measures, China's industrial output, trade, exports and fixed asset investments are all expected to grow, and many provinces and regions are also researching and supervising construction of key projects, to ensure stability in investments in the third quarter. That will certainly inject strong impetus into the rise of steel demand," Chen said.
He cited transportation investment figures from the Ministry of Transport. By the end of July, the work resumption rate for 232 key projects with investments worth more than 10 billion yuan ($1.47 billion) each had hit 100 percent. And transportation fixed asset investments had a positive increase for four successive months, with year-on-year growth reaching 26.7 percent in July.
Compiled by the National Bureau of Statistics, the Purchasing Managers' Index for China's manufacturing sector in August came in at 51, another reading above 50 for six successive months, while the Caixin China General Manufacturing PMI rose to 53.1 in August from 52.8 in July, reaching a high unseen since the start of 2011.
Besides, China's 25 leading excavator makers sold 19,110 excavators last month, up 54.8 percent year-on-year. Of them, 16,253 excavators were sold in the domestic market, soaring 59.5 percent, according to the China Construction Machinery Association.
"These figures have demonstrated the upward momentum of the Chinese economy, which means increased demand for steel," Chen said.
Although COVID-19 continues to rage in the rest of the world, the expansion in the global manufacturing sector, thanks to large-scale fiscal and monetary stimulus plans by many countries, also has a positive influence on China's steel market, he said.
He cited the JPMorgan Global Manufacturing PMI that rose to a 21-month high of 51.8 in August from 50.6 in July, and above the neutral 50.0 mark for the second successive month.
The monetary easing policies widely adopted in the West will also promote the increase in steel product prices as well as demand at the global level, he said.
Besides, the continuous influx of foreign investments into China will directly or indirectly increase steel demand.
Xu Xiangchun, information director and analyst with Mysteel, an online consultancy specializing in iron and steel, agreed that relatively strong steel demand could translate into potential higher profits for steel companies, which will be in line with the country's focus on six key fronts for ensuring stability and "six priorities".
The six fronts refer to employment, the financial sector, foreign trade, foreign investment, domestic investment, and expectations. The "six priorities" refer to job security, basic living needs, operations of market entities, food and energy security, stable industrial and supply chains, and the normal functioning of primary-level governments.
However, rather than being blindly optimistic, expectations for steel demand in September and October should be cautiously optimistic and rational, Xu said.
Although China appears to have contained COVID-19, the rest of the world is still struggling to control it, which means economic activities globally are not at normal levels, he said.
Besides, China has demonstrated self-restraint in the use of monetary easing as an economic stimulus measure, instead underlining stability on the six fronts and security in the six areas, he said.
"The darkest time for China's steel companies has passed, but it is still too early to say rebound in steel price and demand is strong enough to lead to considerable profitability."