Capital city steps up data, digitalization push to boost global expansion of firms
Share - WeChat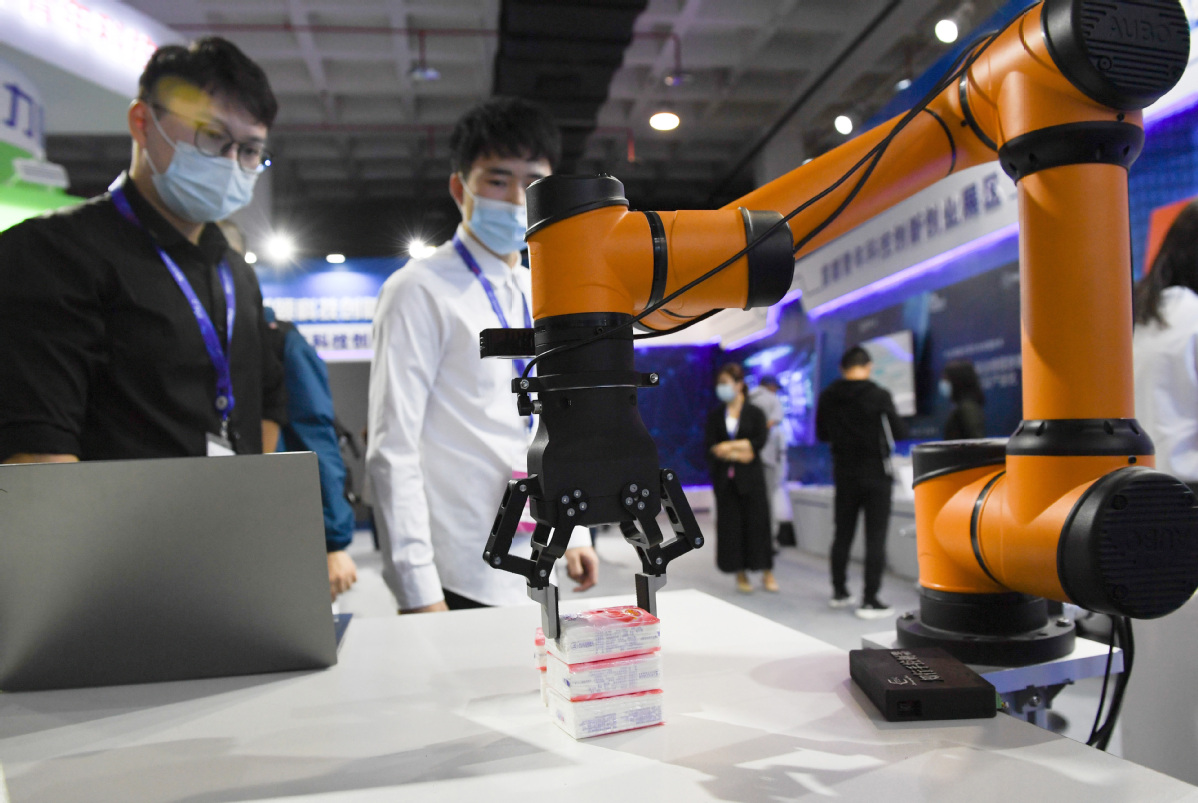 National capital Beijing's latest efforts in facilitating data transactions as well as the digital economy will greatly boost local enterprises' competitiveness globally, industry insiders and experts said.
This assumes significance as leading countries are all competing for the digital trade "crown", they said.
"For countries nowadays, data is the crown of trade. Promoting the opening and flow of data is part of the capital's efforts to drive data for advanced productivity," said Tang Jianguo, vice-director of big data application and industries at the Beijing Bureau of Economy and Information Technology.
Beijing announced a slew of policies to develop the digital economy during the China International Fair for Trade in Services, known as CIFTIS, earlier this month.
Measures include the construction of an international big data exchange center and promotion of smooth trans-border data flows.
"With more data flows in the market, government departments and businesses are expected to gather more useful data for operations and business improvement. It is of great help for Beijing's industrial upgrading and higher-quality economic development," said Tang at a seminar held by the bureau and technology incubator 761C Space.
He said Beijing has already opened a big data platform with data on public services, finance, artificial intelligence, culture and internet industries available for transactions. These data were processed in the form of data sets after duly deleting personal information.
"These data have already played an important role in facilitating public convenience and in combating the COVID-19 outbreak. During the CIFTIS this year, more than 17 million yuan ($2.5 million) of data transactions were done."
Beijing Financial Holdings Group, the operator of the finance data in Beijing's big data platform, leveraged data, including provident fund and taxes from the platform, to help a local bank to launch a total credit line of 2 billion yuan for nearly 1,000 small and micro-sized enterprises in Beijing.
"It fully demonstrated the significance of big data for the development of inclusive finance system, which, to a certain extent, greatly alleviated financing difficulties of small and micro-sized enterprises," said the company.
The capital city will also build a digital trade pilot zone relying on key areas such as Zhongguancun Software Park, national digital service export bases, free trade zones and the Beijing Daxing International Airport area, and make full use of blockchain, artificial intelligence, big data and other new technologies for more competitive businesses.
China's digital trade is growing rapidly. According to the Ministry of Commerce, the volume of the nation's import and export digital trade surged 6.7 percent to $203.6 billion last year, accounting for 26 percent of the country's total import and export service trade volume.
A latest McKinsey Global Institute report found large gaps between a handful of leading countries and the rest of the world.
The report ranks 139 countries on inflows and outflows of goods, services, finance, people and data. Singapore tops the rankings, followed by the Netherlands, the United States and Germany.
China has grown more connected, reaching seventh place globally, but advanced economies in general remain more connected than developing countries.
"In this increasingly digital era of globalization, countries led by the US are scrambling to seize this high ground of digital trade," said Liu Yingkui, head of international trade at the Academy of China Council for the Promotion of International Trade.
Liu said China has accumulated a huge amount of data and data streams in a group of areas, including trans-border e-commerce and superfast 5G development. These are valuable foundations for the development of the digital economy.
"China is expected to leverage data to build an industrial internet platform as soon as possible for the next step. The past years have witnessed a rising number of enterprises considering digital transformation. This trend has accelerated after the epidemic," he said.
"With more companies joining in, the platform can leverage data and artificial intelligence to optimize industrial software to fill in the gap of industrial development with developed countries in the world."