Natural prosperity
Share - WeChat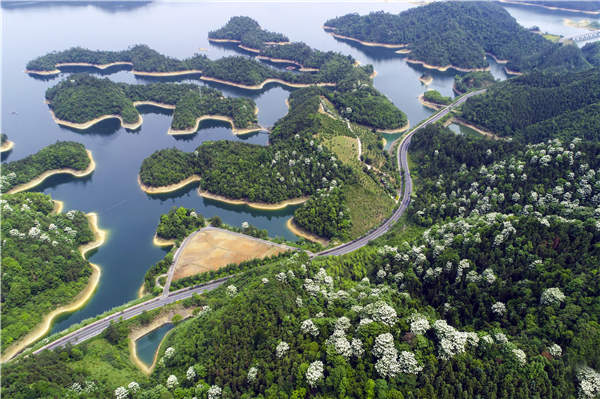 A green approach pays dividends as residents adopt a healthier lifestyle, Xu Haoyu reports.
Yucun village in Anji county, Zhejiang province, is located at the northern slope of Tianmu Mountain. In the 1970s and 1980s, it was the site of a limestone mine that contributed more than 3 million yuan ($420,000) to the village every year, making over 200 villagers wealthy.
However, mud was flowing into the river, while dust and sand contaminated the air. People had to shut and seal their windows, and even the tenacious bamboo shoots no longer grew.
On Aug 15, 2005, President Xi Jinping, then Party secretary of Zhejiang province, brought about the concept of "lucid waters and lush mountains are invaluable assets" during an inspection of Yucun. He also praised the decision of the village to shut down its mine and cement plant to protect the environment.
Recently, a theme exhibition was held in Zhejiang Exhibition Hall in Hangzhou to review the green development of Zhejiang over the past 15 years. People can also see the transformation Yucun has gone through.
Covering an area of more than 2,500 square meters, it displays videos, archival documents, texts, models and more than 630 photos.
With VR glasses, visitors can see the change of Yucun, following the path that Xi walked through when he revisited the village in March.
The old mine has been transformed into a park, and the old cement plant has been replaced by a natural landscape. Tea plantations and bamboo products have been developed due to local geographical advantages and natural conditions.
A huge television screen shows the inner world of the most symbolic sight in Hangzhou, West Lake, through livestreaming with the help of robotic underwater cameras.
"People always see the surface of West Lake, but it must be their first time to see what's under and how clear the water can be in summer," says Xu Bin, director of the photography department of Zhejiang Daily, one of the key curators.
There's another corner favored by visitors: a long wooden table separated into six smaller ones, all equipped with headphones.