Autonomous driving gains traction
Share - WeChat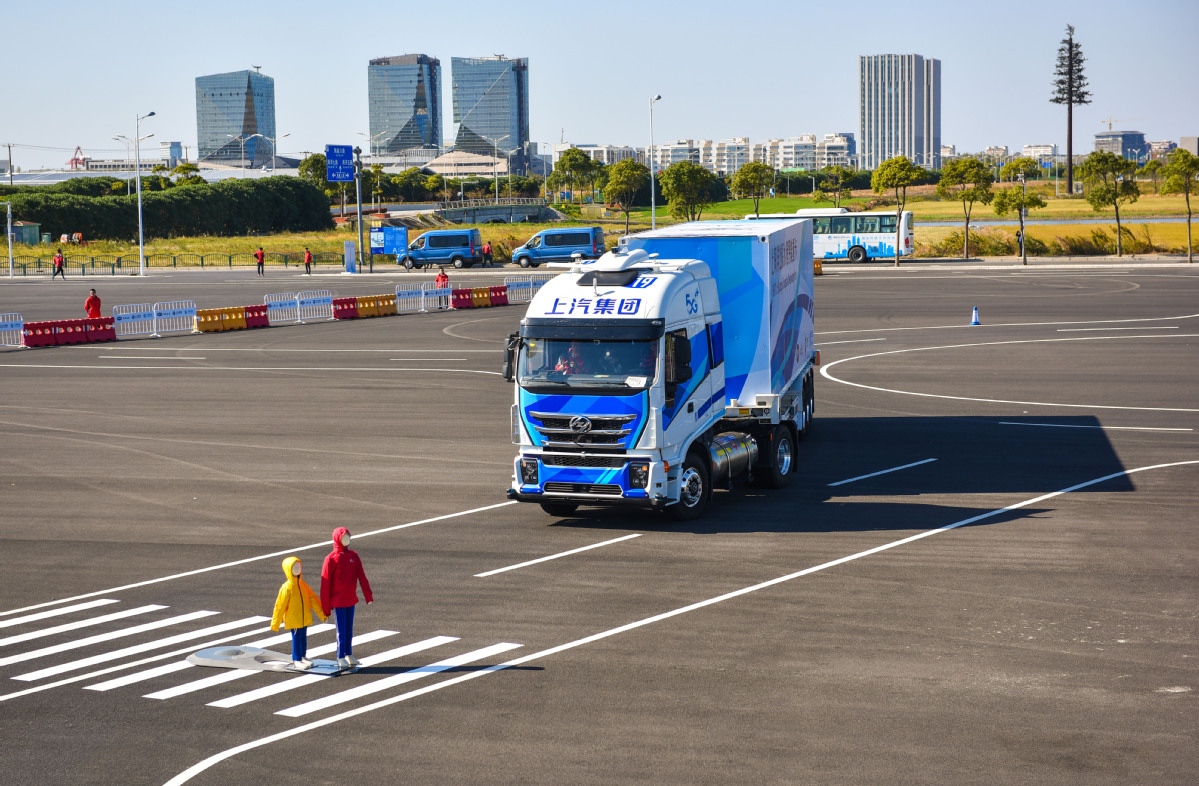 Agreements and cooperation projects inked during the 2020 World Autonomous Vehicle Ecosystem Conference in Shanghai on Monday and Tuesday are expected to put the Yangtze River Delta region at the forefront of China's autonomous driving industry efforts.
Prominent among the agreements signed was the one between the authorities of Shanghai and the three provinces in the region-Jiangsu, Zhejiang and Anhui, to set up a national pilot zone for intelligent connected vehicles.
Since the application of autonomous vehicles relies not only on the promotion of the self-driving technology for single cars but also on the building of smart roads, the agreements are crucial for the construction of roadside infrastructure and large-scale testing in the future, experts said.
Under the agreement, the economic and information departments of the local governments have agreed to jointly design a series of standards for smart traffic lights, 5G base stations, protocols for communication, high-resolution road maps, and traffic management platforms.
The governments will focus on the construction of smart infrastructure for interprovincial highways such as the G2 Shanghai-Nanjing, G60 Shanghai-Kunshan, and the Hangzhou-Shaoxing-Ningbo expressway.
Efforts will also be focused on encouraging various types of autonomous vehicles in the region for private use, public transport, ride-sharing, logistics and street cleaning.
Gao Xiang, director of Jiading district of Shanghai, which hosts the Shanghai International Automobile City and the country's first demonstration zone for intelligent connected vehicles, said the district has already released the first testing licenses in the Yangtze River Delta Region.
"By the end of this year, the district will open 315 kilometers of roads for intelligent connected vehicles, and by the end of 2022 the figure will reach 1,300 kilometers in the district," she said.
Cheng Bo, dean of the Suzhou Automotive Research Institute of Tsinghua University, said there is an urgent need for standards on roadside smart infrastructure regarding issues like what kind of sensors need to be installed on traffic poles, at what intervals and in what road conditions.
"It will be a large-scale engineering project, which needs a great amount of labor and resources. Once done, it will be difficult to change," he said.
Luo Junjie, head of the No 1 industrial equipment department of the Ministry of Industry and Information Technology, said: "The next five years will be important for the automotive technology industry as they will bring fierce competition and strategic opportunities.
"Efforts will be focused on improving the design and rules to help companies surmount technological bottlenecks and explore new business models."
The second phase of the 5G smart traffic demonstration zone in Jiading was launched during the conference jointly by the district government, SAIC Motor, Huawei and China Mobile.
The construction of smart roadside infrastructure will generate a large quantity of data. The municipal government also unveiled the Shanghai Intelligent Connected Vehicle Public Data Center, which will collect data from both testing cars and roadside sensors, and provide services including data analysis and early warnings.