Eternal friends in new era
Share - WeChat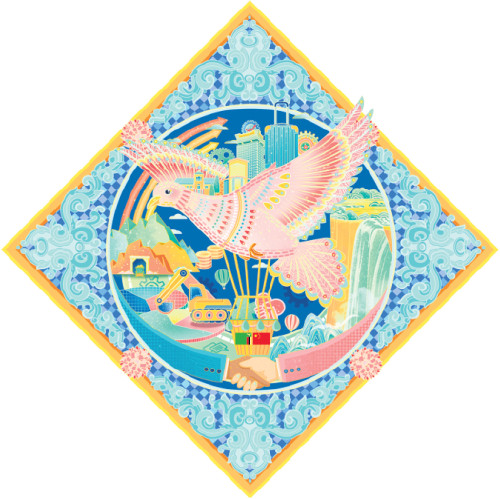 Thanks to their cooperation in the fight against the pandemic, China and Zambia are set to take their relationship to new heights
The first president of Zambia Kenneth Kaunda once said: "China and Zambia are all-weather friends." China and Zambia have always treated each other as equals, and respected each other since the establishment of diplomatic relations 56 years ago. Bilateral relations have stood the test of changing global situations and have been developed and consolidated in the new era.
The novel coronavirus pandemic is a severe crisis and test for the world. In the face of the pandemic, China and Zambia stand firmly together, and are fighting the disease shoulder to shoulder. Zambia provided valuable support to China in the early stage of China's fight against the pandemic. In February, Zambian President Edgar Chagwa Lungu sent a letter of support to President Xi Jinping at the height of China's fight against the epidemic, which was first recognized in Hubei province. The Zambian people from all walks of life expressed sympathy and support for the Chinese people.
In return, when the virus struck Zambia, China was the first country to send assistance and share its experience in pandemic prevention and control to help Zambia strengthen its capability to fight against COVID-19. In April, President Lungu sent another letter to President Xi, extending his appreciation for China's sincere support.
The peoples of China and Zambia have actively cooperated in the fight against COVID-19, and the China-Zambia friendship continues to grow. None of the more than 4,000 Zambian students in China has been infected, and those who have graduated have returned safely to Zambia.
Also, the Jack Ma Foundation has sent three batches of medical supplies to Zambia and other African countries. More than 70 Chinese enterprises and Chinese communities in Zambia have donated materials worth $1 million to Zambia. And a number of hospitals in China have conducted training programs through video links for Zambian medical workers.
At present, the pandemic is spreading at an accelerating rate in Zambia, posing severe challenges to the country's development and the health and safety of the Zambian people. The Zambian economy is forecast to shrink in 2020. China, an all-weather friend of Zambia, is firmly committed to maintaining the momentum of China-Zambia cooperation. As China has made steady progress in resuming production and other economic activities, it is willing to and more capable of providing greater assistance to Zambia.
During the World Health Assembly and Extraordinary China-Africa Summit on Solidarity Against COVID-19, President Xi repeatedly called for greater support for African countries and put forward China's plan and measures of support for Africa. China is more expeditiously implementing the measures and will continue to do its best to support the efforts of Zambia and other African countries to fight COVID-19 and resume economic and social development.
On July 20, President Xi and President Lungu exchanged views over the phone on strengthening China-Zambia relations. The two sides reached consensuses on a wide range of issues, charted the course for China-Zambia cooperation in various fields for the next stage, and provided guidance for China-Africa solidarity in the fight against COVID-19.
In the first half of this year, Zambia's copper output increased steadily, to which China Non-ferrous Metal Mining (Group) Co Ltd made positive contributions. The Kafue Gorge Lower hydropower station built by Sinohydro Corporation Limited of China is likely to be commissioned by the middle of next year, boosting Zambia's power generating capacity by a third. And a new terminal building at Kenneth Kaunda International Airport in Lusaka, capital of Zambia, will become operational once the pandemic is contained.
At present, more than 600 Chinese enterprises are operating in Zambia with a total investment of about $3.8 billion and covering a wide range of businesses including mining, agriculture, infrastructure construction, finance and tourism. In 2019, China's new investment in Zambia exceeded $500 million, ranking first in Africa.
The Chinese embassy in Zambia has held videoconferences with Chinese companies and overseas Chinese communities on many occasions to listen to their needs and respond to their appeals. The embassy has urged Chinese companies to take good care of the local employees, and encouraged them to sustain employment so as to overcome the difficulties with local communities together.
The pandemic is a common enemy and a major challenge for all humankind. Only by strengthening solidarity and cooperation can we pool our strength to overcome it. Although COVID-19 has created obstacles for face-to-face communication, China and Zambia have been strengthening solidarity and cooperation.
To pull through these trying times, China will work with Zambia to implement the outcomes of the Extraordinary China-Africa Summit on Solidarity Against COVID-19. Through the joint battle against COVID-19, the China-Zambia relationship will reach new heights and deliver even greater benefits to the two peoples.
The author is the Chinese ambassador to Zambia. The author contributed this article to China Watch, a think tank powered by China Daily. The views do not necessarily reflect those of China Daily.
Most Viewed in 24 Hours
China Views