Hydrogen to drive clean energy moves
Share - WeChat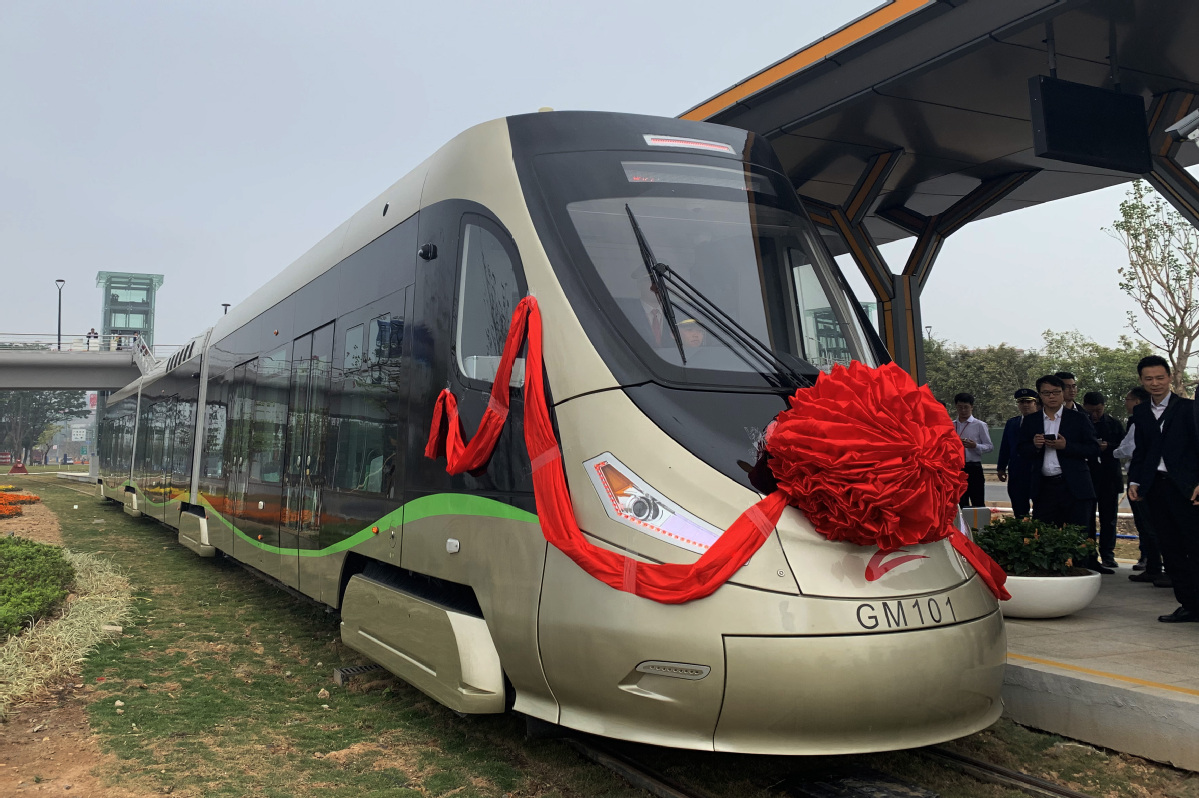 Experts call for greater use of non-polluting fuel in sectors like transport, buildings, power generation
Experts believe it's time to tap into hydrogen's potential to allow it to play a key role in China's clean and safe energy mix.
Supplying hydrogen to industrial users is now a major business around the world, including in long-haul transport and the production of chemicals, iron and steel. Policies and projects around the world involving the clean fuel have been expanding rapidly since 2018, said the International Energy Agency in its recently released report.
With the global energy sector in a state of flux, the versatility of hydrogen is also attracting stronger interest from a diverse group of governments and companies, it said.
The Hydrogen Council, a global initiative of leading energy, transport and industry companies, estimates that the fuel is expected to account for almost one-fifth of total final energy consumption worldwide by 2050 when deployed at scale.
According to Gan Yong, an academician at the Chinese Academy of Engineering, hydrogen will account for 10 percent to 15 percent of China's energy system by that time.
With only 64 hydrogen stations nationwide, China is not a leading player in global hydrogen development, and lags behind in overall planning, laws and regulations, Gan said.
China included the development of hydrogen stations for new energy vehicles for the first time last year in its Government Work Report. This was a result of the government's endorsement of hydrogen stations and the country then sold 2,737 hydrogen fuel-cell vehicles in 2019, up 79 percent year-on-year.
With more than 6,165 hydrogen fuel-cell vehicles, 64 hydrogen refueling stations with 52 operating nationwide, the country has also seen many provinces actively developing hydrogen energy in recent years and laying out provincial-level development for the chemical, including Jiangsu, Henan and Shandong. Some cities are also coming up with guidance on hydrogen cells including Suzhou, Foshan, Maoming and Ningbo.
As many as 12 State-owned companies-including China National Petroleum Corp, China Petroleum and Chemical Corp (Sinopec), China Energy, China Baowu Steel Group, State Grid Corp of China, China Huaneng Group Co Ltd, State Power Investment Corp Ltd, China Three Gorges Corp, China National Nuclear Corporation and China General Nuclear Power Group-are all actively laying out their hydrogen plans, believing the cleaner fuel will become a vital sector in the long run.
While Sinopec expects to further take advantage of its more than 30,000 gas stations nationwide to further step up its more than 3 million metric tons of annual hydrogen production capacity, China Energy-with annual hydrogen production capacity exceeding 4 million tons and the capability to provide 40 million vehicles with hydrogen-also aims to further promote hydrogen use to meet China's commitment to combating climate change.
Demand for hydrogen, which has grown more than threefold since 1975, continues to rise. This suggests that companies should have clear long-term goals, especially key sectors including refining, chemicals, iron and steel, freight, long-distance transport, construction, power generation and storage, said the IEA.
For hydrogen to make a significant contribution to clean energy transitions, it needs to be adopted in sectors where it is almost completely absent, such as transport, buildings and power generation, it said.
According to the agency, global spending on hydrogen energy research, development and demonstration by national governments has risen over the past few years, with the majority of targets, mandates and policy incentives focused on transport, including passenger cars, vehicle refueling stations, buses, trucks and other vehicles.
Kou Nannan, a senior associate with Bloomberg New Energy Finance's advanced transport sector, said heavy trucks could run cheaper on hydrogen than diesel by 2031, although batteries remain a cheaper solution for cars, buses and light trucks.
"Storing and moving hydrogen is challenging. For hydrogen to become as ubiquitous as natural gas today, a huge, coordinated program of infrastructure upgrades and construction would be needed," Kou said.
The latest Hydrogen Council report shows that the cost of hydrogen solutions will fall sharply within the next decade, by up to 50 percent by 2030, as scaleups in hydrogen production, distribution, equipment and component manufacturing continue.
Hydrogen can be transported in a gaseous state via pipelines and as a liquid by ships, much like liquefied natural gas (LNG). It can also be transformed into electricity and methane to power homes and fuel factories, and can also be used to propel cars, trucks, ships and planes.
However, the clean energy is believed to have not yet reached full potential to support clean energy transitions. Ambitious, targeted and near-term action is needed to further overcome barriers and reduce costs, said the IEA.
Xiao Ting, an analyst with BloombergNEF, said that like all other clean energy technologies, green hydrogen needs government support before it can become an affordable feedstock, or serve as a fuel for power and heat.
"For hydrogen to play a significant role in decarbonization, the industry will need to transform upstream and expand significantly downstream. Hydrogen production will need to move to zero or low carbon processes, and consumption will need to expand to new sectors where fossil fuels are dominant," Xiao said.
She added that China now only provides subsidies to downstream players, specifically fuel-cell vehicles. Lack of government support for upstream players results in diminished enthusiasm for green hydrogen production in the country.
The China Hydrogen Alliance said 67 percent of the more than 20 million tons of hydrogen that China produces every year is made from fossil fuels, with a further 30 percent produced as a by-product of industrial processes such as coking, steelmaking and chemical production. Only 3 percent is made from renewable resources.
Xiao said most of the announced new facilities for hydrogen generation are based on coal gasification, which corresponds to the cheapest hydrogen in China but does not help cut carbon emissions.
As a result, vehicles consuming hydrogen made by this process release more carbon dioxide through their whole life cycle compared with those burning gasoline, she said.
Kou said for hydrogen to have net environmental benefits, it must be produced from renewable power and other clean sources instead of fossil fuels, which is the usual method at this time.
"The cost of producing hydrogen from renewables is set to fall, but it is necessary to first create demand to drive down costs and build a wide range delivery infrastructure," he said. "That won't happen without new government targets and subsidies."
Policy recommendations for the development of China's hydrogen and fuel-cell industry by the China Hydrogen Alliance envisage hydrogen being produced from renewables and fossil fuels with carbon capture and storage.
Xiao said: "China can still lower its carbon emissions by enhancing the penetration of renewable power technologies including solar and wind, which have needed few subsidies this year and will not become a financial burden for the government from 2021."
According to the IEA, in addition to the cost of producing hydrogen from low-carbon energy, the development of hydrogen infrastructure is also slow and holding back widespread adoption.
Hydrogen prices for consumers are highly dependent on how many refueling stations exist, how often they are used and how much hydrogen is delivered per day. Tackling this is likely to require planning and coordination that brings together national and local governments, industry and investors, it said.