Coronavirus catches up with Bolt
Share - WeChat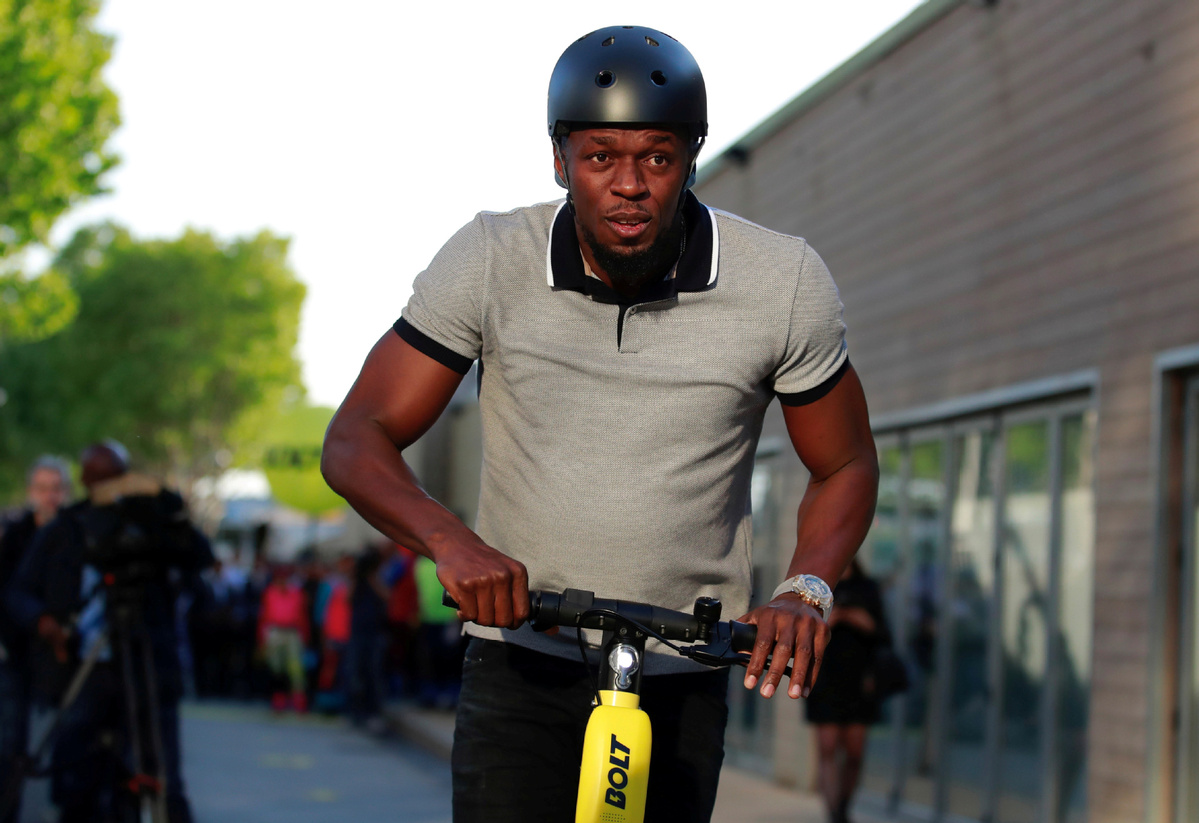 Sprint king self-isolating after testing positive following birthday party also attended by soccer star Sterling
Sprint legend Usain Bolt has contracted the coronavirus after last week celebrating his 34th birthday with a mask-free party that could also have implications for several other sports stars who attended.
Jamaica's health ministry confirmed late on Monday that Bolt had tested positive for the virus after the world-record holder had earlier in the day posted a video on social media saying he was self-isolating and waiting on his results.
It was reported that Bolt has since been notified of the results and contact tracing is underway.
"Good morning everybody. Just waking up. Like everybody, checked social media and saw that social media says I'm confirmed of COVID-19," Bolt said in the video post that was accompanied by the caption: "Stay safe my ppl".
"I did a test Saturday, because I work. I'm trying to be responsible, so I'm going to stay in and stay here for my friends," added the Jamaican, who appeared to be lying in bed in the video.
"Just to be safe I quarantined myself and just taking it easy. Also I'm having no symptoms, so I'm going to quarantine myself and wait on the confirmation to see what is the protocol and how should I go about quarantining myself from the ministry of health.
"I talked to all my friends and tell them that if they've come in contact with me, you should-just to be safe-quarantine by yourself and just to take it easy."
England and Manchester City forward Raheem Sterling attended Bolt's birthday bash on Friday night along with Bayer Leverkusen winger Leon Bailey and West Indies cricketer Chris Gayle.
A City spokesman confirmed to British newspaper The Guardian on Monday that Sterling was still in Jamaica and the club was in regular contact with the 25-year-old.
Sky Sports reported that, like all England players, Jamaica-born Sterling will be tested for the virus before he is allowed to join the team's bio-secure bubble at St George's Park next week.
The development is another unwelcome distraction for England manager Gareth Southgate following the arrest of his captain, Harry Maguire of Manchester United, in Greece on charges of aggravated assault and attempting to bribe an official. England faces Iceland and Denmark in UEFA Nations League games next month.
Cricketer Gayle reportedly tested negative for the virus before boarding a plane to the United Arab Emirates, where he will link with teammates from Indian Premier League franchise Kings XI Punjab.
The 40-year-old all-rounder, considered of Twenty20's greatest ever batsmen, posted videos of his swab testing on Instagram Stories prior to his flight. Gayle will have to clear another test in the UAE before he can officially join his team.
Eight-time Olympic champion Bolt said he was tested the day after he celebrated his birthday at a bash where partygoers danced to the hit Lockdown by Jamaican reggae singer Koffee.
"Best birthday ever," Bolt wrote on Instagram last week, posting a photo of himself holding his daughter, Olympia, who was born in May.
Other videos on social media showed Bolt dancing with dozens of people, the majority of whom were not wearing masks and were not observing social distancing.
After learning of his self-isolation, fans on social media wished Bolt a speedy recovery, although many of the comments berated the superstar for being careless.
As of Monday afternoon, Jamaica had 1,612 confirmed coronavirus cases, with 17 deaths. Daily confirmed cases in the Caribbean island had surged to over 60 per day over the previous four days from less than 10 just a few weeks ago.
According to Reuters, officials put the rise in cases down to the reopening of international borders as well as celebrations over a long weekend in August marking Independence Day and Emancipation Day.
They also put the blame at the feet of people who refuse to wear masks and practice social distancing.
The spike has raised concerns over national elections that Jamaican Prime Minister Andrew Holness called for in September, six months ahead of schedule. Holness on Sunday suspended all his campaign activities and asked other political parties to follow suit.
Reuters reported that authorities have also delayed the reopening of schools for a month and imposed a national curfew, from 7pm to 5am.
Bolt is the only sprinter to win the 100m and 200m golds at three consecutive Olympics (2008, 2012 and 2016). He set the world records in the 100 and 200 at the 2009 world championships in Berlin.
After retiring from the track after the 2017 worlds, he attempted to forge a career as a professional soccer player, even harboring hopes of playing for his beloved Manchester United.
However, he was ultimately forced to give up his dream after failing to secure a contract with Australian top-flight side the Central Coast Mariners following a trial period with the team.