GM lays out plan for intelligent, new energy models built in China
Share - WeChat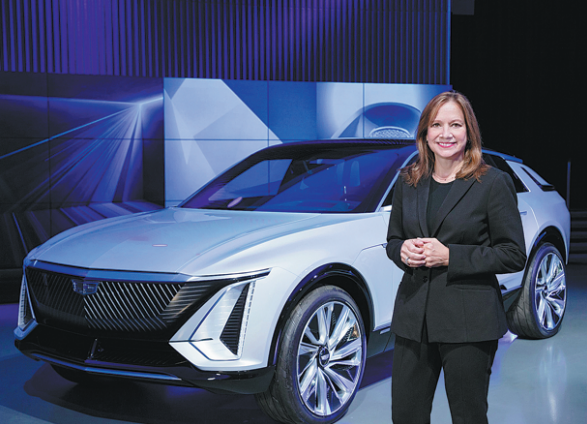 General Motors intensified its electric push in China with a technology rollout plan, demonstrating its determination to invest in the world's largest auto market.
At the GM Tech Day held on Wednesday in Shanghai, the company released its technology rollout plan for electrification, intelligent driving and connectivity in pursuit of a future with zero crashes, zero emissions and zero congestion.
Mary Barra, chairman and CEO of GM, said: "As GM's largest market and a global center of innovation, China will play a crucial role in making our vision a reality.""With our joint venture partner SAIC, we are blending global insights and scale with local market expertise to redefine what is possible for our customers and society."
According to the carmaker, more than 40 percent of GM's new models in China in the next five years will be electrified. They will be manufactured locally with almost all their parts coming from local suppliers.
The models will be based on GM's third-generation electric platform and equipped with the latest Ultium battery system. They integrate the carmaker's engineering flexibility and technological advances with highly localized manufacturing and a supply chain in China to enhance quality and cost competitiveness.
"We will enhance local integration and global collaboration by capitalizing on China's leading market trends and playing to the local industry's strengths," said Julian Blissett, GM executive vice-president and president of GM China.
In intelligent driving, GM will continue to roll out and upgrade its Super Cruise driver assistance system.
It will feature throughout Cadillac's lineup over the next five years and will be expanded to Buick and Chevrolet models.
For 2021, an enhanced version of Super Cruise will be available in China and the United States with features including lane change on demand as well as richer map data. GM will offer Super Cruise on 20 vehicles globally by 2023.
GM will also accelerate the development of China-specific solutions for intelligent connected vehicles, with its first global vehicle-to-everything (V2X) program set for launch this year on a Buick GL8 MPV.
The carmaker said that nearly all vehicles in China from its global brands will be connected via flexible platforms. GM will capitalize on mega-trends like 5G, artificial intelligence, smart cities and big data, it added.
According to the company, 5G will be available on all new Cadillac models and most Chevrolet and Buick vehicles in 2022. "GM has unmatched scale in leveraging big data and using our insights to deliver higher quality, more innovative and data-informed services to our customers," Blissett said. "In the near future, we will make connectivity a standard feature in nearly all our global brand vehicles launched in China."
Affected by COVID-19, the net profit of GM slumped 53.5 percent in the second quarter of 2020 compared to same period of 2019. GM's sales in China reached 713,600 units in the second quarter, accounting for 48.67 percent of its total, which showcases the importance of Chinese market.