Energy China bolsters regional development with new coal-fired power plant in Vietnam
Share - WeChat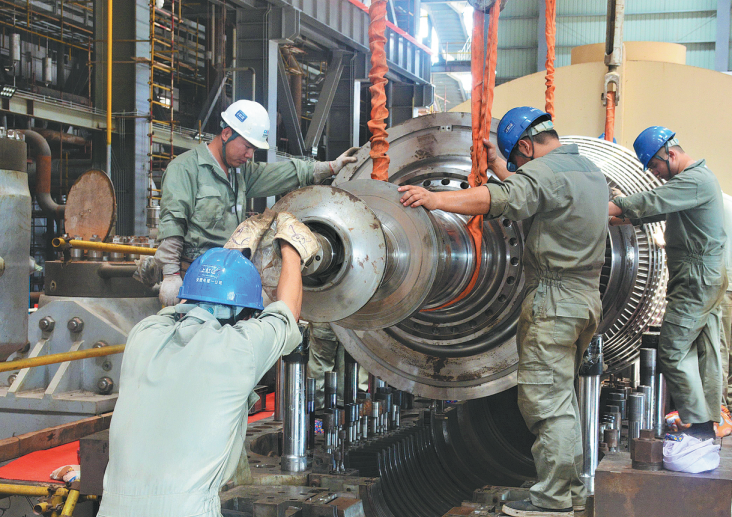 With the No 1 unit of the 2x600 megawatt Hai Duong coal-fired power plant project officially commissioned in Vietnam late last month, local employees of centrally administered State-owned China Energy Engineering Group Co Ltd, or Energy China, are satisfied that all the long hot days of hard work were worth it.
Located in northern Vietnam's Hai Duong province, the project operates under a build-operate-transfer (BOT) model, and is constructed under an engineering, procurement, construction (EPC) mode by Energy China. The company has adopted the latest environmentally friendly technologies in building the project.
Nguyen Van Dung, deputy director of the general affairs department for Energy China's Hai Duong project, said he has witnessed the building process of a large-scale modern power station on a formerly unproductive plot of land in Hai Duong.
As a big-ticket project aimed at supporting the tangible development of the Belt and Road Initiative, the project will provide more power to boost the Southeast Asian nation's urbanization and industrialization pace in the next stage of development.
Since joining Energy China's Vietnam project in 2017, Nguyen's role has continued to advance to equipment and material director. Backed by his proficient Chinese language skills, Nguyen helped in management tasks and interpreted on-site to move the project forward.
"Energy China treats local workers no different from Chinese workers," he said. "The company and its experts train local workers hand-in-hand. Local workers today are able to master the techniques as well as Chinese employees at the plant."
Beijing-based Energy China said the project, after achieving full-capacity operations, will achieve a zero liquid discharge target and all pollutants such as noise and dust emissions will conform to Vietnam's local standards.
After completion, the project is expected to generate 8 billion kilowatt-hours of electricity per year for Hanoi and its neighboring cities, powering local economic growth.
Before joining the project in 2018, Nguyen The Quang, another local worker, said he used to work overseas, but construction of the power station gave him an opportunity to work at home.
"Even though I had no experience operating gantry cranes and crawler cranes before, Energy China's local branch arranged a Chinese instructor for me and I watched his performance carefully and noted points learned from my training and work," he said.
"I practiced a lot during lunchtime and summer, even though the temperature in the operating cab was very hot," he said, adding that he didn't mind because the hard work was worth it.
Nguyen won third place in the company's hoisting contest after one year's learning and said he is proud of himself for being able to use his skills to help his country modernize.
Relying on his Chinese language skills and expertise, Nguyen Van Binh-who joined Energy China in 2017-applied to the management team at Hai Duong Coal-Fired Power Plant in 2019 when he heard that Hoa Hoi Phu Yen photovoltaic power station, another big-ticket project also constructed by Energy China, needed technicians.
It was a multitask job and he had to organize procurements, coordinate work and assist with inspections while acting as a driver and translator. His three mobile phones ran out of power on a daily basis during peak season.
However, Nguyen said the team's efforts have paid off as it only took them 190 days to install 1.05 million solar panels.
Energy China said that more than 2,000 locals also joined in the project during the peak period of construction, which on average brought them over 3,000 yuan ($419) per person per month.
As one of the world's largest comprehensive solutions providers in the power sector, Energy China has operated in Vietnam for more than two decades. It has built a number of power, water and infrastructure projects across the country. Supported by more than 200 overseas branches in 80 countries and regions, the Chinese firm to date has built a market presence in more than 140 countries and regions.