Chinese football star Wu Lei vows for quick return to La Liga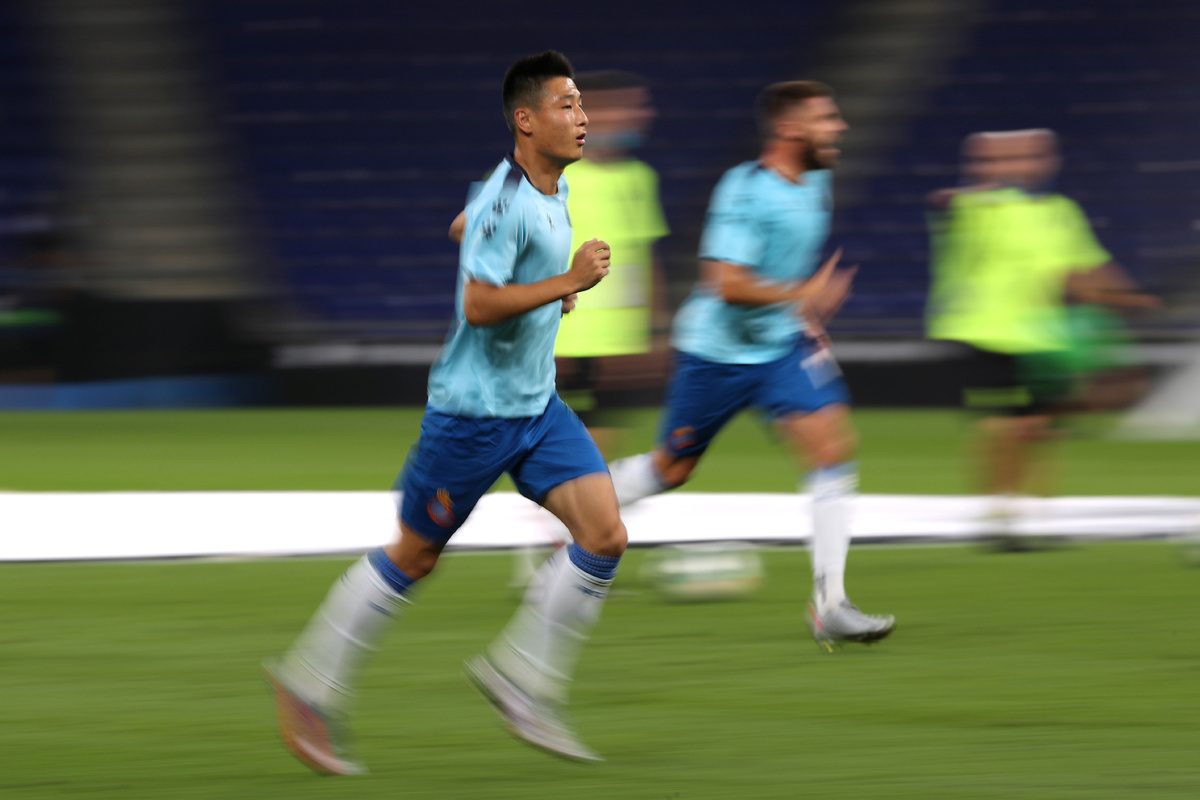 BEIJING -- Chinese star footballer Wu Lei said that he has confidence that Real Espanol could return to the La Liga soon after he opted to stay with the team despite their relegation from the Spanish top flight.
"It's true that some clubs from Premier League, Bundesliga and La Liga contacted me," the 28-year-old Chinese international told Xinhua in an interview over the phone.
"But I know what I truly want. The decision [to stay in Espanol] was made for multiple reasons - both on and off the pitch. My family feels comfortable living in the city of Barcelona. My teammates, club staff and fans have always been nice to me."
In the past season, Wu made 49 appearances for Espanyol in all competitions and scored eight goals, including a late equalizer in a 2-2 draw with Barcelona in January. Yet his contributions could not prevent Espanol from finishing rock bottom in the 20-team La Liga.
"There is no doubt that our goal is to return to La Liga next season. We are far ahead of other teams in the second division in terms of the club size and team strength. But it's never an easy job and the race will be competitive," Wu said. "We need to unite together to achieve it."
Being the only Chinese footballer who plies trade in major European leagues, Wu's decision to stay with Espanol has sparked debates back in his home country. In a survey involving 25,000 Chinese fans, 67.5 percent wanted Wu to leave Espanyol, while only 14.3 percent supported his decision to stay.
"I know Chinese fans want me to play in the major leagues. But I have to say that even the second division in Spain is more competitive than the Chinese Super League (CSL). I don't agree that I must play in those big names to improve myself. Stay in Espanol is a rational decision," Wu said in response to the survey results.
The winner of the Chinese Ballon d'Or in its last two seasons, 2018 and 2019, hoped his down-to-earth choice could encourage more young players to adventure overseas.
"I heard that some Chinese players say if they go to Europe, they must play in the five major leagues. It's not realistic. The key is to improve and to learn. You can also learn a lot from playing in other leagues in Europe. If we have a large base of players playing in Europe, no matter in the big leagues or small ones, Chinese football will improve a lot."
A YEAR AND A HALF IN SPAIN
Wu moved to Espanol after inspiring Shanghai SIPG to win the Chinese Super League title in January 2019, and then he helped the Spanish club secure a UEFA Europa League seat in June last year with three goals.
But, unexpectedly, Espanol had struggled for almost the whole 2019-20 season.
"I knew the second season would be harder personally because the opponents had studied on me. I could feel they set specific plans to guard me in some matches. But I didn't expect the relegation. We are far better than where we sit in the table," Wu said.
"The Europa League had affected our fitness. We had changed head coach three times, and we didn't prepare well in the pre-season," he concluded their failing season.
"We made adjustments in the break and it worked out in the first two games after the season resumed from Covid-19 pandemic. But the loss in the third game was devastating. Once you lost the morale, it was hard to bounce back," Wu said of their 3-1 loss to Levante in the 30th round of La Liga this season.
Despite ending the season in an unsatisfying way, Wu would like to rate an eight out of ten points regarding his first full season in Spain. "The important thing is to experience and see different things. I adapted to Spanish football well."
"Honestly, when I was tested positive for COVID-19 in March, I was in a bad mood and even thought about giving up and returning to China. That period was the most difficult time for this year. My wife, who also tested positive for the virus, had suffered a lot," Wu recalled. He is the only Chinese international who was infected with the virus.
"Luckily, we went through it in the end, which made me cherish more about my family and my health."
CONFIDENT TO QUALIFY FOR 2022 WORLD CUP
China's national team currently sits in second place in the five-team Group A with seven points from four games, eight points behind group leader Syria in the 2022 World Cup qualifiers, and is in danger of missing out on the final round of the Asian qualifiers.
The Asian qualification has been postponed until October this year, but the schedule has not been decided yet due to the uncertainty surrounding the pandemic. Chinese Football Association president Chen Xuyuan said last week that the Chinese team has to win all the next four matches in order to enter the final round.
"Our squad is in good form now, with a good atmosphere as well," Wu voiced his confidence.
Wu, widely considered the backbone of Team China, has not trained together with his teammates since last December, but he assured it wouldn't be a trouble for him to integrate into the team.
"All the national teams across the world face the same problems. For those footballing powerhouses, they normally have very little time to train together, but their performance won't be affected. One day if more players in the national team come from European clubs, I think that nobody will discuss this problem," Wu noted.