Ding resuming Crucible quest in determined mood
Share - WeChat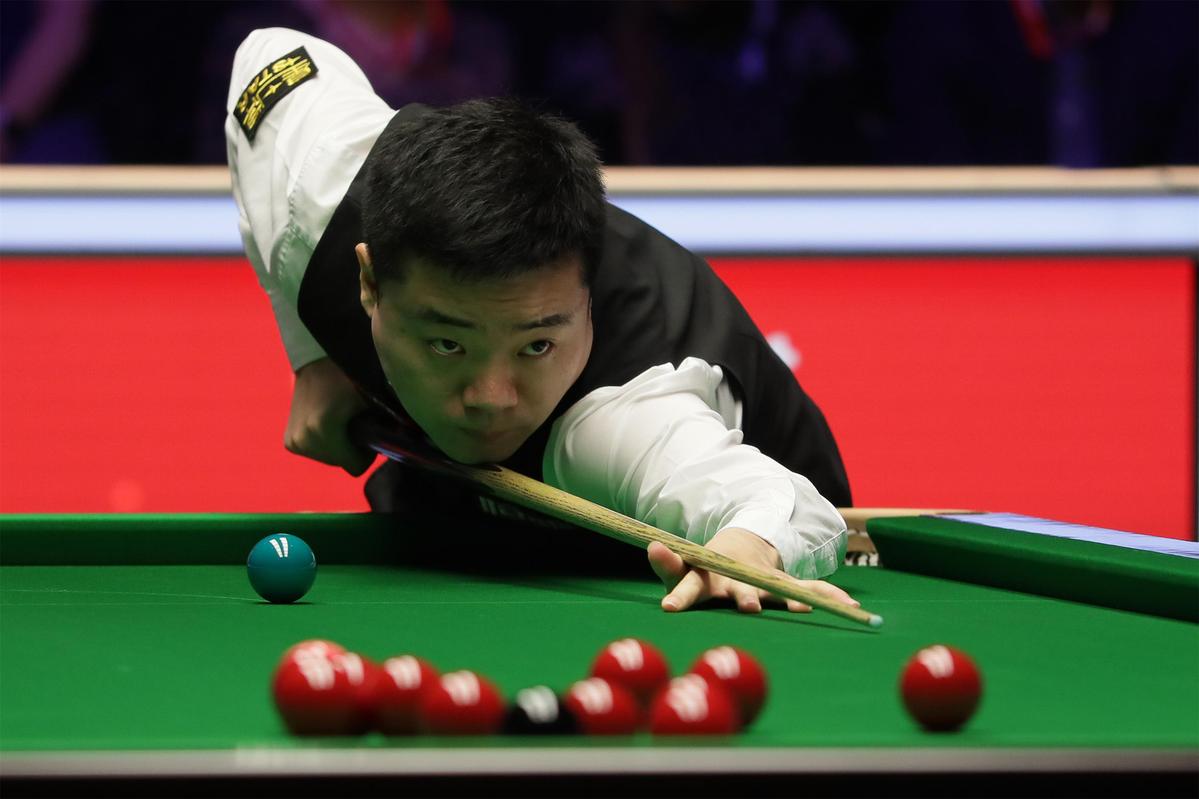 Chinese ace hoping to end career-long wait for world championship glory
With the postponed world championship just around the corner, China's Ding Junhui is hoping to finally get his hands on a trophy that has eluded him his entire career.
Having briefly halted an alarming slide with victory at last December's UK Championship, the world No 11 will bid to rediscover that form as he looks to collect a second piece of the sport's coveted 'Triple Crown'.
"I don't worry about the rankings or the results. I just want to get my form back," Ding, a runner-up in 2016, told CGTN from Sheffield, England, in an interview aired on Tuesday.
"Last year at the UK Championship was the best I ever played. I want to have a good practice and I want to keep that form for two weeks for the longest tournament in the sport."
This year's world championship-the final ranking event of the 2019-20 season-was postponed for over three months due to the COVID-19 pandemic.
The action begins on Friday as the world's top 16 players and 16 qualifiers battle for a first prize of half a million pounds (around $644,000) at the iconic Crucible Theatre.
Ding and 16th-ranked compatriot Yan Bingtao have secured direct entry, with Chinese veteran Liang Wenbo, a quarterfinalist in 2008, also making it to the main draw after winning four qualifying rounds at the English Institute of Sport.
Having completed a two-week quarantine at his apartment upon arriving in Sheffield, Ding has intensified his training to prepare for the long sessions at the worlds, where the competition starts with a best-of-19-frame format and builds up toward a best-of-33 final on Aug 16.
"For this sport, the most important quality you need is to be able to keep going (under pressure)," Ding said. "For me, the quality of my practice is going to make a difference for my game in the tournament."
After suffering a career slump in the 2018-19 season, when he failed to win any ranking events, Ding made a strong comeback in December by winning the UK Championship for a third time before COVID-19 shut down global sports.
En route to his 10-6 final victory over Stephen Maguire, Ding even accounted for five-time world champion Ronnie O'Sullivan-considered by many as the greatest player to ever grace a snooker table.
The unexpected victory, following three first-round exits at ranking events earlier this season, was Ding's first ranking title in more than two years and his 14th in total.
So far, the world championship has eluded Ding, and the typically humble 33-year-old is not about to make any predictions that this edition could finally be his year.
"I hope I can win and I try it every year. I've tried so hard," said Ding. "Every player wants to win it, it's a special one.
"Every year, everyone asks when I could win it. For me, I don't think I need to answer until I win it."
Should Ding successfully negotiate his opener against a qualifier on Friday, he could meet O'Sullivan in the second round, with both players in the tough second half of the draw along with the likes of three-time champion Mark Selby, world No 3 Mark Williams and second-ranked Neil Robertson.
Ding is relishing the prospect of playing his idol O'Sullivan on the sport's biggest stage.
"I think he's had the better results (against me). He wins most of the time, but I think if I keep my form good I will have a better chance of winning," said Ding, whose Crucible head-to-head record against the "Rocket" is tied at one win each.
O'Sullivan will also be looking forward to reviving the rivalry, with the mutual respect between the two clearly high.
"He's a class act, unbelievable. Very rarely do you get people like that," O'Sullivan said of Ding after losing to his Chinese rival at the UK Championship.
"For snooker in China it's the best thing to see him playing well, it would be nice to see him sustain it for eight or 10 years."
Ding's rise to prominence on the world stage, which began with his shock win over seven-time world champion Stephen Hendry in the 2005 China Open final, has inspired a new breed of Chinese potters to take up the British-born sport.
Last year, a record number of six Chinese made it to the main draw, either directly via the rankings or the qualifying rounds. However, 10 Chinese players reportedly withdrew from this year's qualifying tournament due to concerns over health and safety as well as travel restrictions amid the pandemic.
As the face of the sport in China, Ding said he still feels fresh and motivated to carry on the role for many years to come.
"I am confident to play maybe 10 more years. I think in the next five years, I won't do anything or think about anything else. I will fully concentrate on playing and help more young players to grow."