Small businesses keep their hopes high
Share - WeChat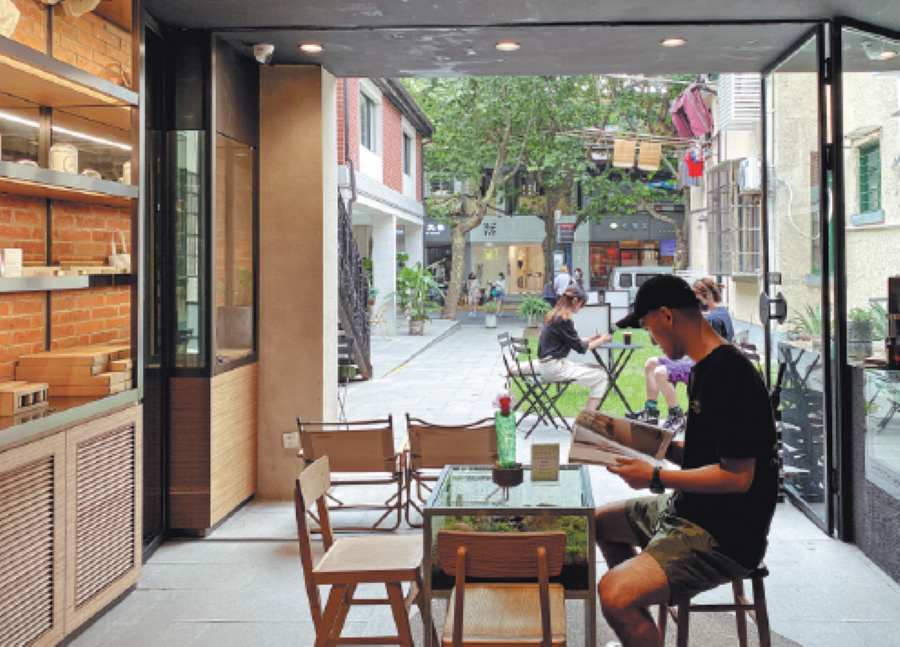 Innovation key to surviving pandemic
The impact of the COVID-19 pandemic has been huge, especially on brick-and-mortar businesses in many industries as customers stayed home during lockdowns.
The catering, clothing, training and entertainment industries are just a few that have been badly affected.
However, despite months of slim profits and even losses, business owners remain optimistic about the Chinese market's consumption potential.
Three of them have told of their confusion and anxiety in such difficult times. They also outlined measures they have taken to revive their businesses after the pandemic, offering a glimpse of the situation facing the country's private small and microbusinesses.
One of the owners, Zhu Yide, decided to start his own business in 2016, with the aim of standing out from the competition.
He opened his store, which sells clothing, shoes, handbags, perfume and household supplies, in a 90-year-old, two-story, Western-style villa in a tranquil alleyway in downtown Shanghai.
The business was named Element, with Zhu aiming to sell items essential for a fashionable lifestyle.
But in the first half of this year, the store experienced its poorest performance. Since closing in late January for the Spring Festival holiday, it saw no revenue until it reopened in May, three months after offline businesses were allowed to resume trading in Shanghai.
Zhu knew that most of his employees could not return to the city due to travel restrictions, and that because of its secluded location, the store faced a hard time trying to woo customers back.
In September, he opened a second store in Shanghai, located in a three-story building on a busy commercial street.
The first floor is occupied by a cafe and flower shop, the latest fashions are sold on the second, while the top floor is devoted to outdoor sports apparel and equipment, toys and craftwork.
However, Zhu has also been disappointed by this business, which is surrounded by several office buildings and can be reached by three subway lines. Since it reopened on Feb 10, the store has seen fewer than 10 customers a day, many of them just grabbing a cup of coffee in the lunch break before leaving.
"One reason for this is that more workers have been bringing their lunch to the office, making them less inclined to go out. Subway services were also reduced, and the number of passengers restricted," Zhu said.
He decided to offer discounts to attract clients, with a cup of coffee selling for about half the usual price, but despite his efforts, revenue in February was only about 10 percent of that for the same month last year.
Monthly revenue used to be 500,000 yuan to 600,000 yuan ($71,400 to $85,680). In March, it fell by 50 percent year-on-year and has since returned to about 70 percent of the usual level.
"Profit shrank a lot, but we believed this would only be short-term, and we have not seen a loss," Zhu said. He attributed this to a free rental period of more than 40 days in January and February offered to businesses by the landlord, a real estate operator.
This helped Zhu save more than 100,000 yuan. The working hours for his 20 employees were cut, but their wages were not reduced.
"I never thought about closing the stores. There will always be challenges if you run your own business, such as lack of cash flow. You need to adjust in the face of such changes," he said.
The half-price offer on all coffee continued until March, after which the store offered reductions on different types of the beverage every day, advertising them by placing posters on the doors to attract passerby.
Last month, Element joined street markets in the Bund organized by the local authorities. More than 100 vendors set up stalls free of charge as part of efforts to promote the street and night economies to boost consumption.
Early this month, the company took part in ISPO Shanghai 2020, a sports industry and consumption convention, at the Shanghai New International Expo Center, where Zhu said he met old business partners and made new friends.
He is also talking with clothing, wine and auto brands about joint cooperation in the second half of this year.
In general, Zhu is positive about the future. "The retail sector has long-term potential in the Chinese market if you stick to different products, environments and experiences," he said.
He is attempting to target a wide customer base, including white-collar workers, young people and adults with children, by changing products and store decorations every week to provide a sense of novelty.
On July 6, Zhu said on his WeChat Moments account, "Our book business is ready to take off."