Millions face end to key jobless benefit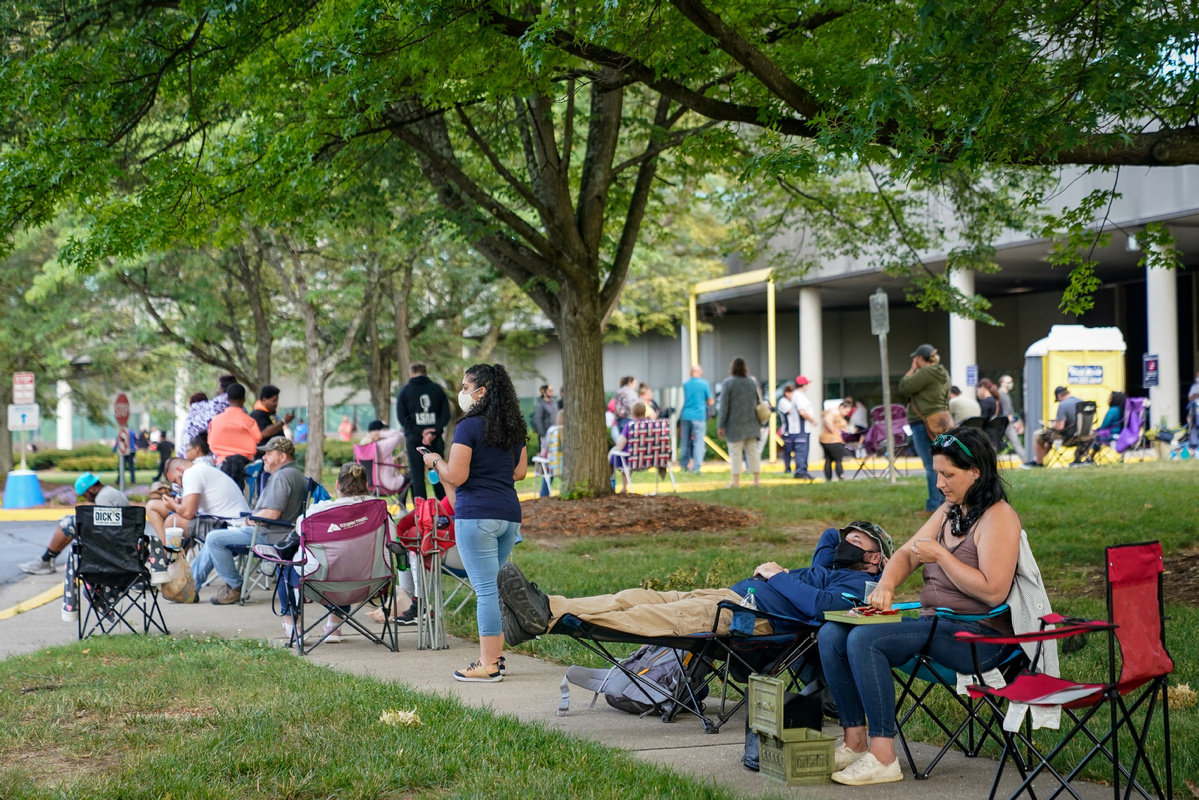 About 25 million Americans will no longer receive an additional federal weekly unemployment benefit of $600 by the end of this month, and up to 23 million could face eviction as federal protection ends Friday.
Congress passed the $2.2 trillion Coronavirus Aid, Relief, and Economic Security (CARES) Act in March to help people and businesses stay afloat.
But the extra $600 per recipient from the Federal Pandemic Unemployment Compensation program will run out for 25 million people on or before July 25, cutting off 60 percent of their income, according to CNBC. State benefits average $370 a week, down from about $970 per week that the extra $600 benefit had boosted.
The White House and Senate Republicans are discussing a deal to temporarily extend the unemployment benefits because they are unlikely to reach a broader stimulus bill before the assistance lapses, Bloomberg News and The Wall Street Journal reported Wednesday.
The Senate is discussing providing a second stimulus check as part of a larger rescue bill, but now there is no legislation set to replace or extend the unemployment benefits, the rent moratorium and other relief measures.
"The extra unemployment benefits were exactly what the economy needed, and it provided a huge support by preventing the public health driven recession from turning into a much broader financial problem," Josh Bivens, the director of research at the Economic Policy Institute, told USA Today. "But now we're threatening to strip that away."
Half of American adults spend at least 30 percent of their salaries on rent, and those who are poorer spend at least half that on housing, according to the Joint Center for Housing Studies of Harvard University.
About 19 percent of renters paid late or deferred their payments in May, according to data from the US Census Bureau.
At least 31 percent of renters surveyed in June said they had little to no confidence they would be able to pay July's rent.
The CARES Act's temporary eviction moratorium, which ends Friday, protects renters who live in a federally subsidized building or one with a federally backed mortgage. It requires a 30-day notice to vacate before a renter can be evicted. It disallows landlords from charging fees for nonpayment of rent.
The COVID-19 Eviction Defense Project, a coalition of economic researchers and legal experts, put the number of renters who could face eviction at 19 million to 23 million by the end of September.
"We are about to go off a cliff here in New York City," Mayor Bill de Blasio said about August evictions.
Bikram Singh, principal attorney and managing partner at the New York-based Singh & Rani LLP law firm, who specializes in landlord-tenant cases, told China Daily: "I think we are going to see a huge spike in non-payment proceedings. Whether it will lead to evictions, we will have to see."
Across the US, states and cities have enacted a variety of measures to postpone or halt evictions, but many statewide eviction bans have either already ended or will soon. A handful of states never canceled evictions.
In Massachusetts, Governor Charlie Baker on Tuesday extended the state's moratorium on evictions and foreclosures through Oct 17. The moratorium was set to expire Aug 18.
"I am confident that this action, coupled with federal assistance, helped to slow the spread of COVID-19 while minimizing the impact to date on vulnerable families and on our housing market," Baker said.
Los Angeles will allocate $103 million from the CARES Act to provide a rent subsidy for at least 50,000 low-income tenants. A grant of up to $1,000 per month, or $2,000 per household, will be paid to landlords.
New York City, where 68 percent of people rent, according to Zillow, has passed a law to protect tenants from being evicted if they can't pay their rent due to the pandemic.
New York Governor Andrew Cuomo signed an extension to an eviction protection bill for tenants on June 30. It will protect tenants from eviction until Aug 20. The Tenant Safe Harbor Act allows tenants to use coronavirus-related hardship as a defense against eviction.
But Singh said the act isn't absolute protection. "The court can still issue a money judgment (instead of a possessory judgment) against the tenant for the same period, which if not paid, can affect the tenant's credit," he said.
Cuomo also implemented an emergency rental-assistance program to help low-income families. Its aim is to help families stay in their homes if they lost income due to the COVID-19 pandemic. The funding comes from the CARES Act.
"No New Yorkers should be thrown on the streets because of hardships caused by this pandemic," Cuomo said.