US jobless claims fall as retail sales rise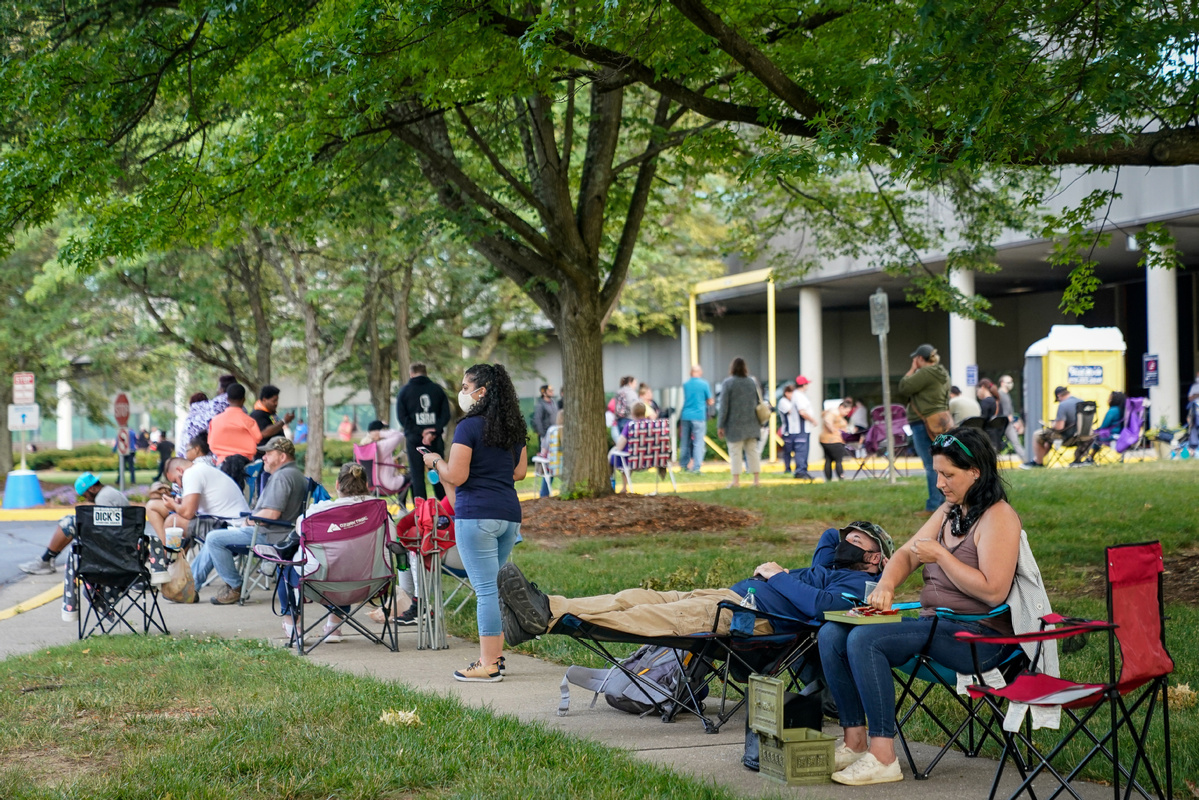 The number of Americans filing initial jobless claims fell last week but exceeded estimates as the US struggles with a sudden jump in novel coronavirus infections.
The US Labor Department said Thursday that 1.3 million workers filed jobless claims for the week ending July 11, a decline of 10,000 from the previous week. Economists polled by Dow Jones expected 1.25 million new claims.
Continuing jobless claims, or those of people receiving payments for at least two consecutive weeks, totaled 17.3 million and have declined for six weeks in a row. Analysts expected 17.5 million.
The number of workers filing for first-time jobless benefits has declined for 15 consecutive weeks since peaking at 6.9 million in late March, but initial jobless claims have exceeded 1 million for 16 consecutive weeks.
The current level of initial claims is nearly double the previous peak of 665,000 weekly jobless claims filed in 2009 during a recession caused by the collapse of the subprime mortgage market.
"There are clear signs that the longer-term damage is beginning to mount, with permanent layoffs beginning to climb, and the flow of workers from employment to unemployment still elevated," wrote Michael Pearce, an economist at Capital Economics, in a research note. "Moreover, absent a vaccine, the need for ongoing physical distancing will prevent a full recovery."
Health officials believe a coronavirus vaccine may be available early next year if candidates now being tested prove effective. Moderna, Johnson & Johnson, Pfizer-BioNTech and others have developed promising vaccines.
US officials hope to deliver about 300 million doses of a coronavirus vaccine by early 2021.
About 3.5 million coronavirus infections have been diagnosed in the US, reported Johns Hopkins University. That's about 1.06 percent of the 330 million people in the country.
Arizona, California, Florida and Texas all have reported an increase in new infections. Initial jobless claims totaled more than 100,000 each in Florida and Texas. About 30,000 workers filed claims in Arizona. In California, more than 200,000 workers filed first-time claims.
There are encouraging economic signs despite concerns about new infections.
The US Commerce Department said retail sales grew 7.5 percent in June as stores and restaurants reopened in some regions. But some analysts fear the growth will be short-lived if the increase in new infections forces people to stay home and a decline in consumer spending follows.
US industrial production increased 5.4 percent in June from May — the second straight month production in factories, mines and utilities grew, the Federal Reserve said. Economists surveyed by Dow Jones expected 4 percent growth.
Government stimulus and increased unemployment benefits helped offset the shock of the government-ordered shutdown intended to curb the spread of the virus. Congress is expected to debate further stimulus and higher unemployment payments next month, and it's likely to be an issue in this fall's presidential race.
Democrats argue that higher payments are needed to help unemployed workers pay their bills. Republicans counter that the added money will be a disincentive for some to return to work and will therefore prolong the downturn.
Despite encouraging news on consumer spending and industrial production, some major companies are hunkering down.
American Airlines said it may furlough as many as 20,000 employees this fall. Delta Air Lines said it will cut back on plans to increase flights this summer as demand for air travel collapsed during the pandemic.
As part of a $2.2 trillion relief package signed into law in March, US airlines received $25 billion in government aid and agreed to keep workers on the payroll until Oct 1, when the funding runs out.
Bank of America reported stronger-than expected earnings Thursday, but said it set aside $4 billion to cover bad loans and credit losses amid the downturn.
The bank reported strong earnings of 37 cents a share, beating analysts' estimates of 27 cents a share. But revenue of $22.5 billion was just above Wall Street's estimate of $22 billion.
Lower interest rates depressed Bank of America's earnings. Earnings from bond and equity trading were strong but lagged rivals such as JPMorgan Chase and Goldman Sachs.
Earlier this week, JPMorgan and Citigroup reported profits that topped analysts' estimates. Wells Fargo reported a loss due to bad loans.
The rate on a 30-year fixed mortgage dipped to a 50-year low of 2.98 percent last week. Rates on a 15-year fixed-rate mortgage fell to 2.48 percent, according to a survey by the Federal Home Loan Mortgage Corporation, or Freddie Mac.
The Federal Reserve has slashed interest rates to near zero to encourage investment and consumer spending. The policy makes it a good time to buy a house, but not a good time to depend on income from a savings account.