World 1,500m champion Cheruiyot eager to face Ingebrigsten brothers in Monaco
Share - WeChat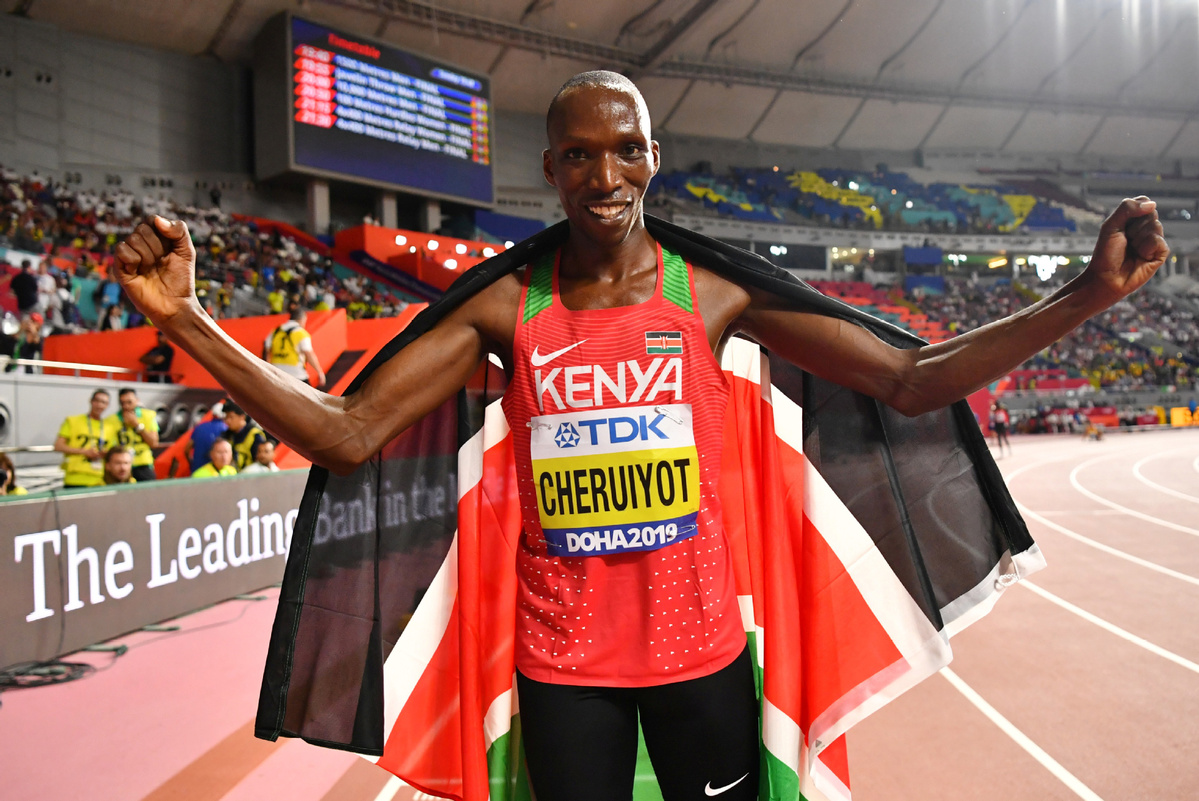 NAIROBI - World 1,500m champion Timothy Cheruiyot on Wednesday expressed his excitement at the return to Diamond competitions as he stepped up his preparations ahead of Monaco meeting on August 14.
The three-time Diamond League champion will be seeking revenge against the Norwegians, Jakob and Filip Ingebrigsten who beat the Kenyan and his team to win the virtual race at the Impossible Games held on June 11.
"We have been out for long, we really don't know what is in store for us because we haven't competed for a long period, but I'm excited that we will be competing again," Cheruiyot told Xinhua at their training base in Rongai, outskirts of the capital, Nairobi.
The new track and field calendar will begin with the Monegasque leg and continue through until mid-October in the face of the COVID-19 pandemic.
Last year, Cheruiyot, 24, savored an impressive season winning 10 out of 11 races across the board, including the ultimate race in Doha where he raced to his first-ever gold medal at the IAAF World Championships.
"I'm actually happy to line up against Ingebrigsten brothers, they have really become my friends and look forward to sharing the line up again with them," said Cheruiyot who will be scheming for his fourth Monaco meeting victory.
Cheruiyot's coach Bernard Ouma who handles the world best millers that includes the 2017 world champion Elijah Manangoi, Africa 1,500m junior champion Vincent Keter, Intercontinental 1,500m champion Winny Chebet among others predicted fast races across all track competition in Monaco.
"Monaco meeting will determine a lot of factors, remember COVID-19 shredded all the sporting event plans, so many runners are excited to be back in competitions and to remain relevant and safeguard their contracts, I expect fast times across all track events," said Ouma.
Meanwhile, Ouma clarified that the strict Schengen Visa guideline drawn by the European Union on the "safe list" of the nations during the COVID-19 period has been sorted by the Kenyan government.
"All is well, on a mutual arrangement there is an exemption of persons on selected areas that can be granted the Visas and in this case, Ministry of Sports and Athletics Kenya have sorted out our athletes," Ouma stated.
Kenya was omitted from the list of countries whose citizens are allowed to travel into Schengen states when the EU opened its borders on July 1 as coronavirus restrictions around the world continue easing.
Kenyan stars were missing from the roster for the August 14 Monaco Diamond League season-opening meeting in the Mediterranean principality where athletes from neighboring countries such as Uganda's world champion, Joshua Chepteng'ei were announced in the field.