VR, AR set to redefine workplace, entertainment
Share - WeChat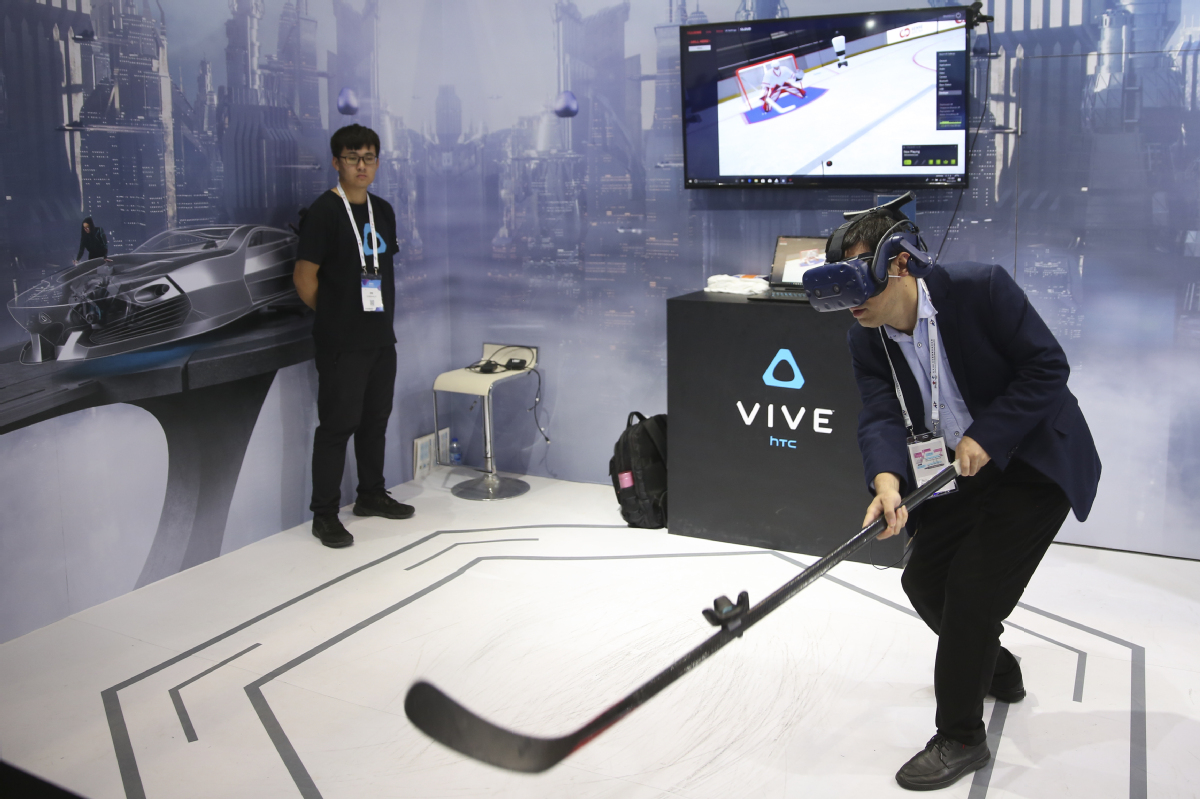 Sector banks on latest breakthroughs, steps up software development efforts
Virtual and augmented reality technology are poised to witness robust growth as an increasing number of consumers and employees stay indoors and use VR and AR solutions to communicate with colleagues and entertain themselves since the novel coronavirus outbreak, said industry experts.
Major tech companies have beefed up efforts to promote their VR and AR hardware devices and software. HTC Corp is betting big on this technology and accelerating steps to offer a suite of software applications intended to make people's lives more colorful and productive, said Alvin Wang Graylin, China president of HTC.
"The world has irreversibly changed in the last five months taking us all on an accelerated path toward a digital-first future. This video-centric 'New Normal' we are living will rapidly transition to the XR first 'Next Normal' that awaits us," Graylin said.
XR is the umbrella category that covers all the various forms of computer-altered reality, including augmented reality, mixed reality and virtual reality, and significantly advances the quality, fidelity and dimensionality of human-to-computer interactions.
He said that with the advancement of science and technology, people can gradually make use of real interaction in the virtual space to achieve immersive communication and do away with time and space constraints.
"Our life, work, study and social contacts will become more open, simple and highly efficient with the help of XR technologies," Graylin added.
He is bullish on the prospects of VR and AR technologies, which have already been applied into a string of sectors, including social networking, office activities, entertainment, exhibitions, education, production and art.
For instance, as a pioneer in the VR industry, HTC VIVE has customized VR interaction lessons for Chinese carriers such as Air China and Hainan Airlines to train employees.
In June, the company launched its VIVE XR Suite in China, which is an integrated application bundle that enables users to work, learn, socialize and even attend events in an immersive fashion from anywhere using most modern computing devices.
Comprised of five major applications-VIVE Sync, VIVE Sessions, VIVE Campus, VIVE Social and VIVE Museum-the VIVE XR Suite is aiming for a third-quarter launch in China, with additional regions to follow throughout the year. It is noteworthy that all the applications will function on existing PCs or laptops and some apps will even support smartphones.
Graylin said the company is paying attention to the Chinese market, believing the launch of VIVE XR Suite will also boost sales of head-mounted display devices.
"Telecommuting is one of the future trends, and XR, the internet of things, artificial intelligence, big data and other technologies will be leveraged to create more work and life application scenarios that break through the limitation of time and space, as well as help human beings cope with the changes of environment flexibly," he said.
The Ministry of Industry and Information Technology has called for more efforts to propel the application of 5G in a wide range of fields, which include VR, AR, livestreaming, games and entertainment. VR and AR devices will massively benefit from 5G's ultrawide bandwidth, high speed and low latency.
The VR market will amount to 54.45 billion yuan ($7.8 billion) by 2021, said Wu Shengwu, deputy head of the electronic information division of the ministry during the 2019 World Conference on VR Industry.
China has become the world's most significant production site of VR terminal products, which nurtures the VR consumer market, Wu said, adding the ministry will continue to support the building of a VR manufacturing innovation center, and advance the research and development of VR core technologies.
In addition, HTC has announced major partnerships with leaders in various industries to reach customers of all sizes. Internet search giant Baidu Inc has established an in-depth partnership with HTC to explore new developments in VR technology and application, broaden the boundary of VR business services, create various immersive experiences for consumers and promote the growth of the VR ecosystem in the 5G era.