Spreading wings across the world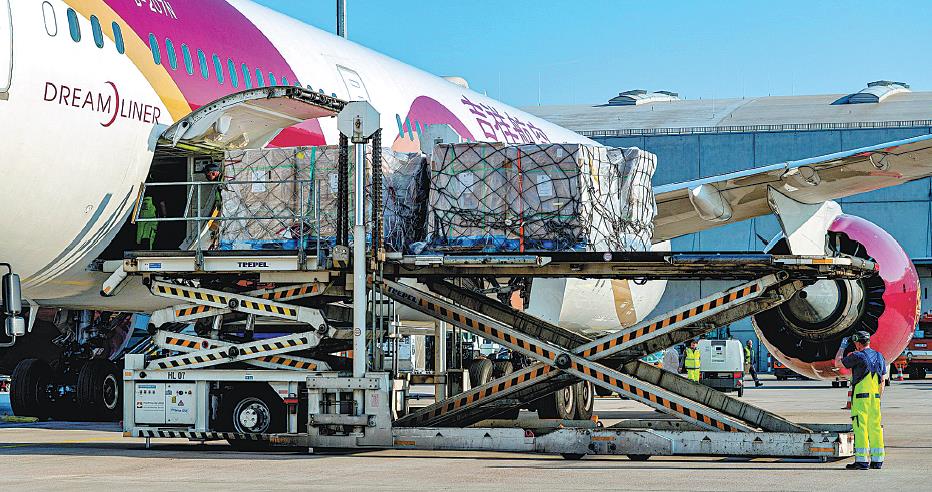 Juneyao Airlines sews up expansion plan, sets the tone for carriers on how to make a difference in the COVID era
Juneyao Airlines Co Ltd, the Shanghai-based private-sector carrier, will launch another five non-stop services between Shanghai and global destinations to further enhance its global presence in the post-pandemic era.
Istanbul, Athens, Manchester and Reykjavik are among the destinations to be connected with Shanghai. Although the pandemic disrupted Juneyao Airlines' plans to launch two direct air routes-Shanghai-Athens and Shanghai-Istanbul-in June, the company is continuing to work out the modalities with its Greek and Turkish partners.
The proposed services will be launched at an appropriate time, said Yu Chengji, vice-president of Juneyao Airlines, which is listed on the Shanghai Stock Exchange.
"Passengers certainly prefer nonstop services," said Yu. The company has analyzed the markets city by city, to study local economic development models, annual fiscal performance, people's average income levels, and demographics. Wherever the majority of the local population is turning into middle-income earners given to wanderlust, opportunities abound, he said.
Juneyao is a latecomer to the global market. But it will adopt a flexible and differential competitive strategy to take on other established players that have already scooped up big market shares, Yu said.
The 2006-founded airline boasts a fleet of 74 aircraft, including Airbus A320 series and Boeing 787-9 jets. It has plans to expand its fleet in order to serve more destinations than the 210 domestic and global cities it reaches now. It became the first private-sector airline in China's civil aviation history to use wide-bodied aircraft on intercontinental routes, after it launched direct flights between Shanghai and Helsinki in June 2019.
With over 8,000 employees globally, Juneyao plans to play a bigger role in advancing transportation services for long-term multilateral cooperation in markets related to the Belt and Road Initiative. The BRI's tangible growth will continue to support the world's economic recovery and generate new momentum in development, Yu said.
Although the COVID-19 pandemic has halted the airline's expansion this year, the company has operated more than 100 cargo missions-many by retrofitted passenger aircraft-from Chinese cities to fly 2,700 metric tons of medical supplies, parcels, industrial goods and daily necessities to more than 20 countries and regions across Europe and the Asia-Pacific region.
In addition to operating passenger flights from Shanghai to Helsinki on a weekly basis over the past few months, Juneyao assisted the Ministry of Commerce to ship epidemic-prevention materials to 30 missions of the member states of the Association of Southeast Asian Nations, including Cambodia and Malaysia.
It also shipped free of cost 120 tons of epidemic-prevention materials like face masks, gowns, test kits and ventilators to various domestic locations in the first half of this year.
Policy measures announced by the Ministry of Finance and the Civil Aviation Administration of China, or CAAC, in late May have helped stabilize global supply chains, and enabled civil aviation firms to upgrade their international cargo-handling capacities, Yu said.
According to the new rules, airlines can receive back 80 percent of the costs involved in converting passenger aircraft into cargo aircraft from the government and they are encouraged to fly international cargo flights during the COVID-19 prevention and containment period.
Overseas carriers have also introduced cargo flights to China. United Airlines now operates cargo-only services connecting Chinese cities including Beijing, Chengdu, Shanghai, and Hong Kong with US cities like Chicago, Los Angeles, San Francisco and Washington to transport vital goods.
As a number of countries have shut down their ports or borders during the pandemic struggle, air cargo has become increasingly critical to the world's COVID-19 fight amid surging demand for medical supplies, said Feng Hao, a researcher at the Institute of Comprehensive Transportation, which is part of the National Development and Reform Commission.
Feng said the new policy framework will provide financial support to air transportation companies, which will likely cushion the COVID-19 impact and help maintain smooth operations of global supply chains via stable cargo deliveries. The outbreak has highlighted the importance of cargo flights-and Chinese airlines such as Juneyao still need to scale up in this field.
To mitigate the impact of the virus on its sales revenue, Juneyao Airlines launched its extra-seat product in late June. For domestic flights departing from Shanghai, economy-class passengers will be able to purchase one or two additional seats adjacent to theirs so as to maintain social distancing during flights and enjoy a comfortable journey. Each additional seat will come at a nominal cost of 200 yuan ($28.6).
"So far, sales of these extra seats have been stable, and we have seen sales on every flight," said Yu, adding domestic passenger demand is evolving across travel and related services. Passengers are increasingly paying attention to privacy and wish not to be disturbed by others.
"The extra-seat option caters to diversified demand of Chinese passengers, and it fits in with the idea of developing experiential services of Juneyao Airlines. Next, we may introduce this feature in flights departing from other domestic cities and in more international flights," Yu said.
According to the CAAC, the country saw 935,200 passengers and 10,570 flights daily in early June, 57.4 percent and 66.11 percent respectively of the corresponding figures last year.
The administration is negotiating adjustment of international passenger flights with certain countries and a moderate increase in the number of services and routes could be expected soon.
Countries having close economic and trade ties with China, with strong remote prevention and control requirements, and no record of exports of COVID-19 cases to China will receive preference in this context, said Xiong Jie, spokesman of the CAAC.
Countries with a large number of overseas Chinese nationals seeking to return home, as well as countries that have established "fast track" arrangements with China for work and production resumption, also qualify for the special treatment, he said.
So far, China has signed such agreements with Germany, South Korea and Singapore, according to the Ministry of Foreign Affairs.