Nuclear power sector advances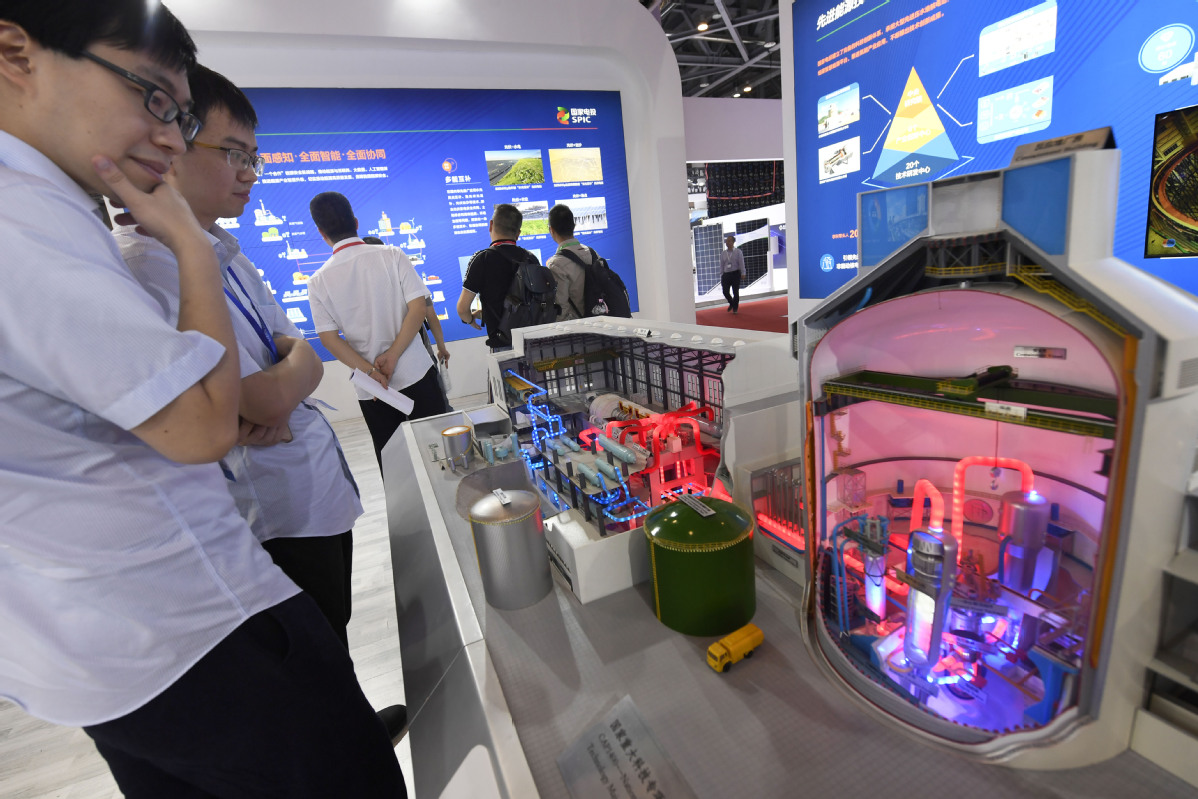 China likely to construct six to eight new reactors annually between 2020-25
China's nuclear power construction in the coming years is expected to advance steadily despite the outbreak of COVID-19 in the country, insiders said.
Nuclear power will play a more significant role in China's energy mix and will gradually replace fossil fuels on a large scale, according to a blue book recently released by the China Nuclear Energy Association on China's nuclear development outlook.
The association estimates that China will construct six to eight reactors annually to steadily advance its nuclear development between 2020 and 2025, which will also help create more jobs.
While the nuclear energy targets set by China have been delayed, the nation is still on track to become the top global nuclear energy player over the next decade, it said.
While China previously said it would raise its total installed nuclear capacity to 58 gigawatts by 2020, up from 35.8 GW at the end of 2017-and have another 30 GW under construction by the end of 2020-the association estimates that China will miss its 58 GW target. However, the capacity is still likely to increase exponentially in the coming decade, it said.
According to the blue book, China is expected to have 51 nuclear facilities in operation by the end of 2020, with an installed capacity of 52 GW. More than 17 nuclear units will be under construction, with an installed capacity reaching 19 GW.
China is expected to have total installed capacity of 70 GW of nuclear facilities under operation by the end of 2025, and 30 GW under construction. The combined figure of installed capacity both under construction and in operation will reach 200 GW by 2035.
Insiders believe the country will achieve 100 GW and 200 GW, respectively, by 2025 and 2035 in capacity, including reactors under construction.
The numbers are both huge and achievable, said Joseph Jacobelli, an independent energy analyst and executive vice-president for Asia business at Cenfura Ltd, a global renewable energy company.
"Planners (in China) had been targeting total installed, operational nuclear power generation capacity of 58 GW with 30 GW under construction. Now it looks like the operational capacity will be 52 GW, or about 10.3 percent short of the objective and that capacity under construction will be 11 GW, or 63 percent, below target," Jacobelli said.
"I do not think the fact that the 2020 number will be below target is particularly worrying in any way. The shortfall was caused by a great number of factors including stringent requirements on safety checks during construction and slow approval of new reactors. This is a new major industry for the nation and the authorities have to be extraordinarily cautious in its development, and I believe that as more experience is gained, the smoother the approval and construction processes will be," he said.
Nuclear reactors will be potentially operational for as long as 50 years. Careful planning and checks are therefore absolutely imperative. It does not really matter if it translates into some delays, he added.
According to the China Nuclear Power Development Center, nuclear capacity will more than double to 130 GW by 2030, 170 GW by 2035 and 340 GW by 2050. While the Chinese energy mix will still "heavily feature coal and other fossil fuels and 130 GW of nuclear power only represents 10 percent of national power generation by then, it will have a big impact globally due to the sheer size of the nation's energy sector.
It is believed that China will quickly rise through the ranks of the world's top nuclear energy producers and will pass France as the world's No 2 nuclear power generator in 2022 and claim the top spot from the United States four years after that, according to GlobalData Plc.
The association believes nuclear projects in China will focus on the large scale and mass production of domestically developed third-generation reactors including Hualong One, which is already officially in mass production.
He Yu, chairman of China General Nuclear Power Corp, also called for the mass production of Hualong One reactors, adding that the safe, technically mature and economically competitive technology will help reduce air pollution caused by coal-fired power generation while helping ensure installed capacity of nuclear power in China reaches at least 150 GW by 2030.
Six nuclear facilities were approved to begin operations last year. Yangjiang nuclear power plant's unit 6 in Guangdong province-together with unit 2 of Haiyang nuclear power plant in Yantai, Shandong province, and unit 2 of Taishan nuclear power plant in Guangdong-were put into commercial operation last year.
Jacobelli said it will take many years before there is a meaningful jump in exports of the large-scale, mass production of domestically developed third-generation reactors.
Third-generation reactors will need to be operational for several years to build a track record of safety. They may become significant exports, but not before five years, he said.
China topped the world in terms of installed capacity of nuclear power units under construction in 2019. By the end of 2019, China had 13 nuclear power units under construction, with the country's independent research and manufacturing continuing to increase, the blue book said.
In 2019, 39 units of main nuclear power facilities were independently designed and successfully handed over to clients. Chinese nuclear experts have mastered the core technologies of third-generation nuclear reactors, and are able to provide strong technical support.
Nuclear power accounted for 4.88 percent of total power generated in China in 2019.
The blue book also called for continuous nuclear project construction in provinces including Hunan, Hubei and Jiangxi to tackle power demand issues in these regions.
After some 30 years of learning and innovation, China has shifted from a novice to a pioneer in the nuclear power industry, mastering the art of independent design and manufacturing of nuclear power facilities.
Qiu Jiangang, deputy head of the experts committee with the China Nuclear Energy Association, said earlier that six to eight facilities will be constructed each year between 2020 and 2025, and maritime provinces including Shandong and Hainan should set up clean energy demonstration regions and increase the percentage of nuclear power in their local energy mix.
Global nuclear installed capacity will witness a substantial increase in the future, and the focus of nuclear construction around the world will shift from developed to developing countries, Qiu said.
The focus over the next five years should be on coastal regions as major places for nuclear project construction, while inland provinces including Hunan, Hubei and Jiangxi should also plan in advance to ensure nuclear power generation, he added.