Cheng inspires Zhejiang past Nanjing in CBA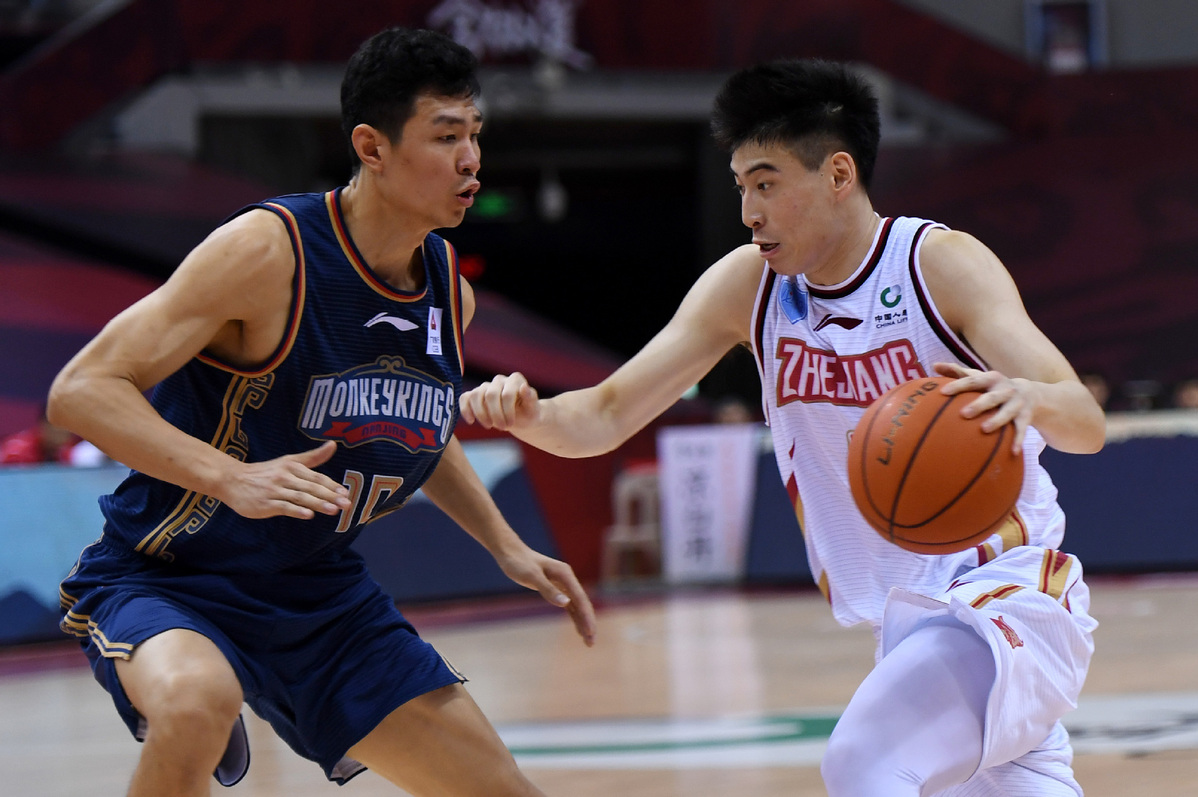 QINGDAO - Cheng Shuaipeng scored a career-high 43 points as the Zhejiang Golden Bulls overcame the Nanjing Monkey Kings 114-97 in the Chinese Basketball Association (CBA) league here on Thursday.
Cheng shot 16 of 22 from the field along with five rebounds, four assists and five steals. The 21-year-old guard's previous record was 39 points when taking on the Xinjiang Flying Tigers in December 2018.
It was also the first 40-plus-point performance by a domestic player since the CBA's restart on June 20.
"As a young player, I need to fight whenever I'm on court," Cheng said.
Zhu Xuhang added 19 points and 10 boards for Zhejiang. Liu Zeyi and Lu Wenbo had 18 and 15 points respectively.
Nanjing players quickly discovered their form beyond the arc, with Guo Yifei, Li Hongpeng and Qiao Wenhan combining for six three-pointers to earn them a 31-27 lead as the first quarter ran out.
Joseph Young's jump shot extended Nanjing's margin to 10 points, but Zhejiang soon erased their deficit with different players putting on scoreboard. Both sides tied 56-56 going into half-time.
Cheng was Zhejiang's main contributor in offense after the interval with three 3-pointers, and scored 13 points in the third period.
Nanjing didn't give up hope of coming back into the game. With Hamed Haddadi on the court, Nanjing succeeded in protecting the rebound while utilizing the Iranian center as a pillar in offense, feeding for three-pointers by Li Borun and Guo. Haddadi also finished consecutive three-point plays as Nanjing trailed by three points heading into the final frame.
But Nanjing could not stop Cheng's glittering performance afterwards. After Zhu scored seven points in a row, Cheng took center stage by converting successive layups in fast breaks, and also drawing an unsportsmanlike foul from Young, to put the game beyond their opponents' reach.
"We won the game through our defense and rebounds. I have to praise the young players for their fighting spirit. Hopefully they will not feel complacent as there is a long way to go," Zhejiang's head coach Liu Weiwei noted.
For Nanjing head coach Cui Wanjun, his team showed great defense in the first half, but lost their concentration in the second.
Nanjing had five players scoring double figures. Qiao and Young contributed 19 points apiece.
"We executed our defensive plan quite well on some of their key figures, but gave too much space to other players," Qiao rued.
The Zhejiang Golden Bulls will face the Zhejiang Lions on Saturday, while Nanjing's next opponent will be Xinjiang on Friday.