Benitez, Paulinho back ahead of anticipated CSL kickoff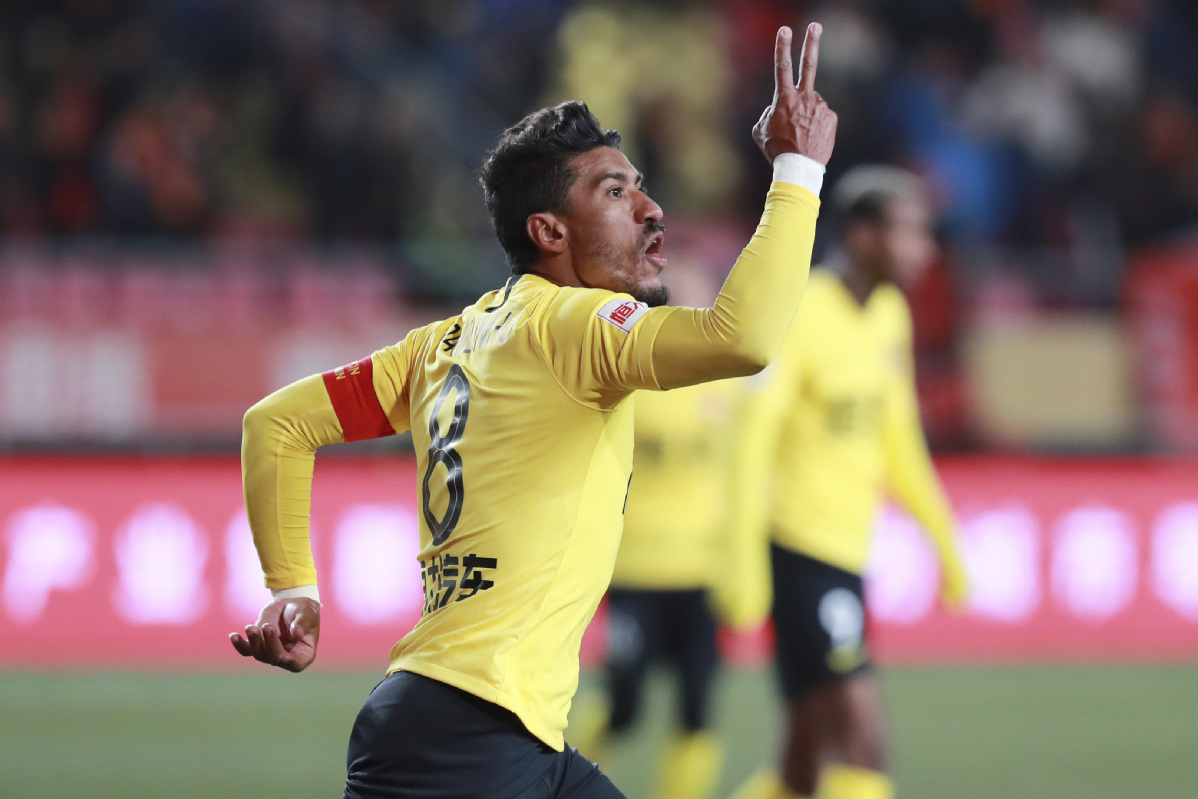 The returns of Rafa Benitez and Paulinho to China have heightened expectations that the delayed 2020 Chinese Super League season will finally kick off next month.
On Monday, a senior Shanghai sports official suggested the league will start in July - comments which appear to have been given credence by the arrivals of a number of bigname foreigners back in China, including Dalian Pro head coach Benitez and Guangzhou Evergrande midfielder Paulinho.
Originally scheduled to kick off on Feb 22, the 2020 CSL season was postponed due to the COVID-19 pandemic. Many of Europe's major leagues, including Germany's Bundesliga and Spain's La Liga, have recently got back underway and now it seems the CSL will follow.
The Chinese Football Association had been pushing for a late-June start. That plan reportedly failed to get final government approval due to inadequacies identified in the CFA's epidemic prevention measures. However, comments on Monday by Xu Bi, the director of the Shanghai Administration of Sports, have given fans renewed hope.
"The Chinese Basketball Association announced that its league will start on June 20, and if everything goes well, the CSL will resume in July," Xu told a Shanghai radio station.
"Because the time is much shortened, the format of the 2020 season will be different. Probably, there will not be home and away games in both basketball and soccer."
Just like the CBA, Xu says CSL teams could gather in two hub cities to finish the season, with the league split into two groups and featuring round-robin and knockout stages.
At the time of writing, there was no official word from the CFA on Xu's claims, however the return of several foreign players and coaches to China has added to the sense of expectation that a kickoff could be just around the corner.
Benitez confirmed he is back on Chinese soil on social media on Monday, while media also reported that a trio of his Dalian players - Venezuelan Salomon Rondon and Swedish pair Marcus Danielson and Sam Larsson - have also returned.
"Back in China. We stopped in the beautiful city of Stockholm where I visited some emblematic places like the Riksdag, the Royal Guard Wing Building and the Royal Palace," former Liverpool boss Benitez wrote on Weibo.
PP Sports reported that one of the CSL's most famous imports, Evergrande's Brazilian star Paulinho, returned to Guangzhou on Tuesday morning.
After a 14-day medical quarantine, the 31-year-old former Barcelona star will rejoin the defending CSL champion's squad.
In late March, the Chinese Foreign Ministry temporarily suspended the entry of foreign nationals, but included a proviso that those deemed necessary for "economic, trade, scientific or technological activities" could apply for visas at Chinese embassies or consulates.
"Many people may question why the foreign coaches and players can come back to China now," said Chinese soccer reporter Bai Guohua.
"Actually, after the Foreign Ministry issued the temporary suspension of entering into China, some foreign people could still apply.
"If a club could get the provincial level of approval, the player could contact a local Chinese embassy to get a work visa and enter China... It's a hard process, but it's not hopeless."
Just quite how many of the CSL's foreign contingent can make it back in time remains to be seen.
CFA president Chen Xuyuan has said that the league won't "wait for everyone to return".
In the event that some teams are left with glaring holes in their squads due to the absence of imported stars, the CFA could face calls to adjust its foreign-player policy in the interests of fairness.
The CBA, for example, has amended its rules on the number of foreign players teams can put on the court for its resumption.
According to the original 2020 season regulations, CSL clubs are permitted to register six foreigners, with five of those eligible in matchday squads and four allowed on the pitch at any one time - although the CFA has recently considered amending these rules.
There could also be imbalances on the sideline too.
Although Dalian Pro has been fortunate enough to welcome back Benitez, last season's runner-up Beijing Guo'an remains without its French head coach, Bruno Genesio.
According to L'Equipe, the 53-year-old is stranded at home in Lyon.
"This situation is frustrating and it has become really heavy," Genesio told the French sports daily in an article published on Sunday.
"I deal with the team from a distance, by phone, teleconference."
Chinese clubs have faced unprecedented challenges during soccer's long hiatus, including travel restrictions and numerous quarantine periods as they switch training venues.
Many clubs have failed to cope with the financial strain, with the CSL's Tianjin Tianhai becoming the most high-profile casualty of the shutdown when it was forced to disband in May.
If the mooted July restart fails to materialize, Chinese soccer could well witness more clubs follow Tianhai out of the professional ranks.