Tuning in to the past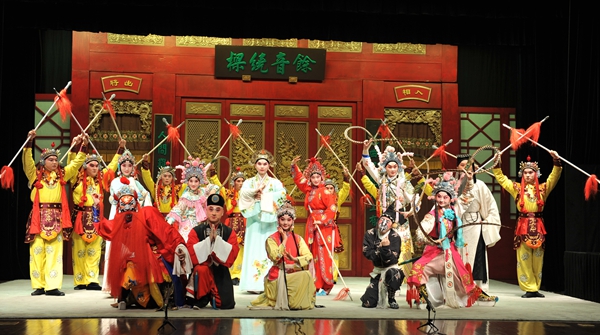 Traditional music has found increasing appeal among a younger audience, due to greater access to it and the passion of its fans, Chen Nan reports.
Sometimes you have to travel to appreciate your own. Sometimes, waking up in a foreign land gives you a precious insight into your own country.
Fang Songping is a musician and has traveled but when he was at home with his pipa-player father, Fang Jinlong, he preferred Western rock.
It was hulusi, the gourd-like instrument, that really changed his life. He happened to bring it to Los Angeles, while studying music there. His classmates were fascinated when he played music with it, and a new horizon opened up before him.
According to a recent report on traditional Chinese music, young Chinese people are turning their attention to traditional arts. More and more are listening to traditional Chinese music.
The report was released on June 2, under the guidance of the China Association of Performing Arts, by Kugou, a leading social media platform of digital music. The platform has been highlighting traditional music along with other forms of Chinese intangible cultural heritage, and garners more than 400 million active users monthly.
The report focused on the genres of traditional Chinese art, such as operas and folk music, and also analyzed age differences and locations. It found that more than 100 million people tune in to traditional Chinese music monthly.
The top three most popular types of traditional Chinese operas are named in the report-Yueju (or Cantonese Opera), Peking Opera (or Jingju) and Huangmeixi.
It also pointed out that the popularity of traditional music is a result of the rise in social media and networking, and through joint efforts made by traditional musicians and opera performers. For example, Peking Opera artists from Shanghai Jingju Theatre Company once recorded for a Chinese video game that centers on exploring Chinese food.
Rising of stars
Pipa player Fang Jinlong, father of Fang Songping, is a musician who has been devoted to preserving and promoting traditional music among young people for years. He has attracted lots of young fans on his social media platforms.
His 12-minute performance at the New Year's Eve concert on Dec 31, 2019, livestreamed by video-sharing platform Bilibili, made him an online star, receiving warm feedback from the young audience. He adapted pop songs with traditional Chinese folk tunes and played dozens of musical instruments, including the pipa and erhu. His show even incorporated elements from Chinese martial arts culture, American folk music and Japanese anime.
During the livestreamed show, he was accompanied by a 100-member symphony orchestra under the baton of conductor Zhao Zhao, and he's seen sometimes talking with other musicians, communicating with the audience and imparting knowledge about the instruments or the music, while the audience was able to interact with the musicians, as well as with each other, by leaving instant messages on the screen.
Fang Jinlong, from Anqing, Anhui province, says: "I have been a musician for 42 years and released nearly 40 albums, but previously my music wasn't all that popular among younger listeners. It made me think and inspired me to change my music."
The musician, now in his late 50s, was first introduced to music by his father, also a pipa player in a local Huangmeixi opera troupe, and started to play liuqin (a four-stringed Chinese mandolin) at 6 years old. Before graduating from primary school, he could play more than 10 traditional Chinese instruments.
"I didn't expect that the show on Bilibili would receive so much attention. I am very proud of it. Traditional Chinese musicians are constantly trying to come up with new ways to promote the genre. My idea is to fully display the versatility of the music in a fun way," says Fang Jinlong.
The process of experimenting with his music and making his music popular among young audiences is "like that of an experienced chef sensing how different ingredients will change the flavor of a dish", he says.
"I taught myself to play all those instruments to better understand traditional Chinese music," adds the musician, who also co-founded a female band, Sweet 18, in 2003. The band is known for their creative interpretation of traditional Chinese musical instruments and their adaptation of famous Chinese pop and folk songs.