Online concert to celebrate Sino-Egyptian ties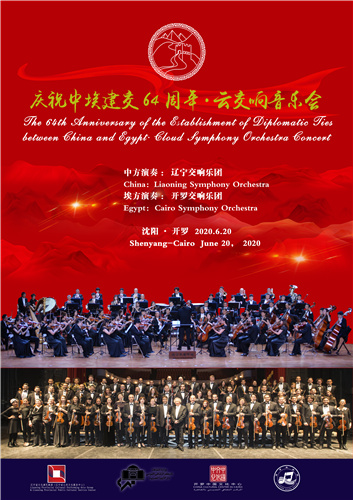 To celebrate the 64th anniversary of the establishment of diplomatic ties between China and Egypt, an online symphony orchestra concert will be held between the Liaoning Symphony Orchestra and Cairo Symphony Orchestra on June 20.
This 5G broadcast will be another example of technology and art fortifying each other. Since the COVID-19 outbreak, musicians from both countries have come together to present the renowned Grand March from the opera Aida, which attracted millions of viewers on the Xinhua News app.
Audiences will rejoice over many celebrated pieces such as My Motherland, Jasmine Flowers, Egyptian March, The Light Cavalry Overture and Days Gone By.
In commemoration of the 250th anniversary of Beethoven's birth, artists will also present his victorious masterpiece Egmont Overture, to evoke hope in people's hearts amid the pandemic.
Watch the live 5G concert at 7 pm, June 20 on the Facebook page of China Culture.