Hainan will be more than China's 'Hawaii'
Share - WeChat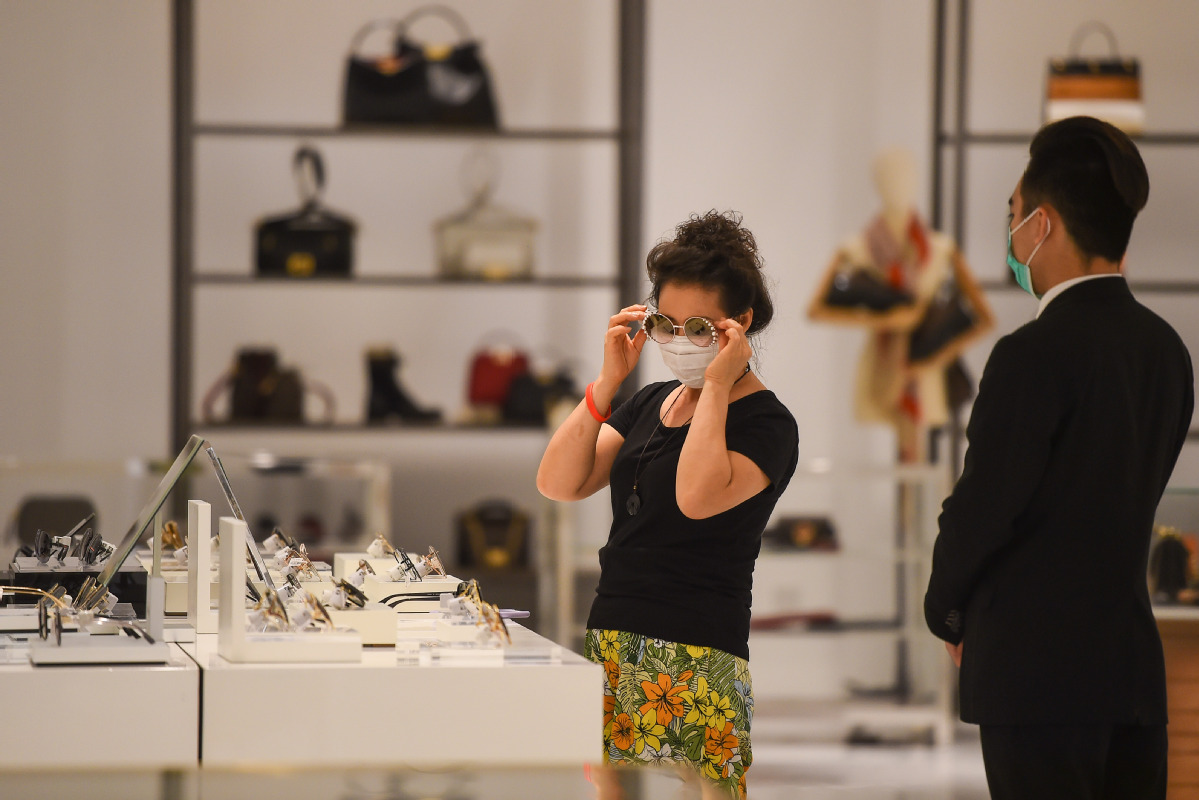 Shortly after South China's picturesque tourist haven Hainan province regained its footing following the COVID-19 epidemic in mid-March, many retail stores and hotels started to resume their operations. They, however, still had in place certain restrictions on the number of people allowed inside and measures like social distancing.
With a mask on, I visited the famed duty-free complex in Haitang Bay in Sanya city, where the second phase of the tourist favorite has just opened to public.
The shopping mall extension has more open space, filled with outlets of renowned brands, retail chains and quick service restaurants. The presence of Starbucks, Tsui Wah, Under Armour, Nike, Fila... gives the mall the aura of a modern metropolis. Tropical balmy weather provides the icing.
Having traveled to the island many times, I'm familiar with its landscape, attractions and specialties. Yet, Hainan's rapid changes give its bay areas such a refreshing feel that I felt as if I was visiting a new destination.
New hotels, shopping malls and world-class theme parks are constant surprises. Just in Haitang Bay alone, there are two large-scale travel destinations-Atlantis Sanya for water sports fans and Fantasy Town for night owls.
There was a time when real estate was built on the island to be sold to elders from the mainland in search of post-retirement homes. Now, office building or business complex projects are attracting high-tech or financial industries. High-end talent is being wooed, so as to convert the island into the country's "globally influential and high-quality free trade port".
At the duty-free shopping center, I looked around for certain top-end cosmetics on sale that my relatives and friends asked me to fetch.
I lined up outside stylish outlets and waited patiently. When it was my turn to pay, I was told a tourist with a ticket to leave the island could buy no more than 12 pieces of cosmetic products. I had to let go of several items.
At the shoe store, I learned duty-free policies allow a tourist to buy no more than four pairs.
Now, with the new mega plan to transform Hainan into a free trade port, scrap import duties, lower income tax rates for talent, and cap corporate tax at 15 percent, inbound tourists can raise their consumption amount to 100,000 yuan ($14,144) a year from the current 30,000 yuan. They can spend their money on a wider selection of product categories.
The relaxation on duty-free products is expected to unlock more domestic consumption potential and make Hainan a more attractive shopping and touring destination for international travelers.
Tourism in 2019 generated a revenue of 105.8 billion yuan, or 20 percent of the province's GDP. According to the Haikou Customs, since the implementation of the duty-free policy in 2011 on the island, 72 million pieces of duty-free products were sold, generating sales of 55 billion yuan, from 16.09 million personal shopping transactions.
In 2019, 83.11 million tourists visited Hainan, up 9 percent year-on-year. Of them, 98 percent were domestic tourists.
But in the future, as a free trade port, Hainan could emerge as more than China's "Hawaii"-a travel and shopping heaven that is also tipped to be a hub for business, trade and higher education.
Sensing the imminent transformation, investors have been out to make the most of the emerging opportunities.
Li Zixing, CEO of Fujian Dry-Port Group in Fujian province in East China, said the company expanded its business to Haikou last year to benefit from its preferential policies for trade and logistics.
"I believe Hainan will become an export and import leader in the country as well as a bridge to international e-commerce and a domestic consumption market," Li said.
Between January and May, the company's cross-border business reached a volume of 120,000 units of packages.
Hainan's land area is about 35,400 square kilometers, with a population of 9.45 million. It is seeking to diversify its industry structure and function as a strategic trade and investment destination by offering more cross-border flows of trade, investment, capital, personnel, transport and data.
The countdown has begun for it to emerge as the country's biggest free trade port by 2035.