Japan stepping back to the plate with spectator-less return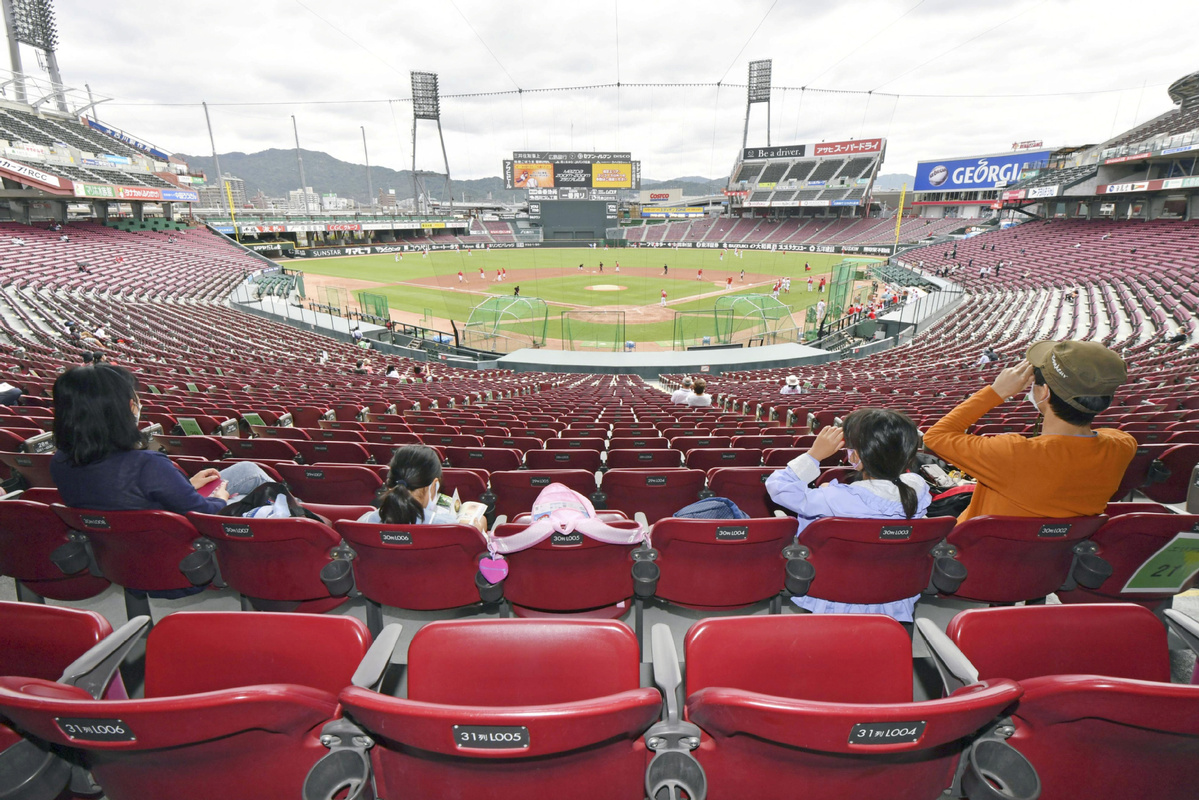 Baseball is returning to Japan next month.
Nippon Professional Baseball (NPB) announced on Friday it will open its coronavirus-delayed campaign on June 19.
The season was slated to open on March 20, but was put on hold due to the COVID-19 pandemic. In early April, the Japanese government declared a national state of emergency.
Last week, the government advisory board lifted the state of emergency for certain activities, paving the way for NPB to play a 120-game season, down from 143.
Fans will not be allowed in stadiums for at least the first two weeks, but league officials are hopeful crowds will be allowed by midsummer.
Several proposals to compensate for the late start are being considered, including shortening the playoff rounds, eliminating interleague games, getting rid of the All-Star Series and capping games at nine innings.
NPB "preseason" games are expected to begin June 2 through June 14, and commissioner Atsushi Saito said the league schedule will be built in a way that lowers the risk of spreading the virus.
Several players from NPB have gone on to enjoy success in Major League Baseball in North America, including Ichiro Suzuki, Masahiro Tanaka, Yu Darvish and Shohei Ohtani.
Meanwhile, the Korean Baseball Organization (KBO) has suspended pioneering ex-Pittsburgh Pirates infielder Kang Jung-ho for a year and ordered him to perform 300 hours of community service over a series of drunk-driving incidents.
The KBO said in a statement the suspension will take effect when Kang signs a contract with a club. Earlier this month the player submitted a letter of apology and an inquiry about returning to the league.
The 33-year-old Kang signed with Pittsburgh in January 2015, becoming the first position player to jump directly from the KBO to the majors.
He made a splash as a rookie, finishing third in NL rookie-of-the-year voting after hitting 15 home runs. His season ended abruptly when he broke his leg after a collision with Chicago Cubs second baseman Chris Coghlan.
Kang returned in 2016 and blasted 21 homers for the Pirates before his career took a dive after getting arrested in Seoul in December 2016 on charges of driving under the influence of alcohol.
He had two previous DUI cases in 2009 and 2011, according to the KBO.
Kang received a two-year suspended sentence, spent the entire 2017 season on the restricted list after being unable to secure a visa back to the US and played in just three games at the end of the 2018 season.
The Pirates cut him, then brought him back on a one-year deal worth $3 million for the 2019 season. He hit.169 with 10 homers in 65 games.
The KBO said the latest disciplinary sanction was imposed because Kang "undermined the league's image, disappointed fans and caused public concern".
Yonhap news agency said Kang issued an apology through his agent, asking for one more chance to play baseball and saying he'd taken the game for granted.
"I was a fool not to see how precious it was," Kang said in the statement.