Top actors add drama to livestreamed tours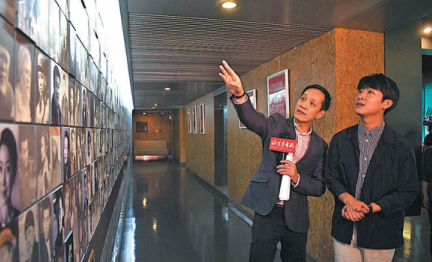 After months of closure due to the outbreak of COVID-19, Beijing People's Art Theatre Museum reopened on May 18, the 44th International Museum Day.
Online viewers toured the museum through a live broadcast, hosted by actors, directors and staff members.
The museum, on the fourth floor of Beijing People's Art Theatre, is China's first theater museum.
With a diverse collection of nearly 150,000 items, the museum demonstrates the development of the theater and Chinese drama in general, said a staff member. He added that most audience members would like to visit the museum before going to watch plays.
The tour's first guide was the highly respected actor Pu Cunxin who was the former vice-director of the theater.
Following Pu into the lobby, people were drawn to an old photo of the theater's signature play, Teahouse.
Written by Lao She (1899-1966), a renowned Chinese writer whose real name is Shu Qingchun, the three-act play spans more than 50 years in modern Chinese history. It vividly depicts the capital's grassroots by featuring around 70 characters from all walks of life.
Since its premiere in 1958, Teahouse has been on stage for more than six decades with over 700 shows.
"Every time the play was performed, my mom got up early and waited for hours to buy tickets," an audience member recalled online.
During the 1950s and 1960s, the theater built up its reputation among audiences with adaptations of classic works such as Teahouse and Rickshaw Boy from Lao She, Cai Wenji from the historian Guo Moruo (1892-1978) and Sunrise from the theater's first director, Cao Yu (1910-96).
"Thanks to these giants' contributions, our theater continued to thrive in its infancy and that's why people today call it 'Guo-Lao-Cao'theater," said Pu, standing beside sculptures of the three masters.
Walking through the lobby, audiences can see lots of portraits hanging on a special wall, including that of the second guide, Feng Yuanzheng.
Feng joined the theater in 1985 and became a household name for his performances in movies and television dramas.
These are photos of 273 actors who worked in the theater from its foundation and up to 2017 and some pictures of characters they played, Feng said. "It represents our tradition and spirit," he added.
Feng said the theater has been committed to polishing its repertoire.
Thunderstorm by Cao Yu, which tells a tragedy of Zhou and Lu families in the early 20th century, has led to four major versions so far. It featured the theater's veteran artists, from Su Min (1926-2016) and Zhu Lin (1923-2015) to younger generations such as Gong Lijun and Xu Baixiao, according to Feng.
Feng then introduced some of the collections, such as playwrights' manuscripts and actors'stage diaries.
Also among the celebrity tour guides, actor Yu Zhen led audiences into a stage design exhibition hall and actor Lei Jia shared his experiences in the play White Deer Plain.
Visitors can now book tickets online in advance and tour the museum between Sunday and Thursday every week.