Works of famous calligrapher on show
Share - WeChat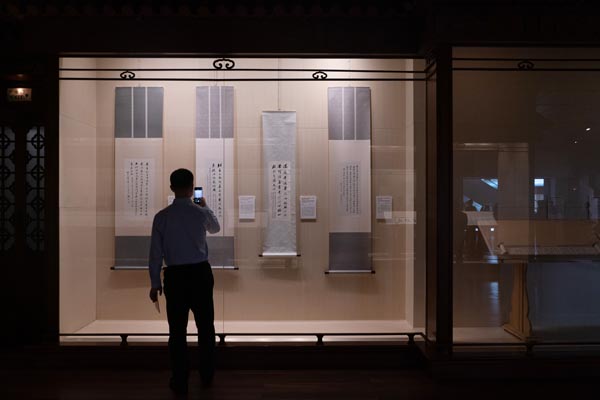 Calligraphy pieces and poems reveal the personality and vision of Zhao Puchu as a patriot, a social activist and a scholar, Zhang Kun reports in Shanghai.
The exhibition, Infinite Compassion: The Calligraphy of Zhao Puchu, which provides a glimpse into the life of the patriotic religious leader, opened at Shanghai Museum on May 21, the 20th anniversary of his death.
Zhao was president of the Buddhist Association of China, a famous social activist and a close friend of the Communist Party of China. He was also one of the most recognized calligraphers, poets and authors in China.
The exhibition, which ends on July 19, features 93 of his works and is named after Zhao's study, Wu Jin Yi Zhai, or Study of Infinite Compassion. Exhibits include calligraphy pieces, poems and other documents, all of which were donated by his family.
According to Ling Lizhong, head of the research center of paintings and calligraphy at Shanghai Museum, Zhao's calligraphy reflected his personality and vision as a Buddhist leader.
"His writing is simple, artless, untainted by worldly concerns," Ling told China Daily on the opening day.
"The unique calligraphy style evolved from his literary and philosophical ideas. We began to put his relics in order and make inventories in March 2019 before selecting his works of historical significance, as well as works that best illustrate his vision and attitude."
Most Popular