Analyzing info crucial in health director's battle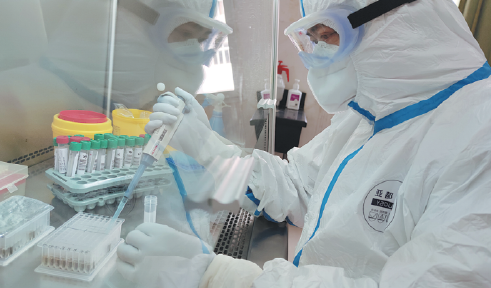 Since the outbreak of the novel coronavirus in early January, Chi Hui, director of the Institute of Medical Information under the Chinese Academy of Medical Sciences, has kept busy fighting the epidemic in her own way: collecting and analyzing information from home and abroad about the epidemic and making proposals to the government on COVID-19 prevention and control.
Over the past few months, Chi and her colleagues have been submitting daily reports on the prevalence of COVID-19, and they have completed a number of research reports on measures to fight the infectious disease at home and abroad and their effects.
"These reports have provided important references for the decision-making of the government in a timely manner for precise evaluation of the epidemic and mobilizing technological resources to fight the epidemic," said Chi, also a member of the National Committee of the Chinese People's Political Consultative Conference, the top political advisory body.
Another area of focus for Chi and her colleagues over the past few months, with the infectious disease resulting a global pandemic, was the supply and trade of medical equipment for emergency use. In this area, they have completed five reports on topics including the international supply of emergency equipment, and standards and regulations on the international trade of masks and protective gowns. All the research has been submitted to related government departments for decision-making, Chi said.
In addition to performing her duty as a political adviser to make proposals to the government, Chi has also been busy promoting disease control and prevention among the public, which she believes is very important.
"With every major outbreak of disease, including COV ID-1 9, various kinds of misinformation are rampant and have seriously hindered epidemic control and prevention," she said. "I think popular science should be strengthened among the public, so they have a better knowledge of the virus, and can better protect themselves and others and avoid unnecessary worry and tension."
To promote epidemic prevention and knowledge among the public, Chi and her colleagues have worked together with some other departments in the Chinese Academy of Medical Sciences to produce a number of guides in various forms, including short videos, so they quickly spread on social media platforms.
These guides mainly cover areas of public concern, such as how to use masks properly, and tips for epidemic control and prevention at offices, she said.
This was not the first time Chi has been engaged in promoting science about the virus. During the outbreak of SARS in 2003, she also tried to make use of media, such as television, to inform the public. However, over the past 17 years, Chinese society has been greatly changed by digital technology, posing a new task for Chi and her colleagues on innovative ways to disseminate information so it is more appealing to the younger generation, she said.
"As a CPPCC member, it is also my duty to contribute my part to COVID-19 prevention and control by advising the government and resolving public concerns," Chi said.