Novel gives glimpse of Jewish community in Tianjin
Share - WeChat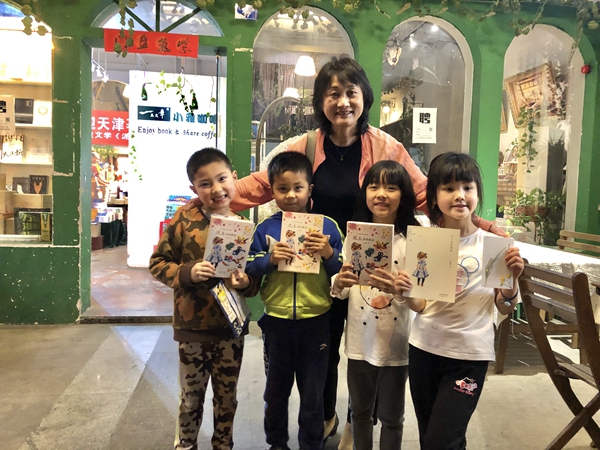 Memorabilia in the Earth, a novel for children, was written by Song Anna. The 67-year-old author and retired journalist, who has been committed to researching Jewish history in China, in particular in the city of Tianjin, for nearly 20 years, has had her work translated into 15 languages and published worldwide.
The novel illustrates the experiences of a Jewish girl, Sara, who lived in Tianjin during World War II. This was a time when the Jewish people faced harassment, and arbitrary arrest under the Japanese during the War of Resistance Against Japanese Aggression (1931-45), but were protected by Chinese people.
The story goes like this: Sara's "memorabilia" is for her Tianjin nanny, whom she calls Amah, which means "mother", in some Chinese dialects.
Amah played a pivotal role in her childhood because Sara's mother died shortly after she was born. Amah helps to hide Sara, as Japanese invaders search for Jews in the city. However, one day, Amah leaves for her home in Yangliuqing, a suburb of Tianjin, to see her own son but she disappears.
Sara tries to look for her. Yangliuqing is famous for its woodblock prints and Sara distributes descriptions of her nanny on these prints.
Only memories remain. She cherishes eight pieces of hutou dalian, traditional tiger-shaped pendents for children's luck, that the nanny has weaved for her.
She has no way to find the nanny and Sara has no clues to follow.
However, she insists that she can find her.
Song talks emotionally about Sara."I have researched Jewish culture and history for nearly 20 years in Tianjin and have been deeply moved."
She hopes the book will help more children be impressed by the "profound love" displayed in it.
The book was first published in China in November 2018, and has been published in 15 countries this year, including Israel, the United States, India, Thailand and South Korea.
Ji Xiurong, vice-general manger of the Tianjin Publishing and Media Group, says the book expresses the "profound love and pursuit" of Chinese people and reflects the spiritual value of Chinese culture.
Profound love
Song has completed several books, albums and documentary videos on the Jewish experience in Tianjin.
The Jews in Tianjin, published in 2007 was a large album featuring Jewish life in the city.
She spent six years researching in libraries in Tianjin, Japan and the US, and interviewed Jewish people who once lived in China.
Song was a senior journalist at Tianjin Daily. She was elected as a delegate of the local city-level congress, and spent most of her spare time in research.
"The tough work was completed through an enormous struggle and incredible perseverance," says Li Shuren, former head of Tianjin Publicity Bureau.
Li adds that Song is one of only a few people who have helped to fill in the gap of the city's Jewish history, especially when many fled from Europe in the 1930s.
Song says: "I have recorded the history, hoping the world can remember the kind heart of the Tianjin people."
Jewish history in Tianjin is a "melody" of international humanitarianism and cultural and emotional bonds among ethnic groups, she says.
"There was no city in the world which had concessions for nine countries. During that time, the city embraced many Jewish people, up to 5,000 during World War II and helped them survive. I really need to discover and record the shinning history."
Different from many books and research focusing on Western culture's impact on Tianjin,"I just want to research how Chinese people helped those foreigners, including the Jews, during the difficult war time... the kind heart of Tianjin people are most impressive," she says.
Song says her research has won widespread support worldwide.
Teddy Kaufman, head of an association gathering Israeli people who once lived in China, gave strong support to her and mailed her many historical research documents.
"I organized special meetings for her projects and looked for family photos for Song to form an album and support her research," he says.
As a result, many Jewish people sent her old family photos.
"I saw old glue on the back of the photos and I believed they were from their prized family albums and they didn't request any payment for the valuable photos," Song says.
"Tianjin is their second hometown," she adds.
Polish-born Chinese journalist and author Israel Epstein, who passed away in 2005, was a keen supporter of her work and Song interviewed him three times. He helped her write the preface to the photo album featuring Jews in Tianjin.
Most Popular