Luckin delisting unlikely to deter overseas floats
Share - WeChat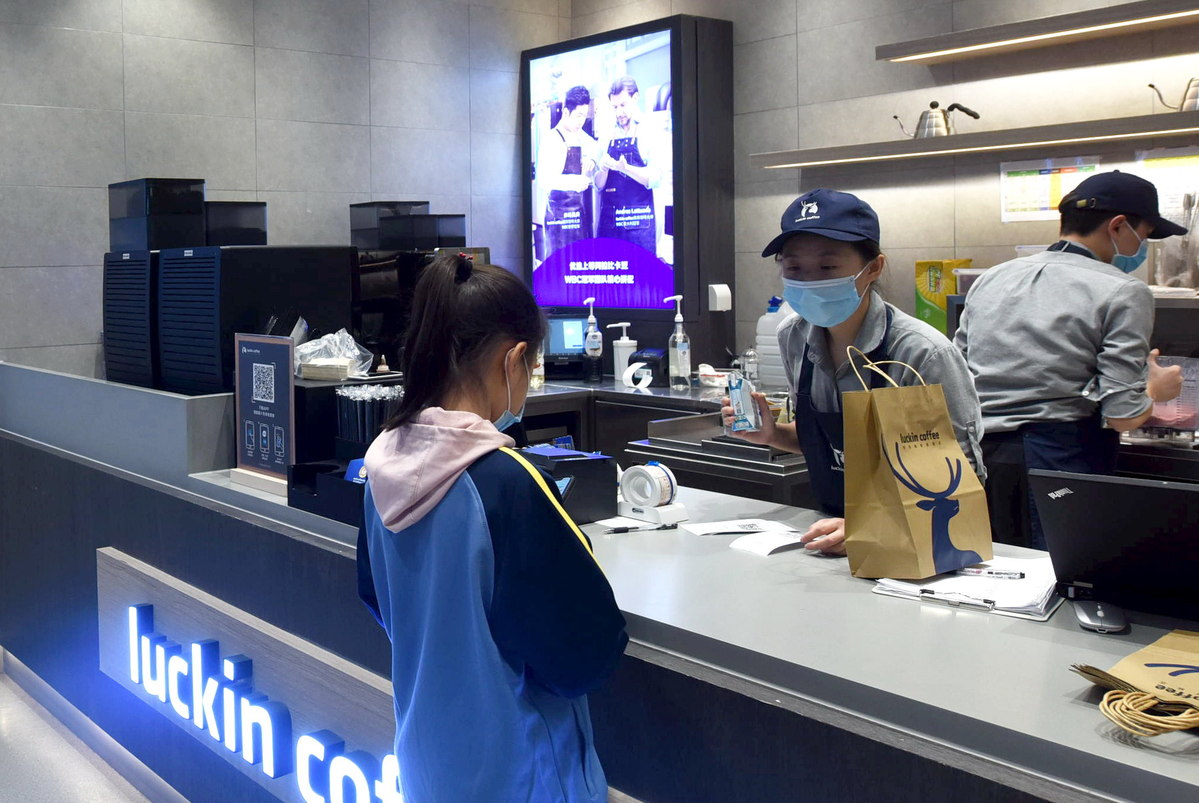 Luckin Coffee Inc's potential delisting from the Nasdaq is unlikely to be a major hindrance for other Chinese firms that are seeking overseas listings, a leading global investment bank said.
The company, often called Chinese Starbucks, said it had received a notice from Nasdaq that it will delist the company due to massive sales fabrication, according to a statement on Tuesday.
Luckin said it will request a hearing in the matter to ask for continued listing. However, experts said a delisting is inevitable for the company as it has already caused severe losses for investors. But the debacle is also not a blot on the image of other Chinese firms planning overseas listings, they said.
Mandy Zhu, head of Chinese operations for global banking at UBS, said there will be a limited impact from the scandal on Chinese floats in overseas bourses. "The market for Chinese firms seeking floats overseas still exists, though investors are a bit more selective," she said.
Zhu cited the successful debut of Kingsoft Cloud Holdings Ltd on Nasdaq on May 8. The Xiaomi-backed cloud services provider was the first Chinese firm to conduct an IPO in the US markets after the Luckin fiasco. UBS was one of the book runners for the offering.
"Investors subscribed to the offering actively, including sovereign wealth funds," she said. "Global investors still recognize (Chinese) firms with strong fundamentals and solid disclosures. Luckin Coffee is after all a special case."
Shares of Kingsoft Cloud ended Tuesday's trading at $22.61, compared with the issue price of $17.
More Chinese firms are expected to get listed in the US markets in the coming months, said David Chin, head of investment bank in Asia Pacific.
Some US-or Hong Kong-listed Chinese mainland firms, however, are considering privatization and relisting on the mainland stock exchanges, or spinning off part of their businesses and seeking A-share floats, Chin said.
Chen Zunde, general manager of Guangdong Fund Investment Co Ltd and a veteran investor in US-listed shares, said investors are expected to stick with the case-by-case mindset when considering the value of Chinese firms.
Chen said the short-seller attacks against US-listed Chinese firms after the Luckin scandal have not caused any major plunges in stock prices.
China is also stepping up efforts to safeguard investors from securities fraud after Luckin's fake reporting. Yi Huiman, chairman of the China Securities Regulatory Commission, said in a recent article that the securities regulator will crack down on financial fraud and other legal breaches in the capital market.