Exporters urged to adjust to global demands
Share - WeChat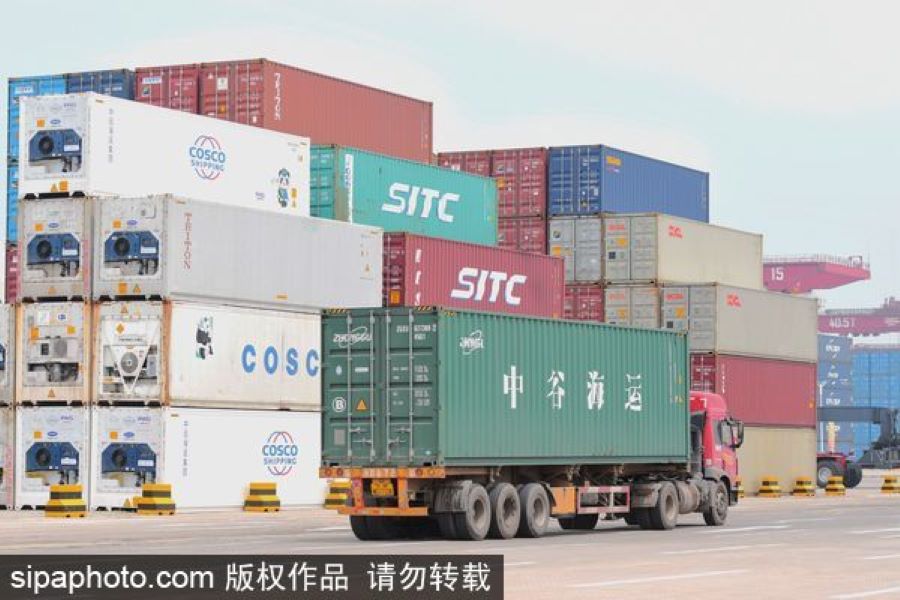 Though China saw its exports recover in April, driven by the surging shipment of electromechanical, textile and plastic products, trade experts urged the country's export-oriented companies to analyze global market demand as early as possible during the post-pandemic period to stay competitive.
Global markets' demand for ventilators, face masks, protective clothing and testing kits was the main contributor to the boost in China's exports in the categories of electromechanical, textile and plastic goods last month, said Zhang Yongjun, a researcher at the Beijing-based China Center for International Economic Exchanges. Zhang noted that these are all closely related to other countries' COVID-19 fights.
Compared with these three categories, the export volumes of China's regular export items, including household appliances, steel and ceramic products, shoes, smartphones and liquid crystal displays panels, all notably dropped in April, showing the country's foreign trade was still under downward pressure.
Because the spread of the pandemic in Europe and the United States has begun to ease, and they have produced and purchased a large amount of anti-epidemic materials in the early stage, the rapid export growth of China's medical supplies will not continue in the long term, said Zhang.
Apart from many developed countries' efforts to prevent a recession, the weak goods demand across the globe and the appreciation of the renminbi will create obstacles for Chinese manufacturers in shipping their products in the second half of this year, he added.
As the impact of the epidemic has gradually declined and major economies have begun to resume work, exports of China's materials not related to the pandemic are expected to gradually recover.
Lu Ming, a researcher at the China Council for the Promotion of International Trade in Beijing, said Chinese companies must follow the actual demand of the international market and adjust their product structure in a timely manner to adapt to the new situation.
He added that although China has imported a large quantity of integrated circuit products, including microprocessor chips, chip capacitors and analog-to-digital converters in recent years, the nation, based on Customs data, saw its export value in this category grow by 12 percent year-on-year to 226.45 billion yuan ($31.9 billion) in the first four months of the year. He said this reflected strong growth in domestic production capacity.
Chen Bin, executive vice-president of the China Machinery Industry Federation in Beijing, said it is vital for China to boost exports in sectors such as passenger vehicles, electronic products, furniture, clothing and foodstuffs, since these involve large numbers of upstream and downstream industries with millions of industrial workers in the domestic and global markets.
For instance, healthy growth of the automobile industry can benefit rubber material providers, refinery companies and glass, tire, steel, sensor, gearbox, battery and lighting manufacturers, as well as road project contractors and insurance, digital map and car washing services, Chen said.
After shipping electrified buses and coaches to the United Kingdom, the Netherlands, Belgium, France and Sweden for almost nine years, China's new energy vehicle manufacturer BYD announced earlier this month that it will enter Europe's passenger vehicle market and launch its Tang EV600 electric SUV in Norway later this year.
BYD has selected Norway-the world's third-largest market for electric vehicles after China and the United States-as the first European country in which to sell the Tang because Norway has strong demand for such vehicles and has a large number of charging facilities.
In addition, eager to move closer to its customer bases in other parts of the world, Chinese home appliances maker Skyworth Group plans to ramp up its overseas expansion this year with a focus on India, Southeast Asia, Europe and Africa.
Liu Tangzhi, CEO of Shenzhen-based Skyworth, said the company will give top priority to the Indian market and Southeast Asia in its global push. The company will not only expand its sales channels abroad, but also prepare to set up manufacturing bases and supply chains in overseas markets.
Despite the unexpected public health crisis, China's foreign trade is likely to recover in the second quarter and pick up steadily in the third quarter, said Wei Jianguo, former vice-minister of commerce.