Wolves cub He hungry for success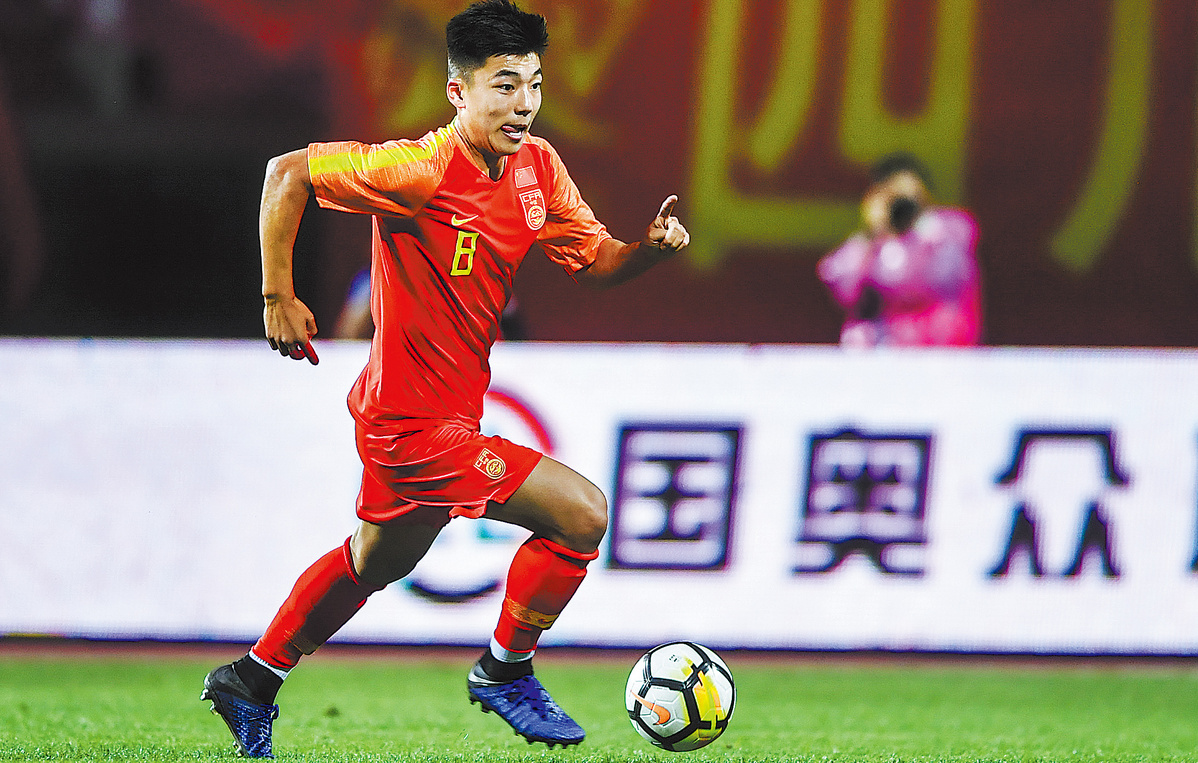 Chinese teenager moves another step closer to Premier League dream with contract renewal
He Zhenyu's hope of becoming the next Chinese to play in the English Premier League is now more than just a fanciful dream.
The 18-year-old, also known as Dongda He, last month saw his Wolverhampton Wanderers contract renewed until 2023 after impressing since arriving from then fourth-tier Notts County last summer.
The young attacker has made six appearances for Wolves' Under-23 team-effectively the club's reserve side-this season, and was lauded by local West Midlands newspaper the Express & Star for netting "a stunner" in cup match in February.
Before soccer's shut down, He regularly found himself up against Wolves' first-team stars in training matches to further boost his belief that EPL action is now within touching distance.
"Basically, we (the Under-23s) play Wolves' first team two or three times a week," He told Chinese publication Soccer News.
"We meet each other at breakfast and say hi, so having that connection feels good. The first-team players know how to seize each opportunity on the pitch. They train together each day and cooperate very well.
"There's a gap between them and me in terms of understanding the game and experience. After all, they play in the Premier League.
"The new contract shows my efforts have been recognized by Wolves, and now I have more time to prove myself. The main goal is to make my debut for Wolves as soon as possible before 2023."
Dalian-born He would be following in the footsteps of some illustrious fellow Liaoning province natives if he can manage to make the step up into the first team
Liaoning has long been a soccer hotbed in China, with all the country's most renowned exports to England's top flight hailing from the province-Sun Jihai (Manchester City), Dong Fangzhou (Manchester United), Zheng Zhi (Charlton Athletic, on loan) and current Team China head coach Li Tie (Everton).
He, who moved to the UK with his family in 2012, recognizes his Dalian roots have played a big part in his soccer education but also credits Team China's only World Cup finals appearance, in 2002, for igniting his passion for the game.
"My dad was proud of Dalian's great soccer tradition, so I played since kindergarten," said He.
"I joined the Notts County youth team after we arrived in the UK. My dad is a soccer fan and he believed in the advantages of the youth training system in Europe. I could fit in the country better in the youth team and build a great foundation for my future career."
In 2018, He was snapped up by Chinese-owned Wolves and quickly progressed from the Under-18s to the Under-23s.
It's been a steep learning curve for the youngster, but he has always been confident that skills-wise he could more than hold his own against his European teammates. He quickly realized, however, that he needed to beef up, "especially upper-body strength", so putting in the hours at the gym has become increasingly important.
"When I first joined Wolves, I was not familiar with the training and competing style here," He added. "Wolves play in a unique way, so I had a lot to adjust to. Also my position changed from a winger to a forward. At first, playing in the team was tough, but the coach and all the teammates helped me to fit in.
"I have grown a lot more since I came here. The team is at a higher level and your opponents are stronger. You need to improve on cooperating with others. Soccer is a team sport and I have a better understanding of the game now."
The COVID-19 pandemic has forced the sports world to hit the pause button-and Wolves are no different as British soccer continues to consider how it might finish the season if it gets the green light from the UK government.
He insists he has been keeping sofa time to a minimum during lockdown and has been strictly following his coach's fitness plan.
When the action eventually kicks off again, He intends to go all out to realize his ambitions on the pitch and hopefully emulate La Liga striker Wu Lei, currently the only China international playing in a major European league.
Wu's Espanyol was on the wrong end of a 4-0 Europa League last-32, first-leg thrashing against Wolves at Molineux in February, when He was a keen spectator.
"I'm so happy to see Wu, as the only Chinese athlete, playing in the Europa League. But as a Wolves player, I wished the best for my home team," said He.
"Because I spent a lot of time training with the national youth team, I missed a lot of Wolves games. I need to work harder to adjust to the team… I can feel I'm making progress and my condition is getting better and better."