Focus on steady recovery seen
Share - WeChat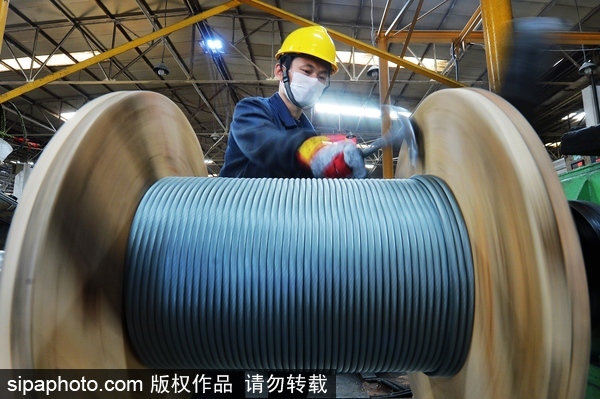 Economists expect China to emphasize poverty fight, jobs and survival of companies
Chinese policymakers are expected to intensify measures to ensure stable employment, people's basic livelihoods and survival of companies to facilitate a steady economic recovery after the country's economy shrank 6.8 percent in the first quarter.
Economists said China will likely tone down the importance of doubling the country's GDP from the 2010 level this year, but will focus instead on eliminating poverty and preventing large-scale unemployment and corporate bankruptcy amid the COVID-19 outbreak.
The country's top leadership, at a meeting of the Political Bureau of the Communist Party of China Central Committee on April 17, stressed that it will ensure achievement of the goal of winning the battle to eliminate poverty and building a moderately prosperous society in all respects.
The statement has triggered discussions among observers and economists on whether it is still necessary and reasonable for China to meet the target of doubling its GDP from a decade earlier, which will require a massive economic stimulus package and could come at the expense of hurting the economy in the long run.
It is estimated that the country will need to achieve GDP growth of around 5.5 percent to meet the goal of doubling GDP from the 2010 level. This has become an increasingly daunting challenge as the COVID-19 outbreak has severely disrupted the Chinese and global economies.
China's industrial profit declined 34.9 percent year-on-year in March, according to data released by the National Bureau of Statistics on Monday, as companies face a challenging situation while striving to resume production amid the outbreak of COVID-19.
More economists have agreed that a more realistic approach for China's policymakers is to tolerate slower growth in exchange for more policy leeway to ensure other key objectives, including stabilizing employment and ensuring people's basic livelihoods.
Some argue that the country could lower or even abandon setting a growth target this year after the economy contracted 6.8 percent in the first quarter and is facing unprecedented uncertainties caused by the pandemic.
"The country should use the results of poverty elimination to measure the goal of building a moderately prosperous society in all respects instead of being obsessed with the goal of doubling GDP," Zhang Ming, an economist at the Institute of World Economics and Politics of the Chinese Academy of Social Sciences, said in a research note.
The recent meeting of the top leadership sent out the message that the country will not chase an unrealistically high growth target by using massive-scale monetary and fiscal easing, Zhang said.
Yu Pingkang, chief financial market expert at the Insurance Association of China, said the economy is facing a tremendous amount of uncertainties that require policies to be more flexible and targeted.
"Excessive stimulus would lead to a surge of debt levels and asset bubbles, which will ultimately go against the government's objective of ensuring quality growth and people's livelihoods," he said.
Policies should focus on preventing rising unemployment and ensuring the survival of enterprises, as they are the fundamental component of the economy, Yu said, adding that the market mechanism needs to be protected and restored along with the resumption of production.
The country's top leadership has pledged to use stronger macro policy tools, including more proactive fiscal policies, to facilitate a steady economic recovery. The central government is expected to raise its fiscal deficit ratio and issue special treasury bonds to finance major investment projects and to boost demand and consumer spending.
Top policymakers at their recent meeting also vowed to ensure stability in several key areas including employment, people's livelihoods, survival of companies, food and energy security, and the stability of industrial and supply chains.
Although China's economy contracted in the first quarter, major economic indicators have improved substantially, indicating that the economy is on the track of recovery as supportive government policies have helped more companies to resume production.
About 99 percent of the country's large industrial enterprises had resumed production as of April 14, while 84 percent of smaller companies have resumed work, according to the National Development and Reform Commission, the country's top economic regulator.
Most economists believe that the Chinese economy showed signs of rebounding in March and the trend will continue in the second quarter. The recovery will likely accelerate next year, and the International Monetary Fund has forecast China's economy to expand 9.2 percent in 2021.
Zhu Min, head of Tsinghua University's National Institute of Financial Research and former IMF deputy managing director, said China is capable of maintaining its economic resilience and will continue to be an attractive investment destination for foreign companies.
Some economists said the country could lower its GDP growth target to around 2 to 3 percent this year, but it is still necessary to have a target, since abandoning it could exacerbate market pessimism and let fear of an economic recession become a self-fulfilling prophecy.
Lu Ting, chief China economist at Nomura Securities, said policymakers could use other indicators such as setting a target for fiscal spending and social financing growth to anchor market expectations and boost confidence.