Outbreak to affect flow of goods across borders
Share - WeChat Experts, however, say globalization is here to stay despite challenges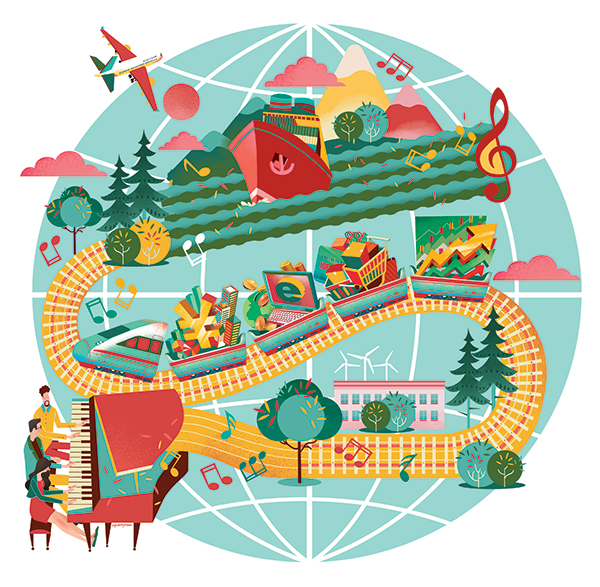 With country after country closing its borders amid the coronavirus pandemic, commentators from across the political spectrum have predicted that the outbreak would affect flow of people and goods across borders and leave a markedly different world in its wake.
Raphael S. Cohen, a senior political scientist at RAND Corporation, a think tank, argued in his Lawfare blog, which is dedicated to security issues in the United States, that globalization is here to stay despite the coronavirus and other challenges. "While globalization may be down, however, it is still too early to count it out. The coronavirus pandemic is certainly a serious blow to the international system," Cohen wrote.
While the pandemic will change the mechanics of globalization, it will likely not spell the death knell for globalization, he said.
Viruses are a part of the natural world. Pandemics existed long before the current era of globalization and likely will endure long afterward.
Cohen said the primary reason why globalization will persist-perhaps in a modified form-is that the underlying drivers of the trend remain intact, adding that countries still need goods and services from one another, just as they have for thousands of years.
Moreover, personal interconnections between different parts of the world formed over the past several decades of globalization cannot be easily broken. The advances in telecommunications that spread information around the world at ever faster rates remain unaffected by the current outbreak, he said.
Cohen said international cooperation will persist-because it must. "If the world ever hopes to defeat a disease that does not recognize borders, countries will eventually need to cooperate with one another on the response," he wrote.
If not, then the virus may be defeated in one location only to reemerge in another and undo whatever victory a state has achieved, he added.
Stephen Grenville, a nonresident fellow at the Lowy Institute for International Policy, a think tank, said in the institute's report that we will not readily abandon these stunning gains and revert to autarchy, or absolute rule, because the sacrifices would be too great.
The US has lost any sense of mutually beneficial globalization and is turning inward, with the virus inflaming existing tensions.
But globalization should be able to survive self-isolation by a single country, even the largest. The rest of the world-and notably China-shows no signs of this inwardness.
In this new world, trade-the key constituent of globalization-could continue, with China still taking our exports. Global advances in technology would still be available to us. Foreign capital would still flow.
If the COVID-19 crisis marks the end of globalization, it will be the fault of policy responses rather than the result of the epidemic itself.
In an interview on news site Vox, Yale historian Frank Snowden said coronavirus has shown that what we need is more collective action. "This isn't a disease that is affecting just part of the global world as we're seeing now-it's a disease of humanity."
After the pandemic, Snowden said we will have a chance to construct a better world that's more scientific, more rational, more humane, more international. Or we can adopt pseudo solutions that will condemn us to repeating this awful experience that we're now going through.
Right now, he said large sections of the conservative right in the US reject the scientific explanations for COVID-19 and claim instead that this is something else-something foreign. "That leads to violence and ethnic conflict," Snowden added.
He criticized the US for having no national plan. It had refused to listen to the scientists who said a new pandemic was an inevitability in our future. It trimmed the national government's health budgets.
"If we try to dismantle the World Health Organization and put walls up, I think we'll find that when the next disease comes, we could experience an even greater catastrophe than this one," Snowden said.
In an op-ed published by The Straits Times, Chan Heng Chee, who chairs the Lee Kuan Yew Centre for Innovative Cities at the Singapore University of Technology and Design, said it is unlikely globalization will end after the pandemic.
The international scientific community is collaborating like never before, ignoring the politicization of the disease, to find a vaccine.
"There is an urgent need for global leadership and multilateral action. We need a representative group of world leaders with the political clout and heft to come together to take decisive action," Chan said.
Chan suggested that the G20 would seem to be a good working platform. It came together in response to the global financial crisis of 2008-09 with economic packages and kept a lid on protectionism.
There was a special G20 video summit held last month on the pandemic. The leaders agreed to stop disruptions to supply chains and inject $5 trillion into the global economy to counteract the social, economic and financial impacts of the coronavirus. "It can do more," Chan said.
In a report published recently by EURObiz, a journal of the European Union Chamber of Commerce in China, Jens Eskelund, vice chair on the European Chamber's executive committee, said with a faltering global economy, slowing trade, deflation and overcapacity, a systematic effort such as the Belt and Road Initiative to drive growth and expansion of trade is to be welcomed.