Shanghai takes cyber highway to big growth
Share - WeChat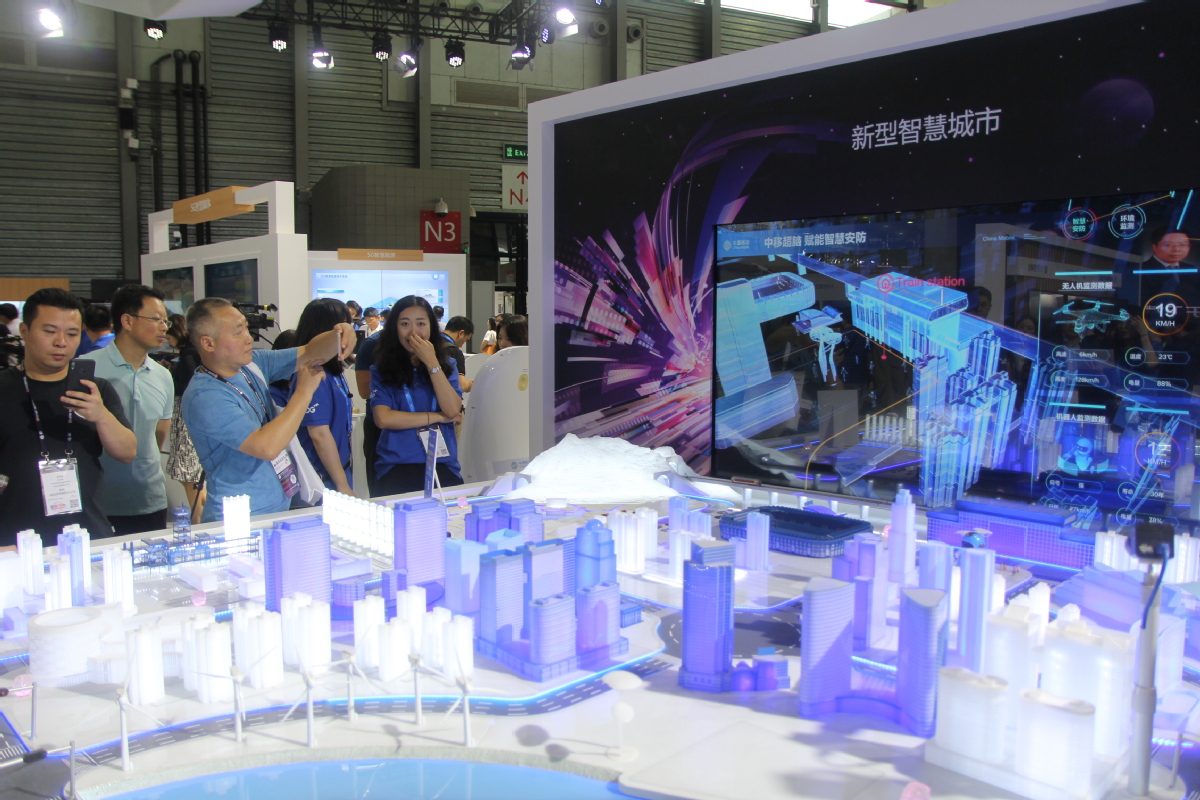 Municipal govt unveils 23-point plan to boost economy with tech like AI, 5G
The Shanghai municipal government on Monday released a 23-point action plan to develop the city's online new economy, which employs an array of technologies like artificial intelligence, 5G networks and big data to transform and empower traditional industries.
The bevy of measures aims to construct the metropolis into a budding highland with global influence and national superiority by 2022, by outlining four prioritized goals and identifying 12 key industries for development.
Under the "Four 100+" initiative, Shanghai is eyeing to foster over 100 innovative enterprises, roll out over 100 application scenarios, nurture over 100 brands and achieve over 100 key technological breakthroughs, said Wu Jincheng, chair of the Shanghai Municipal Commission of Economy and Informatization, a key industrial development regulator.
A total of 12 sectors under the auspices of the plan are given priority, ranging from unmanned factory, industrial internet on the manufacturing end, fresh produce e-retail and online education, to industries like online finance and telemedicine where Shanghai has a traditional foothold.
To ensure smooth implementation of the plan, local authorities also pledged to launch six dedicated initiatives and introduce five measures from enhanced policy coordination to constructing ecosystem parks to bolster the city's development.
Xiaohongshu, a social commerce site that allows users to share favorite goods in virtual communities, is on course to unveil a series of online-to-offline marketing campaigns in collaboration with over 100 physical stores in Shanghai, Beijing, Guangzhou, Shenzhen and Wuhan.
Influencers and key opinion consumers shop in brick-and-mortar stores, and share their experience and insights online. By influencing other users, they could help boost consumption and consequently drive economic growth, said Xiaohongshu's founder Qu Fang.
"Shanghai is a city boasting the most diverse lifestyles and strongest sense of innovation. Our platform actually rides the digital, online trend of the novel consumption pattern embraced by the younger generation of customers … and hopefully we can contribute to the 'consumption upgrade' trend," she said.
According to the 2020 Taobao Livestreaming Report, Shanghai is home to the highest number of viewers on Taobao, with both international labels from Starbucks and Ikea to homegrown, time-honored brands like food maker Xinghualou jumping on the livestreaming bandwagon to entice users. Last month, the city even saw the debut of an online edition of the Shanghai Fashion Week, where brands employed livestreaming for new product rollouts and supported instant home delivery.
"The 'cloud-launch' is definitely going to shake up the traditional launch event," said Hu Weixiong, head of fashion, luxury and fast-moving consumer goods at Alibaba Group's Tmall site. "It tears down the physical limitations of time and geography for brands to engage with consumers."
The biggest highlight of the plan is the determination of Shanghai to be the "first mover" in driving online new economy through a concerted effort and integrated approach, said Jiang Hao, global partner of consultancy Roland Berger.
"It's a package of policy signals saying that companies have the government's all-round support. They encourage enterprises to take actions, double down on investment, and add employment," Jiang said.
"The government can also double up as users adopting these new services under the new scenarios, thus generating demand and creating job opportunities."
Compared with attracting established brands to strengthen their foothold in the city, Jiang believed it is even more critical for the authorities to lend support to small and medium-sized enterprises and innovative startups, with detailed incentives such as rent reduction or exemption and tax deduction to be rolled out soon.