Ibaka intends sticking with 'beautiful' Toronto
Share - WeChat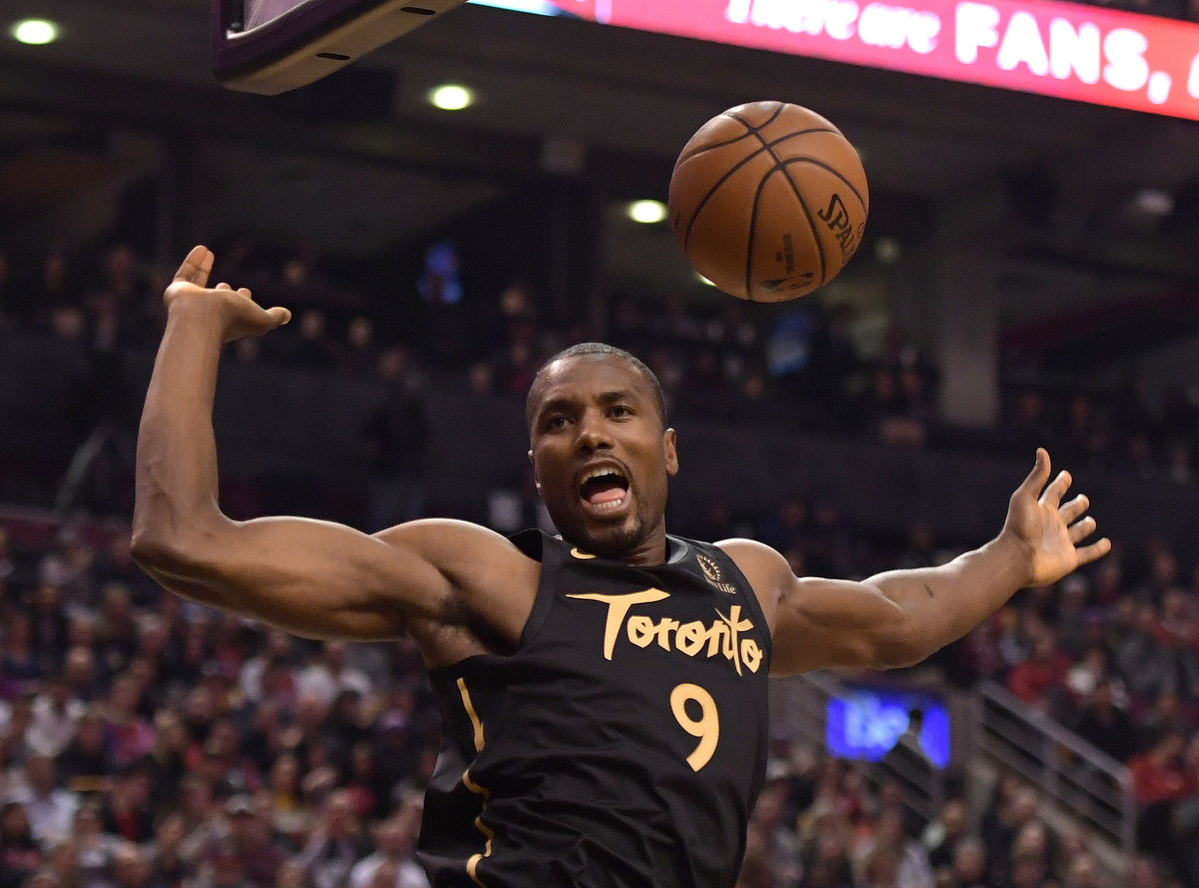 The renaissance man of the Toronto Raptors knows a good thing when he sees it.
Center Serge Ibaka is in the final year of a three-year contract worth $64 million and will become a free agent this summer, but in an Instagram live chat this week, the 30-year-old native of Brazzaville, Republic of Congo, assured his fans he's not going anywhere.
Asked about his plans following the postponed NBA season, the 6-foot-10 Ibaka said: "I'm gonna stay, bro. Toronto is beautiful. It's a beautiful city with beautiful people and we have one of the best teams, so why leave?"
A first-round draft pick of the Seattle SuperSonics in 2008, Ibaka spent seven seasons with the Oklahoma City Thunder after the Seattle franchise was relocated ahead of the 2008-09 season, then had a 56-game stint with the Orlando Magic before being dealt to the Raptors for Terrence Ross and a first-round draft pick on Feb 14, 2017.
A key member of Toronto's 2019 championship squad, he was averaging career highs in points and rebounds (16 and 8.3) in 27 starts before this season was wiped out by the COVID-19 pandemic, having transitioned his game from power forward to center.
The Raptors have plenty of cap room to retain Ibaka, even with Fred VanVleet and Marc Gasol also due for new deals.
Ibaka's love affair with Toronto is starting to build an impressive brand outside of basketball. He's a popular pitchman on several national TV commercials in Canada, and this fall will launch the third season of his YouTube cooking and interview show, How Hungry Are You?, on which Mafuzzy Chef (Ibaka's on-screen persona) invites celebrities to sample his traditional African culinary creations.
Last week Ibaka launched another project, asking his 900,000 Twitter followers: "Can you sing? Are you a beatmaker? Do you do art? Are you a baller? What kind of talent do you have? I am so excited to present How Talented Are You? on Instagram Live.
"While we are all social distancing and in quarantine, I'd like to bring positivity and reward talent and creativity. If you are 18+ and want to participate, follow @ouenzeentertainment on Instagram first. Then DM a video showing your special talent.
"We will let you know if you have been selected to participate. In the end, the @IbakaFoundation will donate $20,000 to help combat COVID-19 in the ultimate winner's city or region. The winner will also receive a signed#9 Ibaka jersey."
Live auditions were held on Ibaka's Instagram on April 8 and the show included a phone call from Kawhi Leonard and a surprise appearance by DeMar DeRozan, who pledged to match Ibaka's $20,000 donation.
Ibaka is also developing a fashion-related program for LeBron James' media company, Uninterrupted, and will soon release a documentary about bringing the NBA Championship trophy to the Republic of the Congo.