Gun-rights groups sue to keep stores open in pandemic
Share - WeChat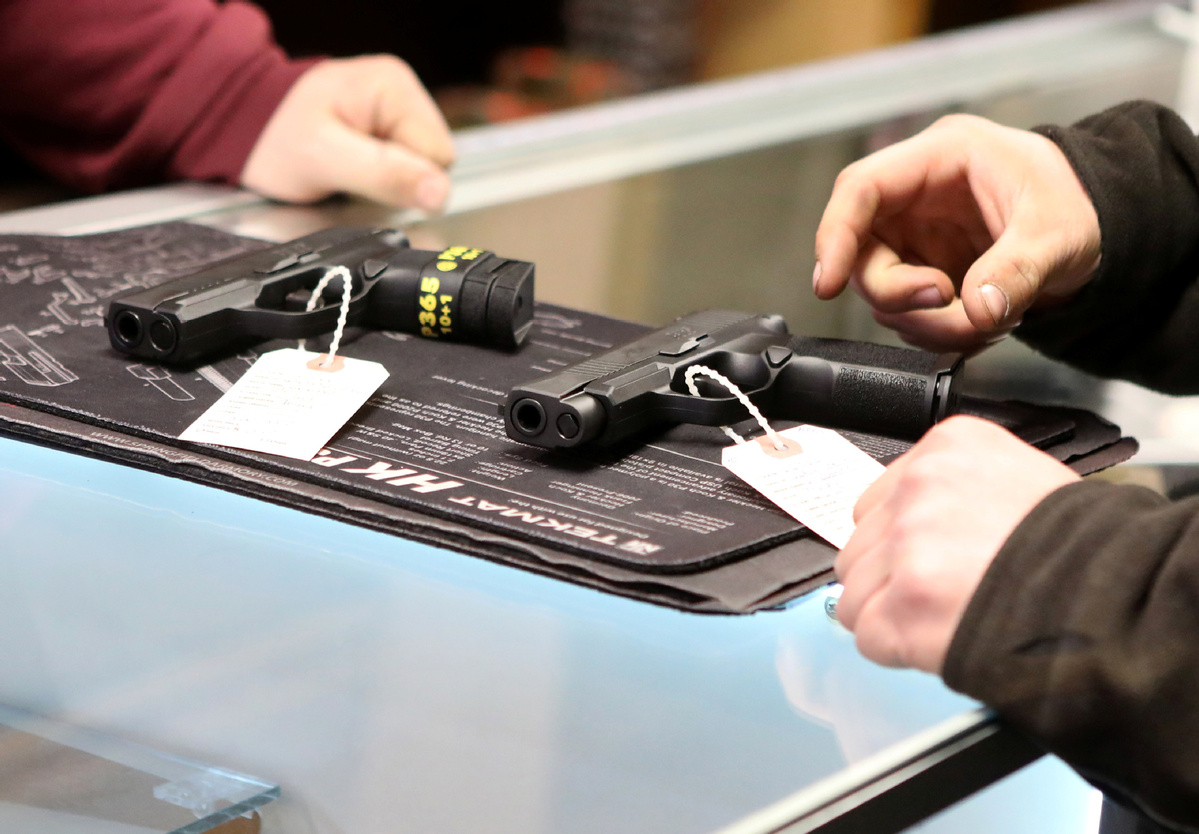 What services are "essential" and how much authority do US states have to order businesses to close during the coronavirus pandemic?
When California and other states closed stores selling guns because they weren't considered essential in fighting the coronavirus outbreak, a volley of lawsuits followed.
Gun-rights groups, arguing that public health concerns don't override the Constitution, said the orders violated the Second Amendment's guarantee of a right to bear arms and sued in federal court.
Stay-at-home orders issued by about 40 states permit liquor stores, pharmacies, supermarkets and restaurants filling take-out orders to remain open. But some have ordered gun-sellers to close.
There is no tally for how many guns have been sold since the coronavirus hit the US, just news stories from around the country quoting gun dealers saying they are selling more guns and photos of long lines outside gun stores. Many first-time buyers have told news media that they wanted a gun for self-defense because they feared civil unrest during the coronavirus outbreak.
The first confirmed case of COVID-19 infection in the United States was reported on Jan 20. States began to declare coronavirus emergencies at the end of February.
According to FBI statistics, the agency conducted 3.7 million background checks in March, the largest number since the national check system for gun-buyers was instituted in 1998 and 1.1 million more than the number of background checks handled in March 2019.
Small Arms and Analytics Forecasting, a research firm that tracks the gun market, said the number of background checks equates to about 2.6 million firearms sold.
At Gunaholic in Hialeah, Florida, owner Samuel Rivera said the rush to buy guns is slowing.
"I had very few customers last night," he told China Daily. "Three weeks ago, I was very busy. It's slowing down now because spread of the virus is slowing — and that's a good thing."
An order by California Governor Gavin Newsom, a Democrat, didn't specifically order gun stores to close, but the "non-essential" business clause was interpreted differently in various jurisdictions.
The ambiguity created confusion and, gun-rights advocates argued, strengthened their case because the order wasn't applied uniformly and hence violated long-standing legal precedent of equality under the law.
Los Angeles County Sheriff Alex Villanueva ordered gun stores to close. But in San Diego, south of Los Angeles, Sheriff William Gore said gun stores could remain open because they offered a "valuable public service".
In a lawsuit filed in federal court in Los Angeles, the National Rifle Association (NRA) said the government isn't permitted to prohibit a lawful act — buying a firearm — "during a time of crisis".
The NRA, a gun-ownership lobbying group, said it was illegal for the government to "use a public health crisis as political cover to impose bans and restrictions on rights they do not like".
Wayne LaPierre, the NRA's CEO, said in a statement: "There isn't a single person who has ever used a gun in self-defense who would consider it nonessential."
Everytown for Gun Safety, a national advocacy group seeking stricter gun control laws, disagreed with the NRA's legal reasoning in challenging the closure of gun stores.
"As broad laws that apply to thousands of businesses, these closure orders are clearly designed to slow the spread of COVID-19, not undermine anyone Second Amendment rights," Eric Tirschwell, managing director of the group's legal department, said in a statement. "The courts have made clear that broad, generally applicable laws like these are constitutional."
After the Los Angeles County sheriff ordered gun stores to close, the US Department of Homeland Security issued new guidelines declaring those who work in the firearms industry, including staff at gun stores, to be essential infrastructure workers.
Gun-rights advocates had prevailed. The sheriff withdrew his order.
"Although explicitly advisory in nature, nonetheless, the federal memorandum is persuasive given its national scope," Villanueva said in a statement.
"Based on this further input from the federal government, the Los Angeles County Sheriff's Department will not order or recommend closure of businesses that sell or repair firearms or sell ammunition."
In New Jersey, Governor Phil Murphy, a Democrat, faced several lawsuits from gun-rights organizations after declaring gun stores non-essential but later reversed the order. "It wouldn't have been my definition, but that is the definition at the federal level, and I didn't get a vote on that," he said at a news conference.
The NRA sued New York Governor Andrew Cuomo, also a Democrat, after his order allowing essential businesses to remain open excluded gun stores. The order remains in effect at least until April 15.
The lawsuit alleges that Cuomo had "indefinitely suspended a key component of the Second Amendment to the United States Constitution" and that state officials were "going out of their way to protect liquor stores and release criminals onto the streets, while ignoring the public's outcry over the suspension of Second Amendment rights".