Xi vows to back nations' virus fight
Share - WeChat Interaction shows how 'community of a shared future for mankind' seen in deeds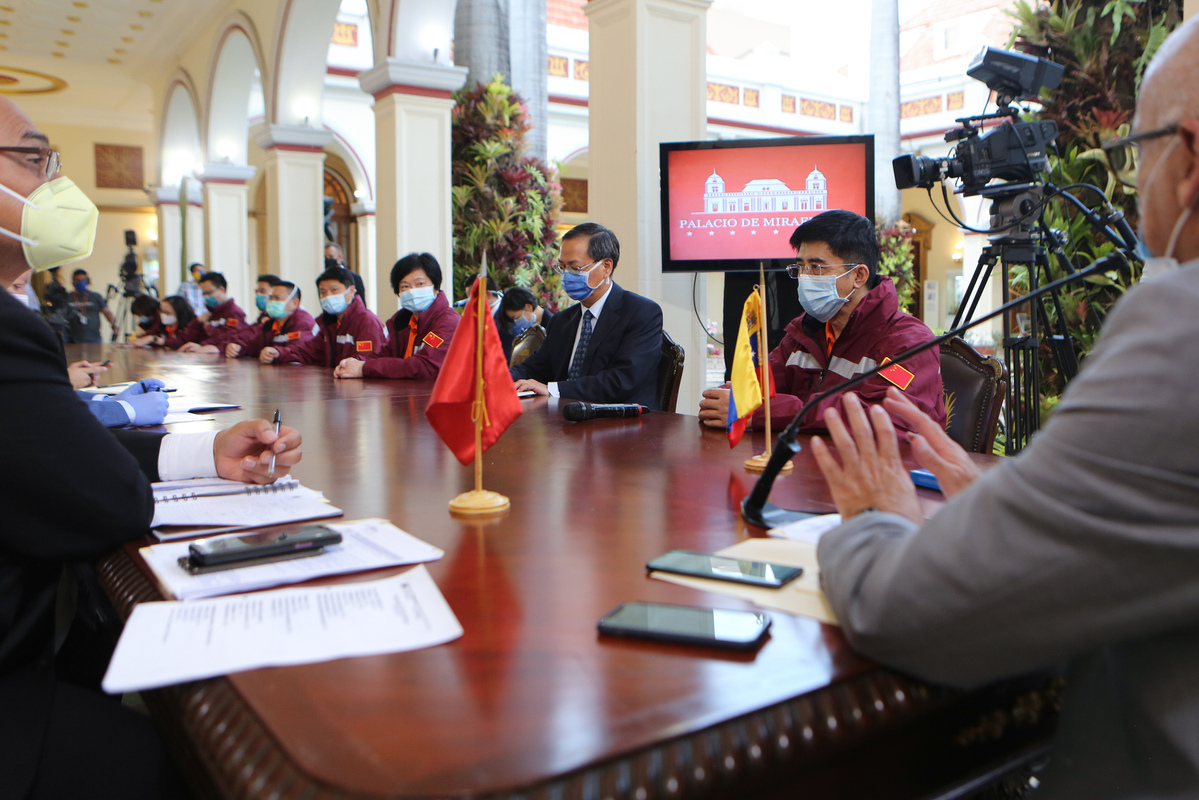 China has vowed to continue providing assistance within its capacity to help the countries in need amid the global battle against COVID-19.
President Xi Jinping made the pledge in his latest diplomatic interactions with his Venezuelan, Mexican and Argentine counterparts.
Xi held phone conversations with Venezuelan President Nicolas Maduro and Mexican President Andres Manuel Lopez Obrador on Friday night.
He has also exchanged messages with Argentina's President Alberto Fernandez recently.
Speaking with Maduro, Xi said he was very concerned about the development of the pandemic in Venezuela and he noticed that Caracas has quickly adopted resolute measures to prevent the outbreak. It showed that the government is highly responsible for the people's safety and health, he said.
China will strengthen anti-epidemic cooperation with Venezuela and continue to provide help, Xi said.
Maduro said that China's support and help are especially precious for Venezuelan people who are experiencing hard times, adding that China has shown the world the spirit of solidarity and cooperation with actual deeds.
His country treasures the comprehensive strategic partnership with China and hopes to continue cooperation with China and jointly promote the building of a community with a shared future for mankind, he said.
In the telephone conversation with Mexican President Andres Manuel Lopez Obrador, Xi said China actively develops international cooperation in the fight against the pandemic, and firmly supports the World Health Organization's anti-epidemic efforts.
Beijing stands ready to strengthen coordination with the Group of 20 member countries including Mexico to implement the consensus reached at the G20 Extraordinary Leaders' Summit on COVID-19, he said.
Xi extended sincere sympathies to Mexico over the novel coronavirus outbreak and expressed resolute support for the country in the fight against the virus.
China is willing to continue to provide support to Mexico to the best of its ability, including assisting its purchase of medical supplies in the Chinese market, he said, adding that experts of both nations may also continue to share experience in epidemic prevention and control as well as diagnosis and treatment of the disease via videoconference.
The Mexican president said it's critically important that China offered valuable support and assistance to his country at a difficult time as Mexico fights the epidemic.
Mexico will remain committed to actively developing relations with China and intensify exchanges and cooperation in such fields as epidemiology and public health.
In his message to Argentina's President Alberto Fernandez, Xi said China firmly supports measures the nation has made against the outbreak, and has sent anti-epidemic supplies to Argentina.
He said China will step up bilateral exchanges and cooperation regarding the virus with Argentina and make contributions to preserving global and regional public health security.
In his message to Xi, Fernandez said he appreciated China's strong support, adding that China has demonstrated strong leadership and the ability to innovate during its COVID-19 fight, setting an example for his country.
Fernandez said China has the world's most professional epidemic prevention and control experience, from which Argentina hopes to learn. He said he believes bilateral cooperation to fight the outbreak will further deepen the friendly and mutually beneficial relationship between the two peoples.
Xi has been actively engaged in diplomatic activities through phone conversations or exchanges of messages with other world leaders since the outbreak, calling for international solidarity and cooperation to fight the pandemic.
The Foreign Ministry said the Chinese government has provided or has arranged medical assistance including surgical masks, protective gear and testing kits to 127 countries and four international organizations to combat COVID-19.
Ministry spokesman Zhao Lijian said at a daily news briefing on Friday that China sent 13 teams of medical experts to 11 countries and held over 70 videoconferences with experts from more than 150 nations and international organizations.
"Upholding the vision of a community with a shared future for mankind, China has provided support and assistance to the international community to the best of its ability while continuing to curb the novel coronavirus at the domestic level," Zhao said.
He said local governments, enterprises and civil organizations in China have offered medical supplies to over 100 countries, regions and international organizations.
Zhao said 10 Chinese medical experts arrived in Kazakhstan on Thursday, and they planned to work there for 15 days.
The Red Cross Society of China, he said, has sent medical supplies to the Vatican Pharmacy to assist in the Vatican's effort to cope with the pandemic and treat patients.
At the Nigerian government's request, Chinese companies donated medical materials to the country and set up a medical team to assist it in combating the disease, he said.
As of Wednesday, 58 countries and regions and four international organizations had signed commercial contracts with Chinese enterprises to purchase medical supplies, Zhao said. From March 1 to April 4, China exported 10.2 billion yuan ($1.45 billion) in major epidemic prevention materials.
Cao Desheng contributed to this story.