Flights resume in Wuhan after lockdown ends
Share - WeChat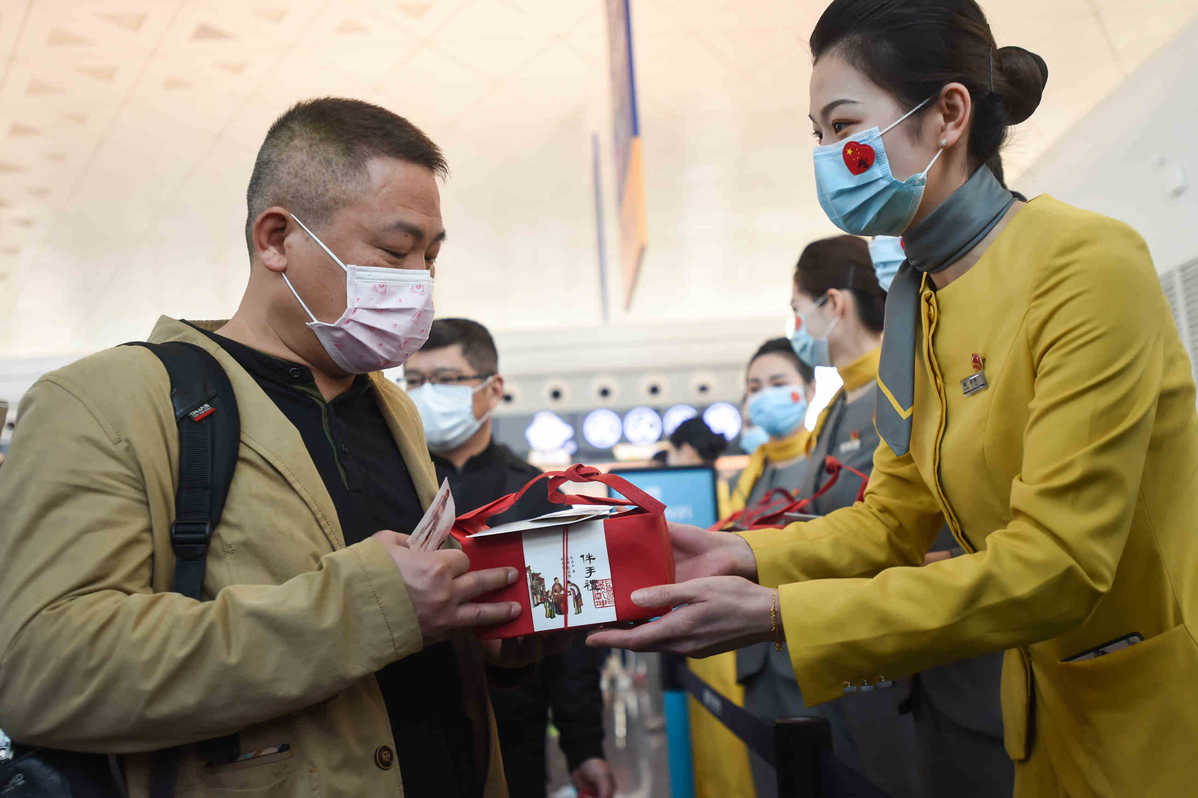 After a 76-day lockdown in Wuhan, Central China's Hubei province, to contain the spread of the COVID-19 epidemic, people who have been staying in the city since Jan 23 can travel freely, starting from Wednesday.
At Shanghai's Hongqiao International Airport, a woman surnamed Wu walked out of the exit entrance at about 12 pm with her husband and two children. They were in the first group of passengers on the Wuhan-Shanghai flight.
"We went to our hometown, Wuhan, for Chinese New Year and planned to fly back to Shanghai on Jan 30, but the flight was canceled because of the unexpected lockdown," Wu said.
According to Wu, they had to show their health QR codes to enter the Wuhan airport, and had their temperatures taken before boarding, as is the case across the country when people travel by public transportation.
Liu Hanbai, who works for a Beijing-based medical technology company's Shanghai branch, took the same flight, China Eastern Airlines MU2507, as Wu on Wednesday.
"We sat by a seat interval to each other, and everybody was wearing a mask throughout the flight. We did not talk to each other, having no food or drink onboard," said Liu, who is going to be on a 14-day quarantine by himself.
Wu said after completing quarantine at home, she plans to take her son and daughter outside for some time. "The kids have been kept at home for more than 70 days; I will take them to the parks."
MU2507 was one of three flights by China Eastern Airlines between Wuhan and Shanghai on Wednesday.
"About 100 passengers take the MU2507 flight, and we estimate the passenger load factor at 44 percent for the three flights from Wuhan to Shanghai today, which is lower than our nationwide average of between 50 percent and 60 percent for the moment," said He Jiankai, a deputy general manager of China Eastern.
The carrier operated about 30 flights from and to Wuhan Tianhe International Airport on the first day the city terminated its lockdown. It is estimated that more than 1,100 passenger trips would be made by China Eastern leaving Wuhan on Wednesday.
China Eastern launched preparation work for the resumption of flights in Wuhan in late March, and all 27 aircraft for the relaunched flights were thoroughly disinfected, with new air filters installed before the relaunch.
About 286 flights between Wuhan and 17 Chinese cities are scheduled to be operated by China Eastern between Wednesday and May 2.