Performers adapt to the online stage
Share - WeChat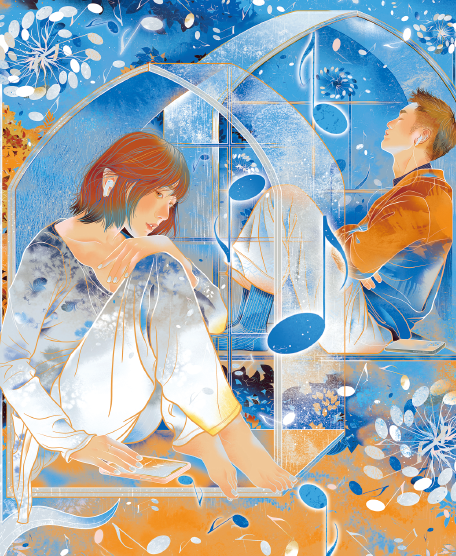 As shows are canceled or postponed, livestreaming takes off
Xu Bo put on his favorite cap, picked up his guitar and adjusted his microphone before performing a range of his songs, including Day Dreaming and Game On.
The 34-year-old-lead vocalist, songwriter and founder of indie rock band Chinese Football-has staged three livestreaming performances since Feb 14, with each lasting about 30 minutes and attracting more than 10,000 views.
"I had never done any such performances before, so it has been a totally different experience from singing in front of large, noisy crowds at a live house venue or at an outdoor music festival. It's just me singing my songs and chatting with the audience," said Xu, who has given all the performances from his home in Wuhan, Hubei province.
Born and raised in the city, which had been the epicenter of the novel coronavirus pneumonia outbreak on the Chinese mainland, Xu, like millions of residents, has stayed at home as much as possible since January.
He has had to postpone plans for the band, which was scheduled to release a new album and tour Europe for the first time in April and May.
Based in Wuhan, and also featuring bassist Li Lixin, guitarist Wang Bo and drummer Zheng Zili, the band was founded by Xu in 2011.
During the outbreak, Xu has been fully occupied with songwriting, practicing guitar and performing his music online. He has posted video footage on his Sina Weibo platform each day of himself performing his original songs or singing cover versions by other artists. The performances have been watched mainly by his longtime fans.
"But what surprised me was that when I gave livestreaming performances, I realized I was attracting new fans to my music", Xu said. "This seems to be a new way for me to introduce my music and to interact with my fans. I am getting used to the new platform."
Due to the outbreak, nearly 8,000 performances nationwide have been canceled or postponed this month, resulting in lost ticketing sales of 1 billion yuan (nearly $142 million), according to a report from the China Association of Performing Arts on March 2.
The report said that this year had been expected to be a significant one for the country's performing arts market, with venues, such as theaters and stadiums, having already been booked for the fourth quarter.
Because of the outbreak, performances scheduled for the past two months have been called off or postponed, but there is expected to be a gradual recovery during the second half of this year.
Major venues, such as the National Center for the Performing Arts and the Tianqiao Performing Arts Center in Beijing and the Shanghai Grand Theater and the Mercedes-Benz Arena, also in Shanghai, have canceled or postponed shows. Smaller live house venues and outdoor music festivals have also taken such steps.