Arrivals face intensified scrutiny at entry points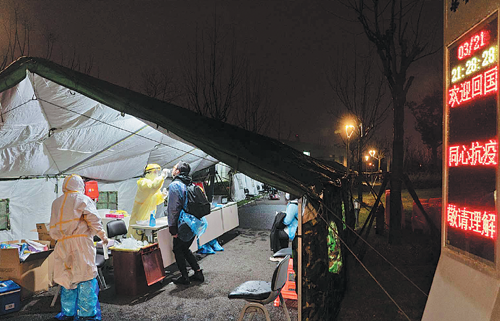 Zhejiang province said on Monday that all arrivals from overseas, including those who entered the country in other provinces, must be quarantined in hotels and undergo the test. By midnight on Monday, Zhejiang had not reported any confirmed domestic cases for 31 days, but 23 people with the virus arrived from Italy, Spain, the United Kingdom, Switzerland and other countries and regions.
All arrivals at entry points in Shenzhen, Guangdong province, which borders Hong Kong, have to undergo nucleic acid testing and be quarantined at home or in a hotel for 14 days. The order also applies to those arriving in Guangzhou, the provincial capital.
Wang's husband and son-in-law, who returned to Shanghai two weeks earlier, said the measures to curb the spread of the virus in the city, including quarantine at homes and hotels, were strict and serious, so they had no hesitation in following them.
The measures taken in Shanghai to curb the spread of the virus from overseas were implemented on March 6, before the World Health Organization declared the COVID-19 outbreak a pandemic five days later. Travelers from four countries were initially subject to epidemiological investigation by customs officials and 14 days' quarantine.
As of Friday, the number of countries subject to such measures stood at 24. Travelers from the 24 countries were taken to their homes or hotels for 14 days' quarantine if test results were negative, while those from other countries could leave unescorted if they tested negative.
Since Monday, all arrivals in the city have been subject to epidemiological investigation and nucleic acid testing.
Front-line medical workers said the intensified efforts to prevent the virus being spread from overseas mean the number of travelers undergoing epidemiological investigation and nucleic acid testing will at least double. They reminded travelers that the entire procedure from landing in Shanghai to getting to their home or a hotel may take more than 24 hours.
In Beijing, all inbound flights are being redirected to 12 airports nationwide, including Shanghai Pudong International Airport, and this may also result in longer waiting times to complete the procedure.
On Monday, nine new infections were detected among travelers arriving in Shanghai, accounting for more than 12 percent of the total in the country. A total of 427 imported cases had been reported on the Chinese mainland by midnight on Monday, according to the National Health Commission.
Many of Shanghai's 16 districts are considering allocating more quarantine hotels and building new venues for nucleic acid testing. In Pudong district, home to Shanghai Pudong International Airport, the number of such hotels has risen from 20 to 30 in the past week.