Yum China sees opportunities in corp catering after call for safe dining
Share - WeChat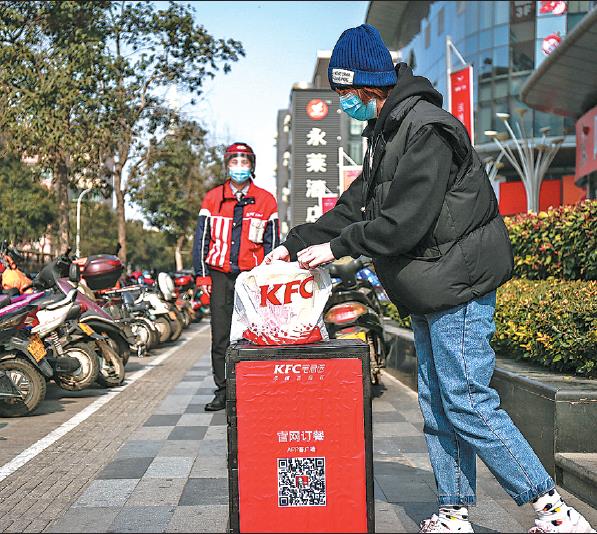 Yum China Holdings Inc, the manager of popular fast food brands like KFC and Pizza Hut in China, introduced innovations in its catering services to meet the growing demand for safe dining in the country's workplaces as steps to control the coronavirus epidemic bear fruit and more people return to their offices.
The move came after the COVID-19 outbreak kept diners away from their stores and thus spurred public demand of contactless services.
Both KFC and Pizza Hut brands in China rolled out contactless delivery and pick-up services across the country to avoid possible infection and keep their workers and customers safe, the company said.
The contactless delivery and pick-up services allow customers to order online and ask workers to seal the meals in bags and put them in a pre-arranged spot for pickup, according to the company.
Yum China also boosted its disinfection procedures which include mandatory body temperature checks for employees and requires them to wear protective masks.
The two brands also outlined plans to deliver food to certain companies to support workplace dining, Yum China added.
The moves are in line with recommendations from China's National Health Commission and the Ministry of Commerce last month for delivery platforms and caterers to adopt contactless services to avoid spreading the disease.
Yum China said in a statement that contactless services have been well received by customers and their delivery business is thriving during a time when the epidemic is keeping diners away from their stores, a report by Reuters said.
Yum China CEO Joey Wat said the company's operating experience and financial strength enabled it to withstand the challenges and the firm remains confident in the long-term opportunity of the China market.
Wat said the company is positive about its development in China and will increase its investment in digitalization, supply chain, and small brand development.
Yum China was not the only fast-food company that stepped up contactless pickup and delivery services in China.
McDonald's has also adopted contactless pickup and delivery for Big Macs and other menu items while Starbucks also offers contactless delivery services at selected stores.
A report from on-demand service platform Meituan last month showed over 80 percent of orders were for contactless delivery.
About 47 percent of consumers prefer delivery men to hang their orders on the door hangers while 15 percent chose to ask delivery men to put their orders outside their apartment doors, the report showed.
For consumers at work, about 14 percent asked delivery men to put their orders on the company front desk to avoid person-to-person contact, the report said.
Bai Wei, head of People's Catering Development Research Institute, said there are still challenges for caterers like Yum China to beef up contactless delivery services during the epidemic given shortages of delivery men in the face of growing consumer demand.
Bai said the epidemic has impacted the catering industry but that should only be for the short-term.
"Right now, many caterers are innovating their services to guarantee a safe and convenient dining experience and their businesses seem to have gone on the right track," Bai said.