A day to remember
Share - WeChat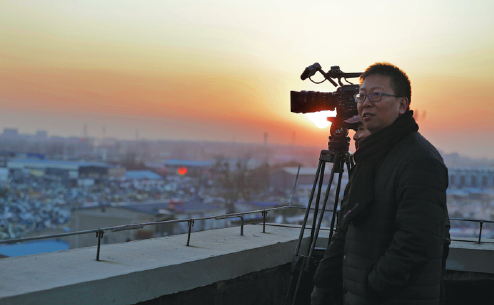 Documentary director Qin Xiaoyu calls on netizens' efforts for One More Day, his upcoming production to reflect common people's lives in a day on Feb 9 during the COVID-19 outbreak. [Photo provided to China Daily]
The shooting of an unusual documentary was completed in a single day on Feb 9, thanks to contributions from over 5,000 "filmmakers". Qin Xiaoyu, director of the production, knows he will achieve something unprecedented in Chinese cinematic history.
Feeling overwhelmed by the news of the outbreak of novel coronavirus disease, or COVID-19, this 46-year-old Beijing-based director decided to record people's shared memory of the situation from a new perspective.
"The focus of media is on hospitals, the government, quarantine facilities and those on the front line of the fight against this epidemic," Qin says.
"Nevertheless, every time a similar event happens, the biggest impact is actually on people's private life, and in their private space is where many dramatic stories occur, but remain absent from most news reports."
The spread of the virus made it unsafe and the quarantine measures nationwide made it almost impossible for his film crew to travel.
Therefore, on Feb 5, he released an announcement on micro-blogging platform Sina Weibo, asking users to send him clips recording their own lives on Feb 9, a randomly picked day. Qin deliberately avoided Feb 8, the Lantern Festival, to make it "ordinary" enough.