Show of solidarity as Africans look to learn from China on epidemic management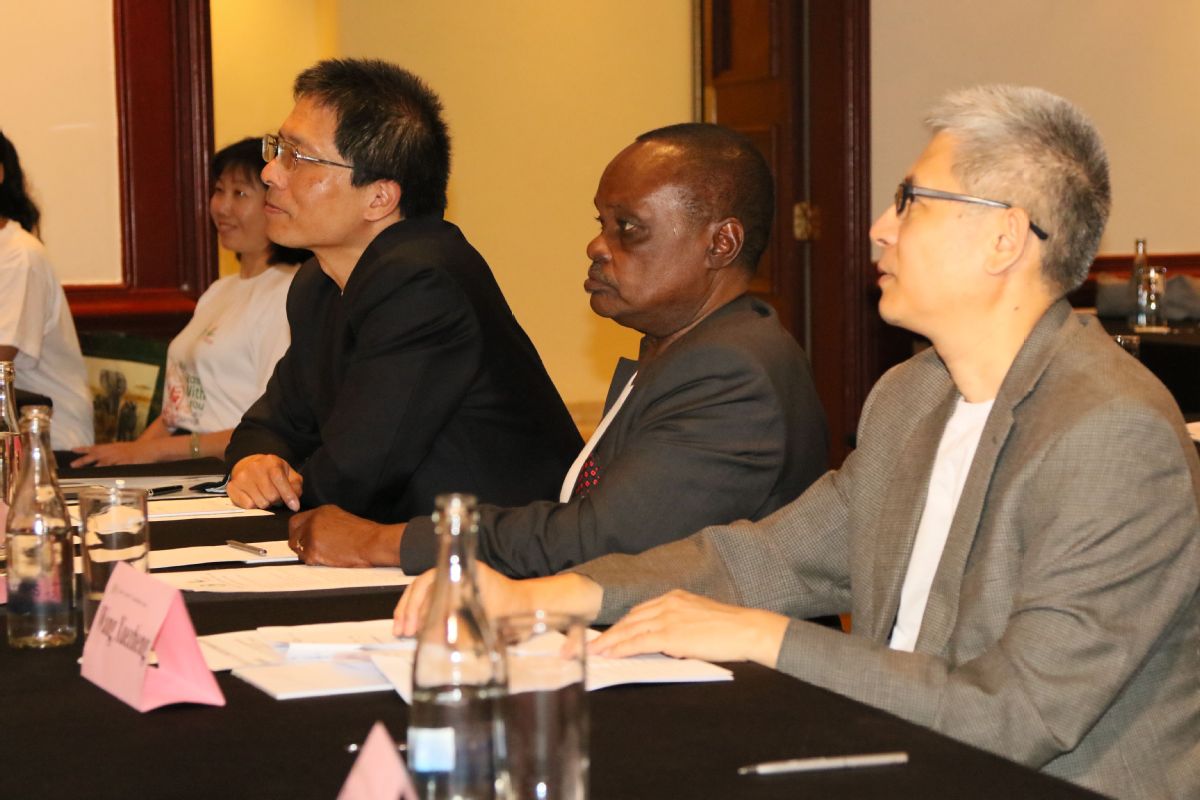 The Confucius Institute at Nairobi University in Kenya and the Kenya-China Alumni Association on Sunday held an event to show solidarity with China during the novel coronavirus epidemic. The event, which was held at the Norfolk Hotel in Nairobi, Kenya, attracted university students, staff and Kenyans from all walks of life.
Speaking at the event, Isaac Mbeche, who is acting as the university's vice-chancellor, said that Kenya and other African countries should take this opportunity to learn from China on how to respond to emergencies such as the novel coronavirus outbreak.
"As an academic in management science, I want to say that what China has done in terms of management of the epidemic is extremely commendable. The organization, the effort and the communication leave a lot to be admired about China," Mbeche said. "The scale of what the Chinese government is doing is unprecedented. We are also in constant communication with the Chinese government through its embassy and I assure our students who are there not to be worried about being brought back to Kenya since the Chinese government has things under control and the situation is improving."
While addressing the gathering, Wang Xuezheng, counselor at the Chinese Embassy in Kenya, thanked the Kenyan people for their solidarity, support and messages of goodwill for the people of China.
"We have received letters of solidarity from Uhuru Kenyatta, Kenya's president and Justin Muturi, the speaker of the Kenyan National Assembly expressing their solidarity. Mankind is a community with a shared future but the virus respects no borders," Wang said. "It requires collective response from the international community. This is why China has acted in an open and transparent manner in releasing relevant information to the world and seeking international cooperation to contain the spread of the virus."
In a separate event on Sunday, there was a signing ceremony to celebrate the end of a 14 day self-isolation period by Chinese nationals who had returned to Kenya from China, as required by the Chinese embassy. The Chinese Embassy in Kenya last month instructed all Chinese nationals returning to the country from China to undergo a self-imposed quarantine as a measure of ensuring they do not have the virus.
The event marked to serve as an expression of the confidence that the Kenyan community has in the collaborative measures put in place by Kenya and China's governments to monitor the situation.
The Kenyan government has maintained that its students in China are safe and that no student will be evacuated back to Kenya. Last week Cyrus Oguna, the government's official spokesman, revealed that they have sent $13,000 for Kenyan students in Wuhan to purchase supplies, topping up to the additional $5,000 provided by the Chinese government through the Kenyan embassy.