Foreign firms voice confidence in growth
Share - WeChat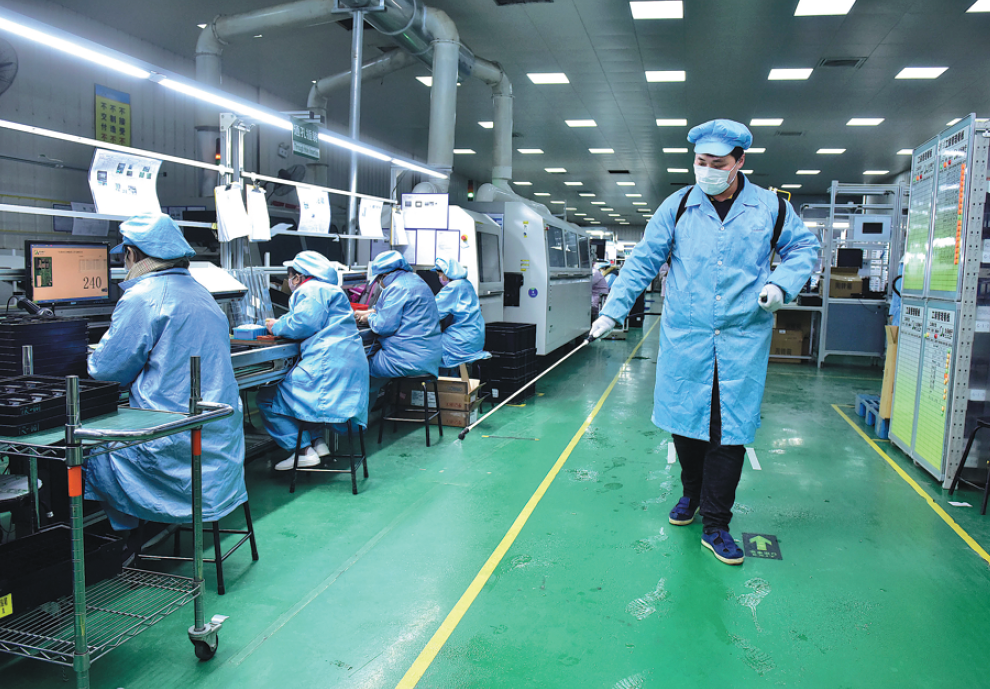 Foreign-funded enterprises in China have largely resumed operations after the prolonged Spring Festival holidays overshadowed by the novel coronavirus epidemic. The companies also are benefiting from policies bolstering businesses to help shore up confidence in the world's second-largest economy.
Many have taken precautionary measures, including providing protective clothing, health checkups and reporting procedures and adopting remote working tools to ensure business continuity and safety.
"We have established dedicated teams globally and in China, and developed plans to help support the health and well-being of our employees," said John Wang, senior vice-president of Signify and president of Signify in China.
The Dutch lighting manufacturer, which resumed operations on Feb 10, has introduced policies to ensure the safety of its employees, including stringent entrance and exit logging, revised travel plans and encouraging work off-premises for nonproduction staff, he said.
Implementing similar policies is industrial conglomerate Honeywell — 18 of the company's 21 plants across the nation have fully restarted manufacturing.
The company's epidemic prevention work has been recognized by Sha Hailin, deputy director of the Standing Committee of Shanghai Municipal People's Congress, who visited its Shanghai campus, according to Scott Zhang, Honeywell China's president.
"As a company that has been deeply rooted in China for so many years, we assume our responsibility in this cause" of fighting the novel coronavirus, said Zhang, whose company has donated $2 million worth of equipment, including badly needed masks and air purifiers for areas where the outbreak has hit the hardest.
The Shanghai municipal government has joined a package of national policies to help businesses. It has announced plans to cut loan rates and take other measures to help companies and maintain growth to avoid the spread of the novel coronavirus from taking too much of a toll on the economy.
These include loan interest rate cuts of at least 0.25 percentage point off the benchmark prime rate for the duration of the outbreak, as well as extended repayment periods, rent reductions and deferment of tax payments to ameliorate potential capital shortages.
"We appreciate the local authority issuing such policies at such a difficult time," said Arnaud Ribadeau Dumas, China president of Essilor, a French lens manufacturer. "For us, the reduction of social security medical insurance payments directly benefits our financial situation."
Measures such as rebates of 50 percent of unemployment insurance premiums are set to lower human resources costs for enterprises, and the speedier adoption of government services online and deferral of goods deliveries will minimize operational risks, said Paul Lindblad, president of Wacker Chemicals in China.
"A highlight of these policies is the financial and legal support dedicated to medium, small and even micro enterprises, which constitute part of our downstream customers," he said. "These measures are conducive to appeasing capital shortages and maintaining overall market stability."
Signify's Wang also said the policies stand to benefit large corporations as well as small and medium-sized enterprises, "in­clud­ing many of our dealers and suppliers". Given that the priority is people in the affected areas, he said the business impact "really comes second and is something we can only assess later on".
"Where possible, we will source products and components at alternative suppliers outside the impacted area, within China. We also have a global supply base that will help us to mitigate this situation," he said. "We have confidence in the positive medium and long-term economic trends in China and will maintain our commitment to the China market."
Dumas said despite the temporary slowdown, he forecasts a boost in market performance in coming months. He said he is optimistic about China's growing preparedness in healthcare infra­structure, responsiveness in dealing with the outbreak and decisiveness in issuing policies to support growth.
"The current situation requires the company to be more agile and adaptable," he said. "For example, we believe it is actually a good opportunity to accelerate digital and online platforms and enhance internal competence such as in learning and training."