For outbreak-imposed homebodies, online gym classes are a good fit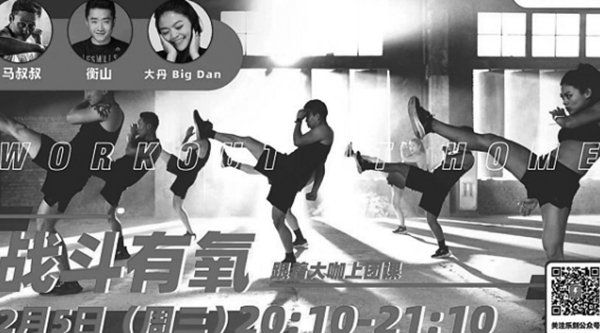 The government has called on people throughout the country to reduce their outdoor activities and avoid cross infection for better prevention and control of the coronavirus outbreak.
It is a test for fitness companies, and many have taken a series of countermeasures to ensure they can still serve their members during this extraordinary time. Gyms including Keepland, Shape, Supermonkey and Lefit are currently offering live online courses for customers that originally signed up for their tailor-made offline group exercises.
These gyms offer three or four classes a day, mainly on Tik Tok or via live broadcasts on Sina Weibo. The content mainly focuses on home fitness, and most coaches broadcast courses from their own house.
Supermonkey's "Home Squat" video series on Tik Tok attracted a peak online viewership of 190,000 for its first class, while the special page dedicated to Lefit's online courses on Tencent-backed video streaming platform, Kuaishou, has amassed over 10 million views.
Keepland has launched live network courses in conjunction with various fitness apps and businesses including Chenzao, Shape, Daily Yoga and Lululemon. They have also partnered with top key opinion leaders in the fitness segment to help their videos to reach a wider audience.
Coach Kevin Ye from Lefit believes it is the necessary and right way to retain customers, and the online courses are new to him too."It is easy for gyms to select a coach to perform in front of the camera for the entire network, but it is a challenge for (individual) gyms to integrate their own trainers and users on a larger, non-interactive scale and achieve a satisfying fitness experience," he says.
However, one of the founders of Supermonkey Liu Shuting said live broadcasts have many advantages based on their team's analysis and their own user data. "For example, if you take a class in an offline gym, you may be too self-conscious to stand in the first row because you are not proficient in the movements, but on a live broadcast, you get a close-up view of the coach. Another advantage is that, when the weather is bad and it is inconvenient to go out, the live broadcast can be used as a supplement," she says.
Although they have not yet considered making a profit out of online courses, they are already considering turning live broadcasting into a long-term service.
So far, leading fitness clubs including Tera Wellness, Pure Fitness, Shape and Keepland, have issued store closure announcements until today, and the exact reopening date will be decided according to the ongoing epidemic situation and the requirements of the government.
But even so, Supermonkey has a less optimistic view, estimating a decrease in visitor numbers to offline gyms within three months.
Meanwhile, the General Administration of Sports issued the Notice on Vigorously Promoting Scientific Fitness Methods at Home on Jan 30, emphasizing the use of various media to promote simple and easy home fitness methods, and encouraging physical fitness during the epidemic prevention period.
"With the development of the epidemic, the whole family chose to stay at home. I have a treadmill, but it could easily cause joint injury to my parents, so I bought an indoor table tennis training kit. Every day at 4 pm is our fixed table tennis time," Says Wang Linxing, who is not usually the usual sporty type. Three people took turns playing, and the air was filled with laughter.
In recent days, Wang has also been using dumbbells to work out his abdominal muscles for half an hour after his lunch break."It's not easy to stay at home. I also downloaded fitness apps, and they are specific and scientific on the frequency and intensity of exercises, which is of great help."
Tips for exercising at home
1. Moderate your diet without exercise. When the human body is not short of food, increasing food intake and excessive sleep does not help improve immunity.
2. During this challenging time, avoid high-intensity exercise, especially those who are not particularly used to exercise. Irregular high-intensity exercise can temporarily reduce immunity.