Great Wall Motors to enter Indian market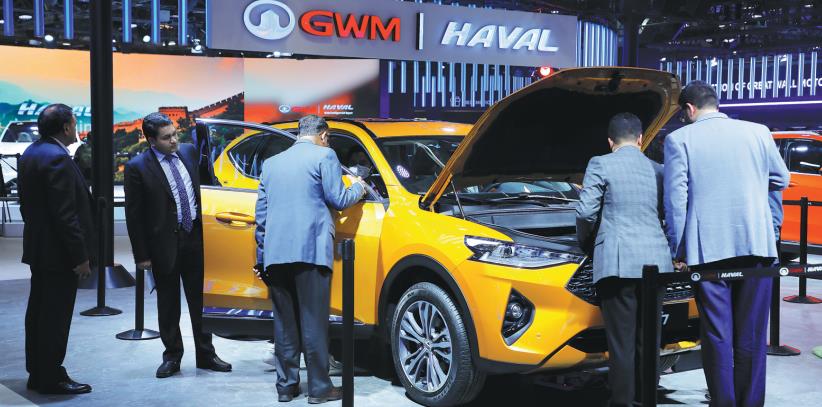 China's largest SUV and pickup manufacturer showcases models at auto expo in Delhi
Great Wall Motors, China's largest SUV and pickup manufacturer, is planning to enter the Indian auto market in 2021 as part of its ongoing globalization campaign.
The carmaker is showcasing two concepts and four smart SUVs under its popular Haval brand and two Great Wall-branded electric vehicles at an auto expo in Delhi. The move comes as demand for larger vehicles grows in India and the Indian government is calling for cleaner cars.
Great Wall Motors said on Wednesday that its presence at the expo signals its "formal entry" into the Indian market.
"India has become one of the world's fastest-growing major economies, and the auto market is promising, making it a preferred investment destination for most auto companies," said Hardeep Sing Brar, director of sales and marketing of the company's Indian arm.
Some 3 million passenger vehicles were sold in India in 2019 making it the fourth largest car market globally after China, the United States and Japan.
"We are excited at the limitless possibilities that lay ahead as India is an important market for us," Great Wall Motors Chairman Wei Jianjun told India's Economic Times in a statement ahead of the expo.
"With the R&D center in Bangalore and now our participation at the 15th edition of the Auto Expo, we want to further ascertain the importance of India as the core strategic market," he said.
The company said it will upgrade the research and development facility in Bangalore with a focus on creating intelligent and safe vehicles for Indian consumers while continuing to increase investment in local R&D, production, supply and sales, making India a base for exports to neighboring countries.
Great Wall Motors said it will launch a full range of Haval SUVs in the country, with Great Wall EV also rolling out a variety of models. The first India-made models will roll off the assembly line in 2021.
Last month it inked a deal to buy GM India's Talegaon plant. Great Wall Motors said it will accelerate the acquisition and expand its capacity. The plant, which produces 137,000 vehicles a year, will be Great Wall Motors' 10th full-process vehicle plant worldwide.
Great Wall Motors will also invest in auto battery production in the country to build a complete supply chain system.
The overall expansion in the Indian market will not only help Great Wall Motors to further advance its global strategy, but also enhance its competitiveness in the global automobile industry of the future, the company said.