Chinese electric car startup Nio announces $100m in financing deals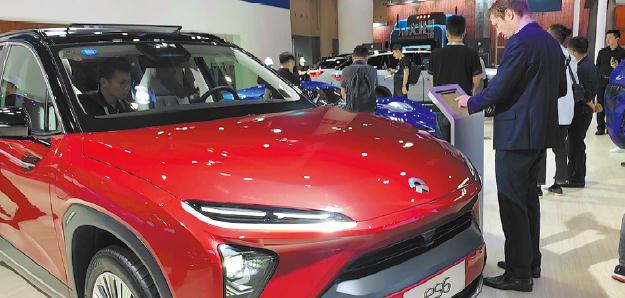 Chinese electric car startup Nio said on Thursday it has inked deals to raise $100 million, but the cash-strapped company added it will continue to seek more funding.
The Shanghai-based carmaker said in a statement that it will sell $70 million in convertible notes to one unidentified Asian investment fund through a private placement that should close around Feb 10.
Nio completed a similar transaction worth $30 million with another unaffiliated fund last month.
The $100 million in deals will offer the financially struggling startup much-needed funding but are not enough to solve its problems for good.
The company said it is currently working on several other financing projects, the outcome of which is uncertain at this stage.
Nio has accumulated about $6 billion in losses since it was founded by CEO William Li in 2014.
Its deficit in the quarter that ended in September was $324.9 million. Nio ended the period with 1.96 billion yuan ($274.3 million) in cash and equivalents.
Nio didn't have enough money to continue operating another 12 months without additional funding, according to its third-quarter financial statement released on Dec 30.
"Nio's inability to attract significant new financing will remain a concern for investors," said Robin Zhu, a Sanford C. Bernstein analyst in an interview with Bloomberg.
Nio's Nasdaq shares rebounded a little this year after falling 37 percent last year, and Zhu attributed it to Tesla's sharp rise in recent weeks, but he said the company's balance sheet remains in a precarious shape.
Nio has seen its sales grow steadily since the second half of last year. A total of 4,799 cars were delivered in the third quarter of 2019, which generated $242.5 million, up 22.5 percent from the second quarter, according to its financial statement.
It delivered 8,224 vehicles to customers in the fourth quarter, up 71.4 percent from the third quarter. It was also a record for quarterly deliveries for the startup.
But its sales performance in the first quarter this year may be affected by the novel coronavirus outbreak, which has forced many carmakers to shut down their plants and people to stay at home.
Analysts say that the epidemic that has infected tens of thousands of people in China will further slow down the growth of the country's new energy vehicle market that is already struggling with weaker demand and less-generous subsidies.
Chinese and international carmakers delivered 1.206 million electric cars and plug-in hybrids in China last year, down 4 percent year-on-year, according to the China Association of Automobile Manufacturers.
Analysts say that all automakers will be affected as the epidemic continues but startups will be more vulnerable because they are in greater need of selling more cars in order to lure further investment.