Cities cashing in on winter tourism boom
Share - WeChat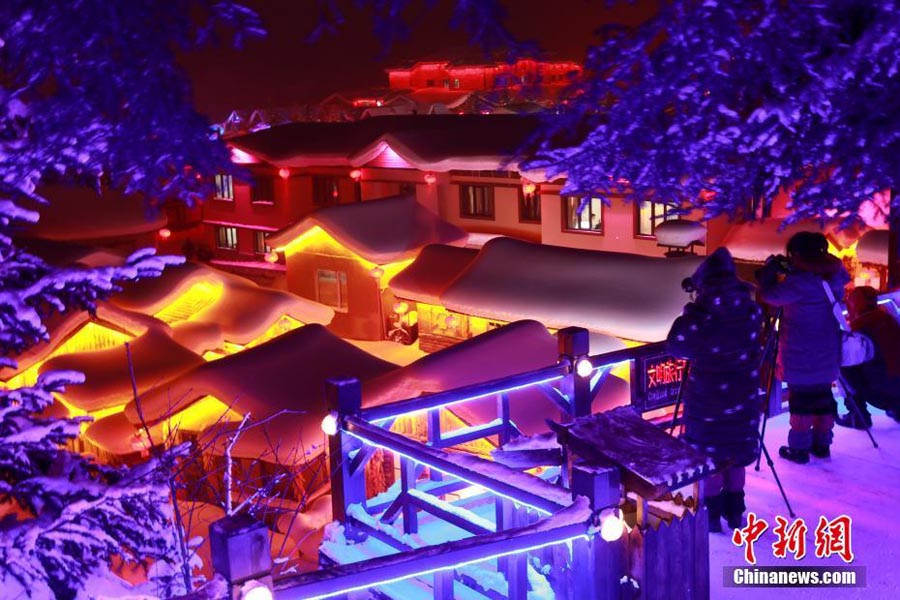 Harbin and Changchun among those creating dazzling displays that are attracting scores of visitors
China is expected to see booming ice and snow tourism ahead of the 2022 Winter Olympics in Beijing, said a report released by the China Tourism Academy at a forum in Harbin, capital of Northeast China's Heilongjiang province, on Jan 5.
From late 2018 to early 2019, China received 224 million domestic and overseas tourists to enjoy ice and snow, an increase of 13.7 percent from the previous season, according to the report.
Winter tourism revenue reached 386 billion yuan ($56 billion), a year-on-year increase of 17.1 percent.
According to the report, the most popular winter tourism destinations are Harbin; Changchun in Jilin; Zhangjiakou in Hebei; Shenyang in Liaoning; Urumqi in Xinjiang; Jilin city in Jilin; Hulun Buir in Inner Mongolia; Mudanjiang in Heilongjiang; Altay in Xinjiang and Yichun in Heilongjiang.
Harbin holds first place. The cities of Mudanjiang and Yichun entered the list due to their rich ice and snow resources.
After years of development their winter tourism routes and products have formed a relatively mature system and become a popular choice for tourists.
The 36th Harbin International Ice and Snow Festival started on Jan 5 and will run till the beginning of April, overlapping some of China's traditional holidays.
During the festival, a major event for the "Ice City" of Harbin to welcome tourists, a series of activities will be held. These include tourism, culture, fashion, sports and trade.
Last winter, more than 1 million tourists visited the 20th Harbin Ice and Snow World, a key part of the festival.
The park is built with ice rather than regular construction materials. More than 220,000 cubic meters of ice and snow have been used to construct the park this year.
In the park, tourists can enjoy 21 groups of buildings including the 40-meter-high tower Crown of Ice and Snow.
"I have visited an indoor ice and snow theme park in our city and I was amazed by the exquisite ice sculptures," said Li Ting, a 35-year-old visitor from Guangzhou, capital of South China's Guangdong province. "However, I was shocked when I entered the ice and snow world made of huge ice buildings."
Li visited the park in Harbin after a trip to Snow Town in Mudanjiang. Famed for farm-based tourism, Snow Town, where snow falls for half a year and gets as deep as 2 meters, attracts tourists from home and abroad every winter.
Jilin, another northeastern province, has emerged as a key winter tour destination.