Chicken wings or feet? A bilateral cultural lesson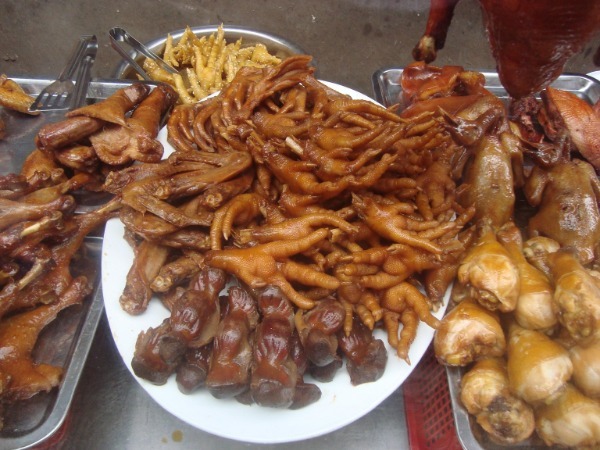 I admit I chickened out on eating chicken feet.
I took part in China Daily's Facebook Live show on New Year's Eve in Times Square in New York, and on the set was an assortment of Chinese snacks, including chicken feet.
But there was something about the way the fleshy extremities jutted out of their greasy plastic container that made me politely decline despite the efforts of the show's guest host, Jerry Kowal, an American with a popular video channel in China, to get me to sample a chicken foot as he savored one himself.
On Jan 15, I came across a news story on the website of the UK's Daily Mail with the catchy headline that referred to "chicken feet diplomacy". It detailed how a US shipment of chicken feet-or paws, as they are called in some countries-arrived in Shanghai on Jan 13.
CCTV reported that the chicken feet, known in China as phoenix claws (feng zhao), cleared customs in Shanghai's Qingpu district.
The 24 tons of chicken feet were valued at only $170,000, which is a blip in the $40 billion to $50 billion worth of agricultural products China reportedly will buy from the United States as part of the first phase of the trade deal that was signed by both countries in Washington on Jan 15.
But it was significant because the purchase came five years after Beijing banned US poultry meat because of a bird flu outbreak in the US. China officially lifted the ban in November 2018, after conducting risk assessments.
Ironically, last year there was another outbreak, of swine flu, this time in China, which ravaged the country's hog herd, depleting its pork supply. So the resumed export of US chicken parts will help meet the demand for protein.
Feng Shiting, director of the Shanghai Chenrui International Trading Co, told CCTV that he and an unnamed US company had signed a deal to import up to 500 tons of chicken products every month in the first quarter of 2020.
Upon doing more research, I learned that a US company, Sanderson Farms Inc, based in Mississippi, began preparing in November to ship its first container of chicken feet to China, according to Bloomberg.
"We actually started packing paws on Nov 25, and our Moltrie plant loaded the first container on Dec 5 to export to China," Sanderson told the website, referring to a facility in the state of Georgia. "It's a full container, and actually this week we will load 12 more containers."
Bernie Adcock, chief supply chain officer for poultry at Arkansas-based Tyson Foods, said in December that there was "an extreme amount of interest" in US chicken products in China, especially after the swine outbreak. Tyson is the largest meat producer in the US.
"Our industry is very happy with this new opportunity," Jim Sumner, president of the Georgia-based USA Poultry& Egg Export Council, told the Atlanta Journal& Constitution.
Georgia is the largest poultry producer in the US, so China lifting the ban is an economic windfall. That's because without the Chinese market, US companies would sell the chicken feet-not popular with most American consumers-for 5 cents a pound, to be used in pet food or fertilizer. But chicken feet meant for human consumption can command 87 cents a pound, according to the export council.
The National Chicken Council reported that the annual value of US chicken exports to China peaked at $722 million before the ban. The reopened market could claw $1 billion a year for chicken feet alone, the council said in November.
Last week's Shanghai shipment is expected to be sold in cities and towns in the Yangtze River Delta region as families prepare to celebrate Lunar New Year. Chicken feet are often cooked with herbs and spices and eaten hot or cold, often accompanied by alcoholic beverages.
In the US, it's another part of the chicken-the wings-that command a good price.
Chicken wings often are associated with beer and football in US culture, and many will be consumed on the NFL's Super Bowl Sunday on Feb 2 in Miami, Florida.
Before the 2018 Super Bowl, the Chicken Council projected that Americans would chow down 1.35 million pounds of wings during the game.
"Whether you're a fan of the left wing or the right wing, there's no debate about America's favorite Super Bowl food," council spokesman Tom Super said at the time.
Reuters contributed to this story.