Young action stars are the vanguard of a new generation
Share - WeChat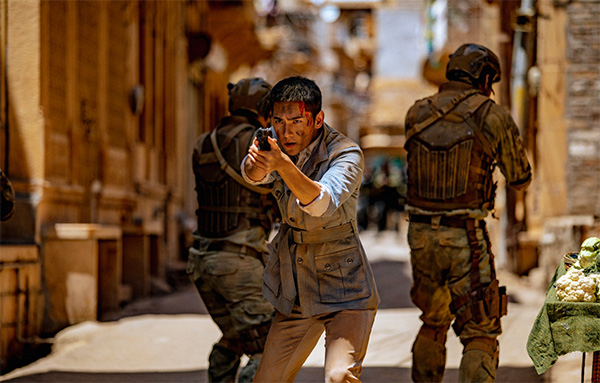 At the age of 65, as a man who still performs his own dangerous stunts on the silver screen, action movie legend Jackie Chan is a rarity among actors of his generation.
For his forthcoming film Vanguard, Chan almost drowned after accidentally getting trapped underwater while shooting a chase scene where his character drives an amphibious motorcycle.
Although it's hard to find a qualified successor, die-hard fans will perhaps see a glimmer of hope in Vanguard, which has assembled a younger generation of stars who also perform high-risk jumps, and produce dazzling kicks and heavy punches.
The film, which will open on Saturday, the first day of Lunar New Year, is Chan's ninth outing with director Stanley Tong over a period of 30 years.
It also marks Chan's return to the competitive Spring Festival holiday period, a box-office season that is widely considered to have started with the debut of his 1995 smash hit Rumble in the Bronx on the Chinese mainland.
In this new adventure, Chan travels across Asia, Europe and Africa, playing the chief of the titular international security guard team that has young members played by actors Yang Yang, Ai Lun, Zhu Zhengting and actress Miya Muqi.
Facing off against a ruthless mercenary organization, the Vanguard team is hired to rescue a kidnapped Chinese businessman and protect his daughter, but their mission uncovers a terrible conspiracy.
"The genre that Jackie and I do best is action comedy. Now we're grooming talent for new action films, but they are not trained to become the next Jackie," says Tong in an interview with China Daily.
"When Bruce Lee passed away, many people wanted to become his successor but none of them succeeded. Jackie is successful because he has chosen to be himself," adds Tong.
With such a goal in mind, the director handpicked Yang-a dance graduate-turned-actor who he met by chance during a flight-as he believed the 28-year-old met the criteria, with his handsome look and the potential to be a quick learner of stunts.